Hola Asuka from Espaņa
---
Hey this is Asuka, been trolling the forums for a while now, about a month. Yes I'm in Spain, fish keeping here isn't really that popular, I didn't even know about the existance of betta fish till I went to the U.S this summer XD
I fell in love with them inmediately. It was then did I realize that fish weren't as stupid and useless pets as people thought, but they had feelings and personalities as well, truth is that in a short time I was mind blown about a lot of things I had ignored about fish till then.
I'm a college student studying translation and interpretation as well as advertising and public relations, with a part time job as a tutor, when studying doesn't take up my time at home, I spend it with my 2 betta's Cheshire and Blueberry (who is in my profile pic) and my little Robo hamster Hamlet.
Blueberry's personality is simply amusing, he loves to explore, but is quite agressive towards anything really, except me, I guess it's cause I feed him. His favorite object to explore is a shiny marble. He loves sitting on it, looking at it, it's his precious lol.
Cheshire, loves going into hiding holes, caves, just chilling and in his own little world XD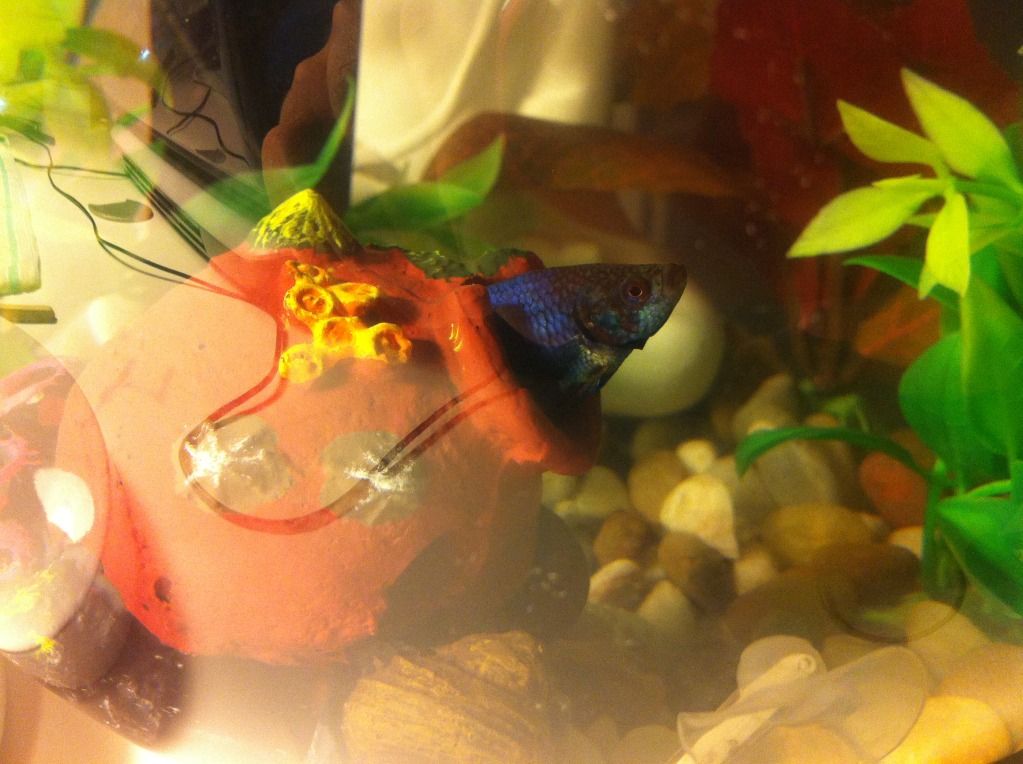 I warn you that I'm extremely curious and ask questions like crazy, even become a bit paranoid when it comes down to my pet's healths, but better be safe than sorry I suppose XD Even so I hope you guys bare with me for being a royal pain and a crazy poster. The forums is like a vice to me lol. But don't worry I'm quite nice :) slightly odd, but nice.
Anyways, I hope to see you all around!
Imma go to bed, before I look at the clock and realize its late and won't get a wink of sleep ;)
---
Last edited by asukabetta; 10-21-2012 at

05:46 PM

.
Member
Join Date: Nov 2010
Posts: 665
Hey welcome to the forum , i love the picture, soooo cute. I am glad you fell in love with those cute little bettas, they are kind of addicting lol Good luck to you !!!
New Member
Join Date: Oct 2012
Location: London
Posts: 71
Welcome! I have a campbell's russian dwarf hamster. :)
---
10 Gallon Tank:
~Countless Pond Snails~1 Espe's Rasbora~1 Harlequin Rasbora~
5 and 5.5 Gallon Tanks:
~empty~
Avatar by Fenghuang
Many of my scaly friends from my original tank from 2011 have passed, except for two! I am in the process of re-doing my tank. :)
Hello and welcome to the forum!
---
You will always be my best friend,
.
Member
Join Date: Mar 2010
Location: USA
Posts: 10,951
Welcome to the forum and to the wonderful world of Betta keeping....

Enjoy your stay....

Be sure and post questions in the proper section for best response.......
Banned
Join Date: Jul 2008
Location: Central Texas
Posts: 27,607
Hello and welcome to the forum. I was lucky enough to be able to go to Spain but it was 40 years ago.
Hi, welcome to the forum.
Similar Threads
Thread
Thread Starter
Forum
Replies
Last Post
Hola! New to Bettas

LizzyStone

Betta Chat

14

07-10-2010

06:13 AM