New Member
Join Date: Oct 2012
Posts: 1
My Betta
---
About a month ago on a whim I picked up a crown tail Betta at Walmart. I had him in a one gallon fish bowel. Then I started to notice he wasn't moving around very much, and seemed lethargic. I upgraded him to a five gallon tank which has a filter and heater after researching. I read about tank mates for bettas and added a few ghost shrimp. A few days later they were gone. I didn't see any bodies, so I think my Betta must have eaten them?
I would like to add at least one other fish, but if he killed my ghost shrimp...
My Betta: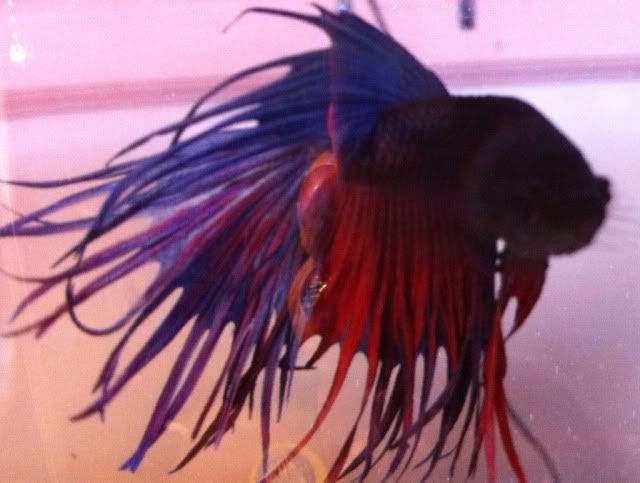 His tank: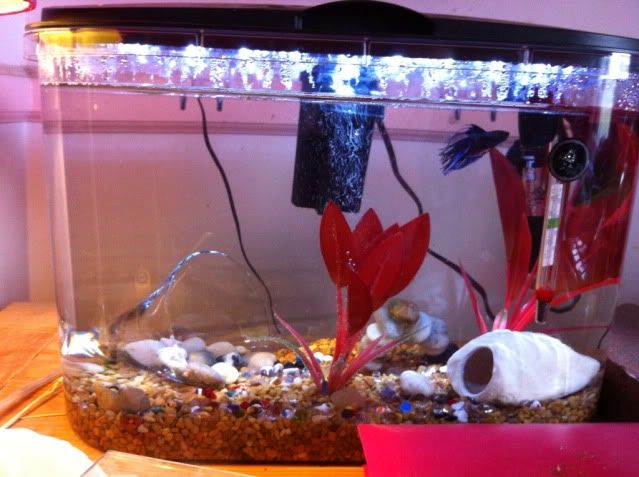 As of yet he has no name.
Glad your Betta is doing well. A 5g is not big enough, IMO, to have multiple fish, especially with having a male Betta. You could add a snail but keep in mind they tend to have big bio loads. I would suggest adding some more plants in your tank, Bettas love to have hiding places & leaves to rest on plus it'll make youre tank look more full if that's what you're wanting.
Yeah, I would add real or fake plants instead, like shellieca said.

I've heard shrimp make great Betta food, and Bettas are really too aggressive to be with anything but shrimp or snails in a small tank. Some Bettas have been known to attack even snails.

You're doing a great job so far!
---
You will always be my best friend,
.
---
Last edited by eaturbyfill; 10-24-2012 at

07:51 PM

. Reason: Typo
Member
Join Date: Mar 2010
Location: USA
Posts: 10,951
Welcome to the forum and to the wonderful world of Betta keeping...

Enjoy your stay...

Be sure and post questions in the proper section for best response....
---
So remember, when you're feeling very small and insecure,
How amazingly unlikely is your birth,
And pray that there's intelligent life somewhere up in space,
'Cause there's bugger-all down here on Earth.

Godric/Eric/Sookie/Frodo/Sam/Vlad/Rasputin/Genghis/Hannibal/TARDIS/
LaVey/Crowley/Dahmer/Ripper/Al/Thor/Skadhi/Freija/Sunna/Mead/Mani/
Loki/Grendel/Gail/Beowulf/Camilla/River/Bathory/Arwen/Lafayette/Deb/Jack Skellington (soon)