Husband claims to save wife from being Crazy betta Lady
---
Hey I just found these forums. I have owned bettas for the past 3 years starting with my baby boy Big Red
Followed by Fluffy Destroyer of the Worlds
Now our newest edition whom will not be joining the house hold till December.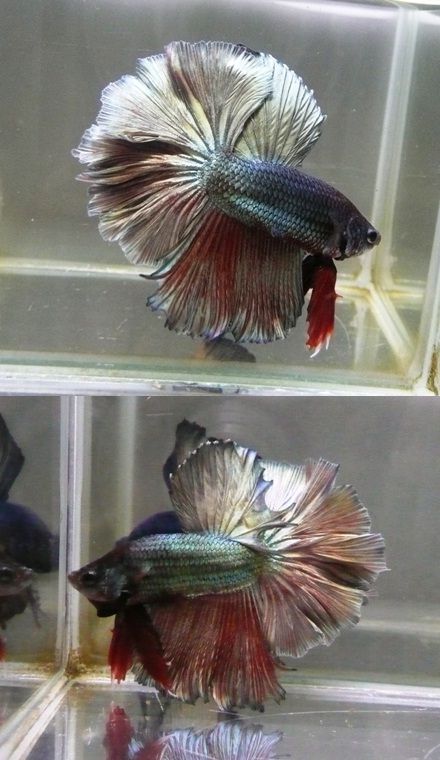 I also keep a 40G with a few Zebrafish, Neon/Cardinal tetras, and Blue &Red tetras
I love my Bettas and hope with each website I find I can improve the care of my tanks because I want to keep each one for 5+ years if I can manage. Each one of them with their unique personality makes my day a little less stressful. They have also provided my husband and I with more then a few laughs like the time I held my hand over Fluffy's tank with food in it a second to long and ended up with fish on the finger syndrome. He likes to nibble hands that are cleaning his tank too. Or how Big Red is a tail wagger and swims as close as he can to whoever sits down at the desk his tank is on. By tail wagger I mean he wags his tail like a puppy every time someone come over to the desk.
We had a third Betta Bubbles who died from a tumor. He was fascinated by bubble curtains. When I first got him I put him in a 20g tank with a few Neon Tetras. He swam over to the bubble curtain and took the fastest ride of his life. Then for about an hour he look bewildered and total offended. After that He spend most of his time riding it from bottom to top. He was a very curious fish and loved attention. Cleaning the tank was an adventure too. He loved to be where you were doing something and seeing how he could get in the way.
I know I have told you more about my Bettas then myself but I want to share with you why I have become so attracted to an animal most people would pass off as uninteresting pets that you can not interact with. I am sure I am preaching to the choir here but I hope you enjoyed a few small stories about the biggest fish in the rice paddie.
Welcome, your Bettas are beautiful & it sounds like they are very well cared for.
Member
Join Date: Jul 2010
Posts: 3,026
Quote:
I love my Bettas and hope with each website I find I can improve the care of my tanks
I bet you could teach us some new stuff! welcome
New Member
Join Date: Nov 2012
Location: I live in Weimar, ca
Posts: 1
Wow you have gorgeous bettas
Welcome to the forum...beautiful fish!
---
*Buddy Blue CT *Beau Bryce VT
*Brady Bliss VT *Bayou Beck OHM
*Benjiro Baha DTHM *Kahuna Kai HM
*Kyoshi Kano Dumbo SD
Member
Join Date: Mar 2010
Location: USA
Posts: 10,951
Welcome to the forum and to the wonderful world of Betta keeping....

Nice to meet you...Enjoy your stay....

Be sure and post questions in the proper section for best response....
Banned
Join Date: Jul 2012
Location: Virginia
Posts: 9,050
I have read but am not sure if it is true Bettas live longer in community tanks. Varied Diet will help with your goal.
---
Last edited by ChoclateBetta; 11-20-2012 at

04:11 PM

.
Here is a recent video of Fluffy. It's hard to see from the video but the spots are a deep pearl blue. As in all things Betta a video or photo can not do their true colors justice. Link to the video is embed in the picture.
I have another photo of Big Red showing off the red of his fins a bit more. He's camera shy so I tend to not take as many picture of him. Sorry I need to clean the water spots off the outside of his tank.
Banned
Join Date: Jul 2012
Location: Virginia
Posts: 9,050
Yes, it was meant to be temporary till his live plants grew in but he sleeps on that plant. I've tried taking it out a couple times but he just floats at the front of the tank for hours till I put it back. It's a soft plastic and he's never torn a fin on it though.


Hmmm Bubbles was the only one I've managed to get in a community tank. I may have to try females in the future.
---
Last edited by Phaydra; 11-20-2012 at

11:20 PM

.