Born Again Betta Owner
---
im a born again novice betta owner. ive had a 13 yr gap between fish and barely back into owning a betta for over about a month now. i volunteered to take care of my co-workers pets over the holidays (a cat, dog and goldfish) and that got me thinking about bettas again. about 3 weeks later i couldnt just think about any longer and i rushed out to buy a betta (and not all the necessary accesories. i was a poorly informed and underfunded teenage betta enthuaist then and im guess im just as poorly informed now but im reading more and more and finding info off the net as become an daily routine over the last few weeks. Ive already read half of the book Betta Care Made Easy by Adam Short and Amy Grant(the one advertised on the front page of the forum) after barely getting it a day ago and I also just got Ecology of the Planted Aquarium by Diana Walstad.
I got a veiltale (Nemo) from the local petstore and then 3 oto catfish (Larry, Curly, and Moe) a week later, they get along with Nemo, one even follows him from time to time.
ive been upgrading every week and making mistakes along the way but hopefully no more mistakes (or at least less of them) like grabbing driftwood and rocks from outside and dropping them into the tank and not using water conditioner but ill just include what is in there now:
they reside in a 10g tank with heater at a constant 75 degrees, an aqueon quiet flow 10 (baffled, barely upgraded early this wk) with a retrofitted mini bow 2.5g lamp with a 50% 10,000k daylight/ 50% Actinic Bluelight (i thought it'll be bright but honestly it seems abit dim).condiitoner and nitrate remover, api stress coat and stress zyme. sand substrate with a 3 silk plants but a few live ones too like java fern and corkscrew val. hoping to get a carpet of either dwarf hairgrass or babytears i havent decided yet.
ill try to add some various pics of the tank thru the last few weeks, the light i have currently seems abit dim and maybe the fact that i added sand in over the weekend has the water abit cloudy and dont want to show that off. if not just go to my album on my profile page, ill make sure to add a few more.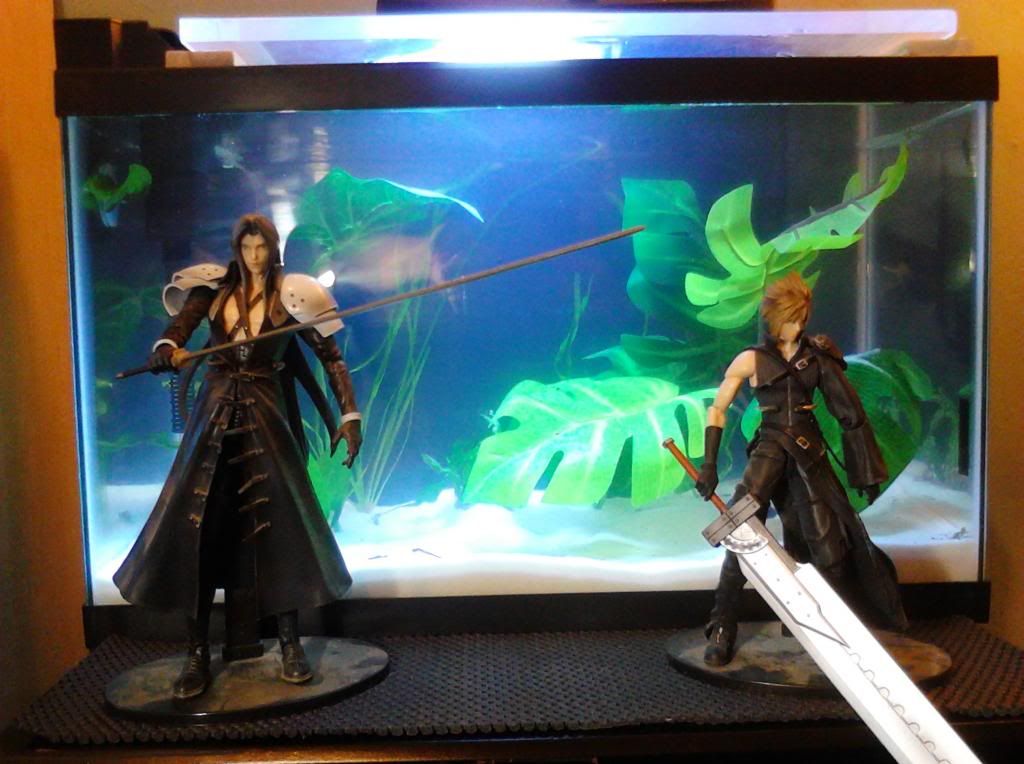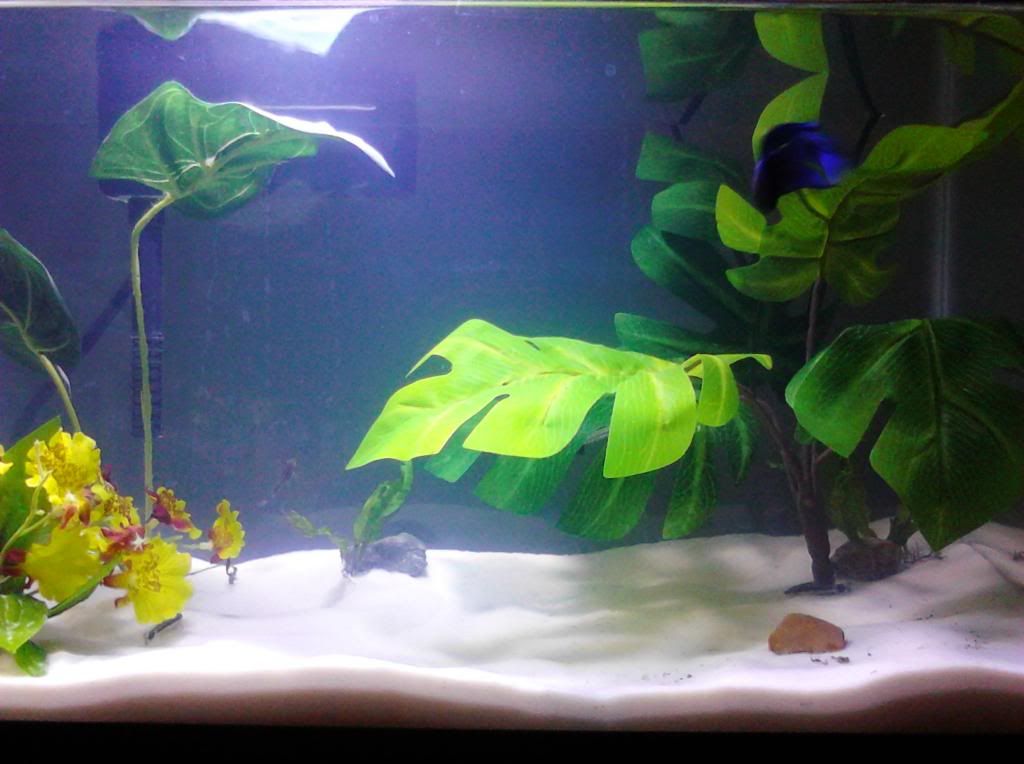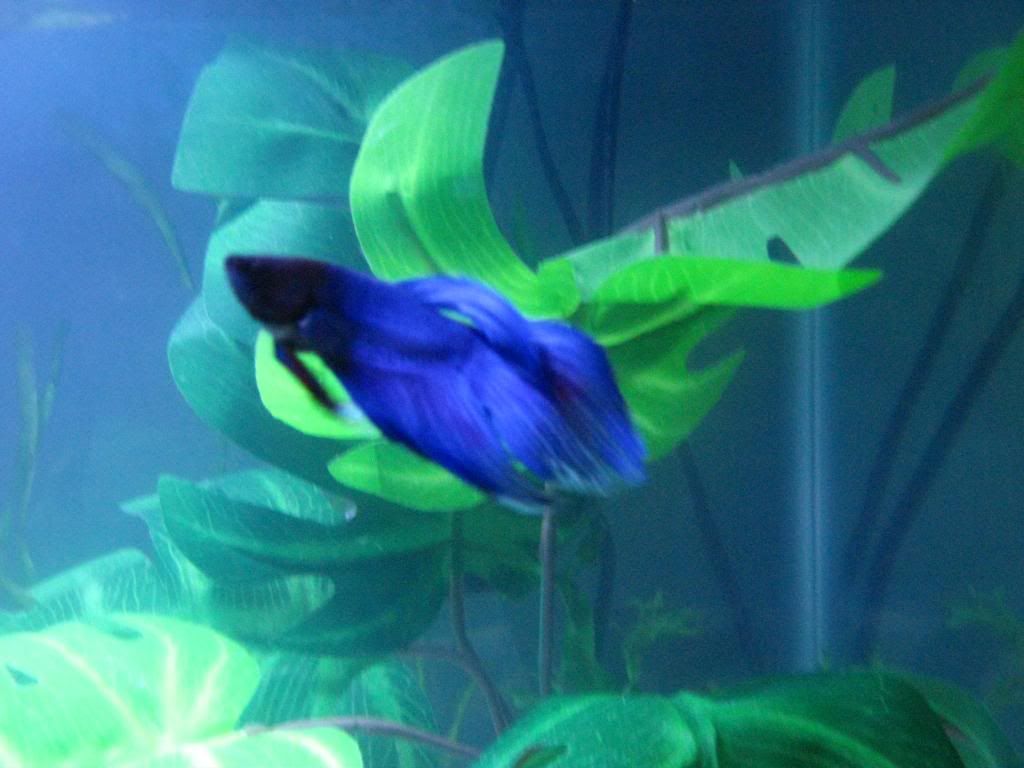 ---
Last edited by itsuki; 01-21-2013 at

09:54 PM

.
Member
Join Date: Dec 2012
Location: Yakima,Washington
Posts: 590
good luck with your betta.
thanks blu!! i didnt know Yakima was a place, i thought it was just a company that made ski racks and what not for cars
BAH....where did you get that lovely tank? What kind of light is that? It looks so nice.
---
IBC Member since 2013
the tank is some generic walmart 10 gallon. the lid i made myself :) out of some acrylic, wood and an minibow 2.5 gallon lid/lamp that i got at the swap-meet. i'll pic of it so u can get a better look.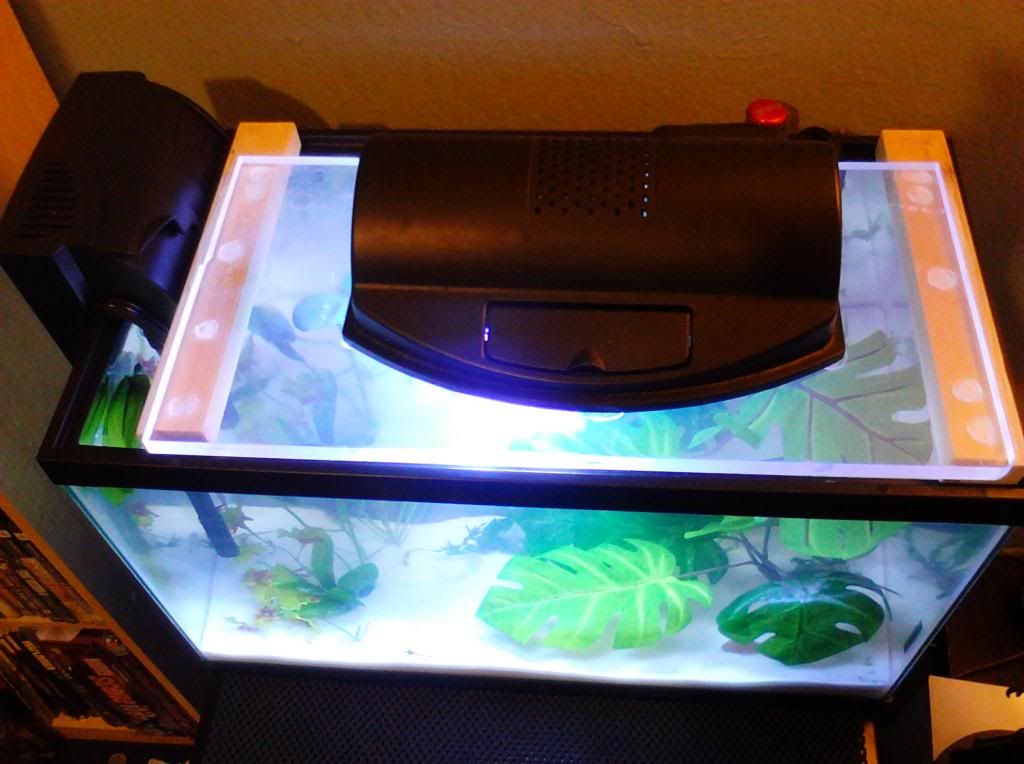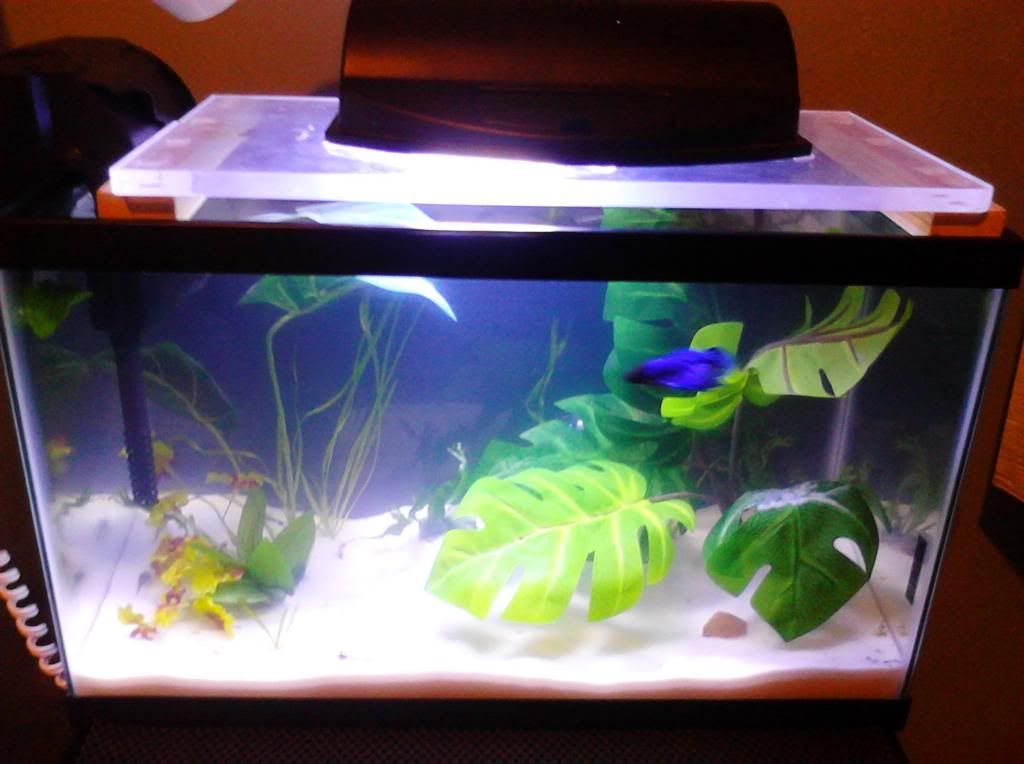 ---
arrgghhhh :/
Oh how I wish I could put my betta in a Lot bigger tank, Great job so far :3, Yeah Yakima Is a place, (I'm from Washington myself.)


*Side Note: And Nice Cloud/Seph Figures :3
Member
Join Date: Dec 2012
Location: Yakima,Washington
Posts: 590
maybe i misunderstood the question LadyVictorian the light bulb is a Aqueon 50/50 mini compact fluorescent 6" 10 watt lamp. it is 50% 10,000k daylight/ 50% True Actinic Bluelight. i think its kinda dim, was hoping it would make my tank brighter :( but i dont think it did)

yes its a 10 gallon
---
arrgghhhh :/
wow two people from one place(yakima) in one thread!! small world :) u two should meet up and talk bettas wish i knew more betta people around me :(
---
arrgghhhh :/
Quote:
Oh how I wish I could put my betta in a Lot bigger tank, Great job so far :3, Yeah Yakima Is a place, (I'm from Washington myself.)


*Side Note: And Nice Cloud/Seph Figures :3
i had a zack figure too but my friend begged me for it so he could complete is collection, he initially thought zack was weak and decided to get the tifa, yuffie and solider cloud 1st and then wasnt able to find zack anymore and guess who had one (ME), sad i dont even remember what i traded it for :(
---
arrgghhhh :/