First-Time Betta Mom!
---
Hey all! Like the title says, I'm a first-time momma, who hasn't owned a fish in over a decade! I've been lurking on here, reading the advice for a few days, and I'm glad to have found you, or else I'd be lost!
Actually, that's slightly embarrassing to admit, considering that I'm a Licensed Veterinary Technician in NYS! Granted, I don't practice on fish, but all I remembered from my school days was the term "ich."
Anyways, I picked up a beautiful double-tail male at the store, and he's so cute and funny! He's in a very small tank (prepares for scolding), but he has a heater, thermometer, and conditioner, and I do partial water changes every few days. He interacts with me, and I've already seen him blow a few bubbles at the top! I plan to get a larger tank soon, but for now, this one will have to do...
No name for him yet, maybe you all can help?
Picture time!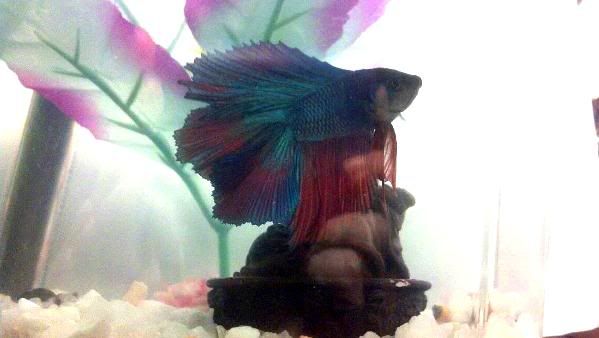 He's very beautiful good luck!
---
6 ivory apple snails | Jungel Vals
5 Lamp eye tetras | Cryptocoryne Wendys
2 silver hatchet | Anubias
2 Albino bristle nose plecos | Water Sprite
2 Kribensis cichlid | Water Onion
1 Orange Koi Angelfish Runt | Amazon Swords
Welcome! So long as you're doing the appropriate water changes his current tank will work. He's a pretty boy.
Hello and welcome :) He is really cute!
Thanks guys! He's kept me very entertained so far with his antics (he's already got quite the little personality), and even the cats have been doing well with him!

One is jealous because he's getting attention, another thinks he's pretty when he flutters his fins, and the rest just leave him alone...
Member
Join Date: Mar 2010
Location: USA
Posts: 10,951
Welcome to the forum and to the wonderful world of Betta keeping...

Nice to meet you...

Lots of different ways to keep this species successfully-it finding what works best for you, your Betta and what you have available.

Enjoy your stay and lovely Betta by the way...nice find...