Hello from Australia! New, unnamed little guy.
---
Have been lurking for a little while, gathering information and have been busy setting up the new tank for a while now. Today I finally added a Betta to it!
I'm currently studying Veterinary Nursing and wanted a little study buddy to keep beside my desk. I've had Betta in the past, but unfortunately, followed some bad advise and believed some of the myths and misconceptions...so this time around, I am trying to make up for it by giving my little guy everything he needs to thrive. After seeing an aquatic surgery performed on a Betta with a mass, I was hooked again!
I live on the east coast of Australia, after moving up from Melbourne and along with my boyfriend, currently live with 3 crazy ferrets that think it's hilarious to chew on my toes and climb up my pant legs while I'm studying, hence the need for a fish...nice and calm!
Here he is!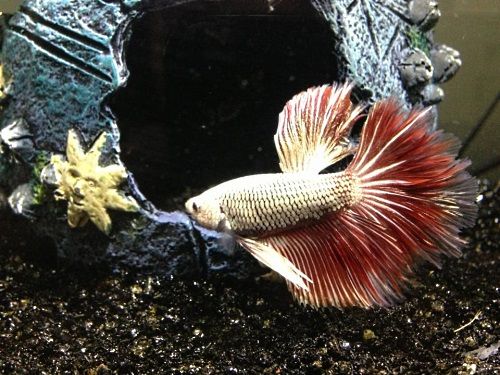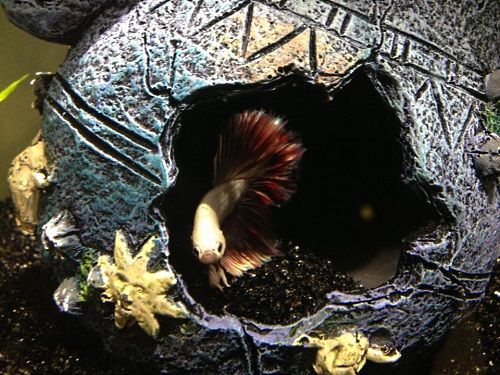 It's his first day in something larger than a cup (now in 21L) and I can't stop watching him swimming to all corners of the aquarium and investigating everything. His set up is pretty basic at the moment, a couple of amazon swords and an urn ornament to hide in. I'm hoping to add more live plants soon and some more hidey/play area's.
He also has no name at the moment.
Hello and welcome to the forum
Your new betta is a real beauty - congrats.
---
Animal testing is a terrible idea; they get all nervous and give the wrong answers.
Welcome! That's a very beautiful guy you've got there :)
Welcome to the forum! And pretty betta.
Surgery on a betta fish? Never heard of that, sounds cool. I know people operate on koi and goldfish but something as small as a betta must be a challenge.
---
taking a break from fish-keeping.
3 lovely male betta still keep me company.

Welcome & congrats. Its really fun to watch them explore. If your tank is new make sure you read up on fish IN cycling a tank.
Hi Lisha! Welcome to the forum. Glad to have you here! I already told you this on one of the other threads, but again, your boy is gorgeous! I'd love to see pictures of the whole tank. From what I can see, it looks like a nice setup. You saw a surgery being performed on a betta? I did not know that surgeries could be done on bettas. Was it for a tumor? I'm so crazy curious about that now and want to know everything! My boy Feng is a dragonscale and has what myself and people on this forum believe to be a tumor. I've been asking people if you can take bettas to the vet, but no one seems to know!
---
My lovely bettas are: Dagger, Egg, Salsa, Marble, Augustus, Miles
Puddles, Oz, Nate, Monkey, Picasso, Feng, and Maui
Thanks everyone! He caught my eye straight away, but as the tank wasn't ready yet, I had to leave him there for weeks. Was so happy when I went back yesterday and he was still there. I thought he would get nabbed up straight away!

And the surgery I saw was for a dorsal fin tumor, where the dorsal fin meets the body. Really fascinating to watch, so delicate. They use special anesthetic drops in a small surgery tank that makes the fish numb and sleepy and gently lift as many scales around the tumor as they can then use a scalple blade to scrape the mass away without causing too much trauma.

You can definitely take your fish to the vet! You just might have to shop around for one that has the equipment and is willing to do it.
Aw, he was meant to be! Yeah, I'm surprised he wasn't snatched up by someone before you went back for him. That is awesome about the surgery! Thank you for sharing!
---
My lovely bettas are: Dagger, Egg, Salsa, Marble, Augustus, Miles
Puddles, Oz, Nate, Monkey, Picasso, Feng, and Maui
Here is the tank so far. Very basic but I'm going to an aquatic supply store tomorrow to hopefully find some more plants and I want to get him a leaf hammock and a log, but I've never seen them in store, anywhere?
And I don't think the Neon's were a good idea...he has munched on a few of them. :(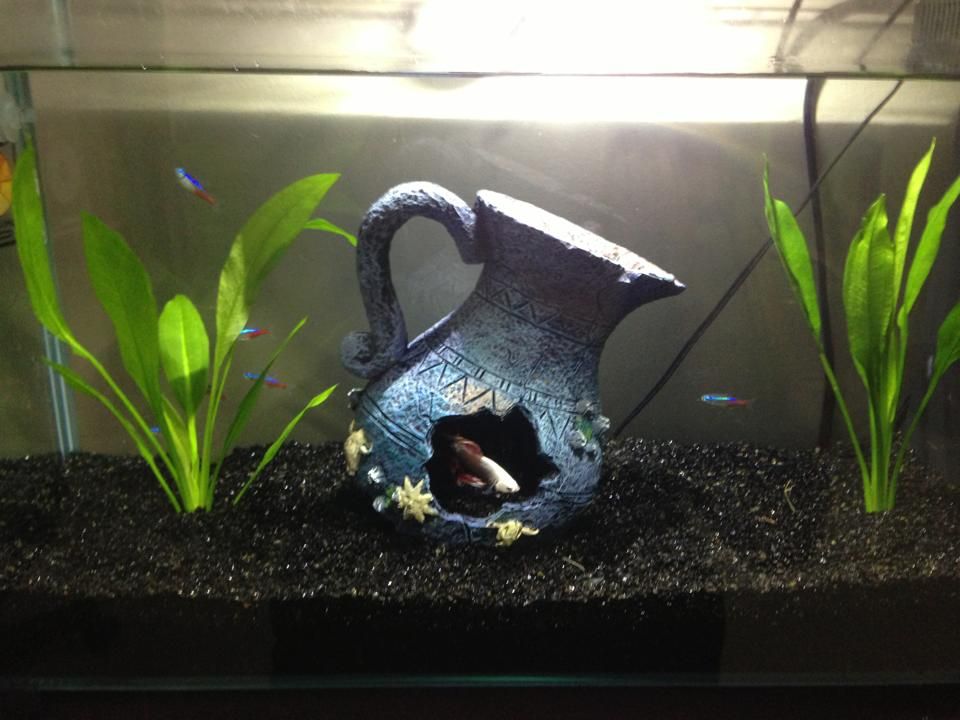 Hi! Nice to have more Australia-dwellers on the forums - there are a couple of us lurking around. :) I used to live near Newcastle when I was little, in Port Stephens.

The neons were definitely not a good idea. They are too active for a 21 litre, and that size tank can only really support a betta and a snail at most. Further, that doesn't give your betta the territorial room he needs. Neons belong in 40 litres minimum. They are also unlikely to be happy in a tank that is still cycling, and prefer more cover than your tank provides. :( If you can possibly return them, do so. If not, you really need to upgrade to a 40 litre minimum and do plenty of extra water changes til you can.

Your betta is gorgeous and your ferrets are extremely cute. :)
---
Life.