After lurking for so long...
---
I finally decided to join :) I've kind of been looking around the forum for a little over a month now and figured I'm here every day I might as well get an account.
Originally wasn't all that interested in fish but because of my current living conditions I missed having a pet to care for. I got my little betta Derek, a one gallon, small plastic plant, a small hiding spot, and then called it good. Then I found this forum that taught me so much I had to improve the little guys living conditions.
I have definitely come to realize how addictive bettas are and some how found myself 5.5 and 36 gallon tank haha. Looking forward to becoming more involved here and learning what I can from everyone.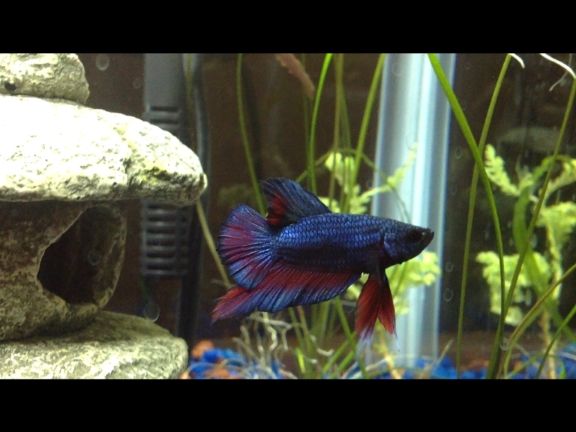 Member
Join Date: Nov 2012
Location: New Jersey
Posts: 451
Welcome, this is a great forum. Little Derek sure moved up. I was asked to care for a fish for the winter, they said he was mine after they saw how I moved him up. Shortly after, I now have a few. You will find a lot of good help here :)
Thank you for the welcome :) I wished I found this forum before I bought him so I would have known what to get him instead of the trial by error. The 36 seems to be the most daunting thing right now but I'm just going to take my time with it.
Hello and welcome to the forum so happy you decided to join us ! Derek is a beauty love his colors. I bet he loves that new bigger home to swim and explore. What are your plans for the 36 gallon tank ?
---
Remember the Light at the end of the tunnel may be You.
Don't be afraid of your 36! I have a 33 Flatback Hexagon and I love it, I feel like it's really not that much more work than my 10 gallon. The only thing more work I've needed to do with the 33 is start adding CO2 to the tank because it's a natural planted tank :) It also houses my sorority.

And welcome to the forum, officially! Derek is one good lookin' fish!
---
Rembrandt II, Suiché
Leopards: 1:4 Hawkeye, Luna, Astrael, Dorian, Cullen
Gargoyle: Cloudjumper and Toothless
Hello and welcome to you and Derek
He's a real beauty.
---
Animal testing is a terrible idea; they get all nervous and give the wrong answers.
Thank you all for the warm welcomes. I plan on making it a planted tank I'm just not entirely sure what to plant it with as the selection locally isn't too great plant wise (more like I'm afraid to kill the plants haha). I also would like to stock it with some Cory and a betta but not sure if I would want to add another type as well. Right now it's just bare with only sand.

How would be the best way to go about adding co2? Sorry I'm still figuring out planted tanks
---
Last edited by Clue; 04-21-2013 at

11:13 PM

.
Also thank you on Derek he looked so lonely and too active for that little petsmart cup haha
I did the same thing, I lurked, then signed up, but didn't really get on much until about two weeks after I signed up, and now I have a hard time getting off haha :D welcome to the betta casa
---
bniebetta
Thank you I'm not normally one to actually sign up for a forum but this one seems friendly and it helps for any specific questions that may pop up.

I'm on almost everyday anyway haha I love looking at everyone's beautiful fish