Hello from me and Odysseus!
---
Hello! I just brought Odysseus home yesterday, and already this forum has provided a lot of information, so thank you all for that!
I'm excited to have found a place where Odysseus and I can perhaps make some like-minded friends.
Here's the boy (please excuse the horrible photography, I don't know what to do with a camera):
[IMG]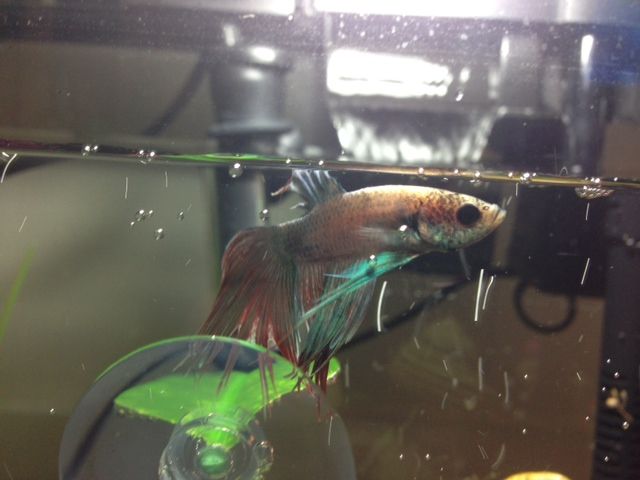 [/IMG]
I am looking forward to getting to know you guys and your fish!
Hello,Welcome to the forum..this forum contains a lot of info abt fishes..
---
Freshwater fish
Hello and welcome to you and Odysseus
---
Animal testing is a terrible idea; they get all nervous and give the wrong answers.
Welcome. Can't wait to see what he looks like once he's settled in to his new home & has some TLC.
Cute crowntail you have there
Welcome on the forum.
---
~* Greetings from Jisca *~My bettas and spawns (Last Updated: 20 August 2013)
Boys: Daryl HM, Oliver HMPK, Bender CT, Bruce CT, Kai PK, Saikata DeT/CT
Girls: Alice HM, Hazel HMPK, June HMPK, Adelin PK, Amy PK,
Sookie CT, Kyra CT, Melanie CT, Helena CT, Jessy CT, Jackie CT, Traci CT
Welcome to you and Odyssesus!
---
"Animals are reliable, many full of love, true in their affections, predictable in their actions, grateful and loyal." ~Alfred A. Montapert
My Bettas:
Dude-Male Salamander HMPK & Molly-Female Marble HM
My Goldfish:
Rory
S.I.P. Beta-Blue & Black CT//Dragoon-Dark Copper DSPK//
Merlin-Red VT//Raku-Multi-Colored CT
My Journal
Thank you all for the welcome! Odysseus has settled in and sends his thanks as well.
Banned
Join Date: Jul 2008
Location: Central Texas
Posts: 27,607
Hello and welcome to the forum.
Welcome aboard, I can't wait to see pictures of him when is more settled and happy. Good luck to you both.