Hello!
---
Hello everyone. I'm new around here. You can call me Zee. I recently got a betta, and while I had bettas in the past, I must admit it was back when I was under the misconception that they could be in a bowl at room temperature.
I'm much more informed now and want to take better care of the one I have.
My betta's name is Typhoon, and while I've only had him for about a week he's already showing himself to be a little Grumpy McGrumperson. He's an alert guy though and often swims up to glare at you through the glass when you are within his line of sight. I know he's a Half Moon, but not really sure what his color is. I know it changes from green to blue to purple depending on the angle.
Here is a really bad picture of him finishing a flare.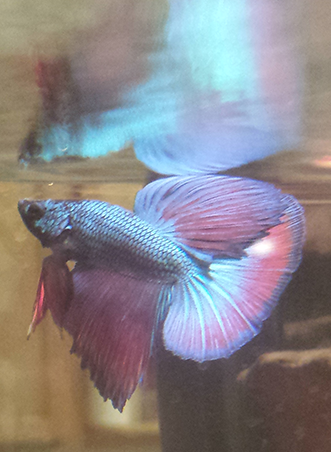 Banned
Join Date: Jul 2008
Location: Central Texas
Posts: 27,607
Hello and welcome to the forum. You're fish is beautiful!!
Hi Zee
Welcome to you and Typhoon. He's a real beauty!
---
Animal testing is a terrible idea; they get all nervous and give the wrong answers.
Welcome to the forum!

Typhoon is beautiful!
---
"Animals are reliable, many full of love, true in their affections, predictable in their actions, grateful and loyal." ~Alfred A. Montapert
My Bettas:
Dude-Male Salamander HMPK & Molly-Female Marble HM
My Goldfish:
Rory
S.I.P. Beta-Blue & Black CT//Dragoon-Dark Copper DSPK//
Merlin-Red VT//Raku-Multi-Colored CT
My Journal
Thanks for the warm welcome everyone! I've been reading and learning so much about how to properly take care of my new little guy.
---
BOYS: ///Typhoon RIP /// Tsunami /// Monsoon /// Jishin///
GIRLS: ///Coco Ichi///
Member
Join Date: Jan 2014
Location: Melbourne
Posts: 96
Hello and welcome, I'm new too. I had the same misconceptions as you, I never knew about bettas until I literally googled "fish for 25 litre (5g) tank" and was surprised to see bettas pop up!