umm ok.. not her but WHATEVER, I have a mystery snail, whatever you will call it

now how many babies will there be?
they are also harder to tell apart. And not illegal in Canada... or I hope. Had one briefly, till I realized how much it ate and returned it.
Also, most snails labeled as mystery are apples "diffusa" See applesnail.net
http://www.applesnail.net/content/faq.php#13
ive been on applesnail.net before :D thanks!
Kinda funny, but one of my female apples is laying eggs right now. And the other female is looking like she is about to start too.
It IS kinda confusing as some websites say they are the same species and other sites say NO, they are 2 different species. It drove me NUTS when I was trying to identify what I snagged out of a local lake...
all I know is my store bought snail is big and black...
I have also seen it somewhere online that certain types of apple snails are not allowed to be imported as they are not native to local waters - ot sure where it was though
Quote:
if you bought your animal from a pet shop, you probably have a
Pomacea
diffusa
apple snail or a snail from the
Pomacea canaliculata
-
insularum
group. The latter is a group of very similar and closely related species. In most cases, the offered snail is a
Pomacea insularum
or a
Pomacea canaliculata
snail, but occasionally
Pomacea haustrum
and possibly other species from the
canaliculata
group, like
Pomacea maculata
might be available as well.
For the snails of the
Pomacea canaliculata - insularum
group, it's quite hard to distinguish the species as the external differences are subtle and the variation within species is high. A possible way do distinguish these snails is the colour of the eggs*. one should also keep in mind that hybrids between several closely related species might occur. This cannot be ruled out in
invasive species
and those available in the aquarium trade.

Species
Egg colour
Other notes

Pomacea
(
pomacea
)
canaliculata
(Lamarck, 1819) Bright orange
Pomacea
(
pomacea
)
insularum
(D'Orbigny, 1839) Pink
Pomacea
(
pomacea
)
lineata
(Spix, 1827) Pink
Pomacea
(
pomacea
)
doliodes
(Reeve, 1856) Pink
Pomacea
(
pomacea
)
haustrum
(Reeve, 1856) Green
Pomacea
(
pomacea
)
gigas / maculata
(Perry, 1810) Green grows over 10cm / 4 inch
* This is based on reported egg colours, and it could well be that even the egg colour varies withing one species. Also the food composition, the development stage of the eggs and the humidity of the air can affect the egg colour.
When the snail has a flat shell and has a size over 2.5 cm (1 inch) with or without dark stripes, you are the owner of a
Marisa cornuarietis
apple snail (Giant ramshorn snail). This snail is not always recognized as an apple snail due to its different appearance.
Less common, but also occasionally available in the aquarium trade (mainly in the US) is
Pomacea paludosa
(Florida apple snail).
Below is a quick and dirty guide to identify them based on the shape of the shell. Once more:
Ignore the colour
of your snails when you try to determine the species by comparing them with pictures. Many colour variations (shell and body) exist within a single species (see photograph on the right) and in the '
Colour genes
' section.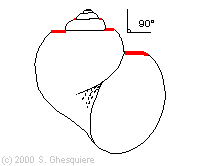 Pomacea diffusa)
: flat shoulders and 90° sutures (scalariform).
The flat shoulder, however, becomes less apparent in the last whorls of the shell.
Pomacea bridgesii
is not known to be available in the aquarium trade.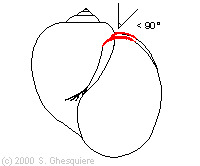 Pomacea canaliculata
and
Pomacea insularum
: indented sutures, less than 90°angle.
This shell is more globose (rounder) than the
Pomacea diffusa
shell.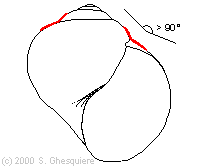 Pomacea paludosa
: Almost flat sutures with an over 90° angle, which gives the snail a cone shaped shell top (spine).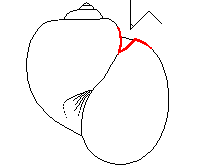 Pomacea haustrum
and
Pomacea insularum
: Deeply indented sutures with a sharp shoulders.
To make identification somewhat easier, these
3D-models
of snail shells are included. One can rotate this virtual shells in any direction with the mouse cursor.

Interactive 3D-models (Java):
-
Asolene megastoma
shell
-
Marisa cornuarietis
shell
-
Pila ampullacea
shell
-
Pila brohadri
shell
-
Pomacea diffusa
shell
-
Pomacea canaliculata
shell
- Male
Pomacea flagellata flagellata
shell
- Female
Pomacea fagellata flagellata
shell
Sometimes
other apple snail species
pop-up in the trade, mostly imported species. In these cases, it can be quite difficult to identify them. Try to find out from which region they come as this makes identification much easier.
If you need help to identify an apple snail: feel free to
contact me
and take some pictures of the snail in such way that the following thing are visible:
shell opening
(aperture), whole shell shape (including the top), the
umbilicu
s (or measure the size), the sutures of the shell and if available the shell door (operculum). Also measure the
size of the shell
and if available describe if the operculum is horny (flexible) or calcified.
Have a look at the
Pomacea flagellata
section to see how a useful picture of the shell looks like.
---
---
Last edited by Tikibirds; 05-25-2012 at

02:08 AM

.
I will go look at my snail and see, hold on

i think i hav the second?