NEED ADVICE - comet goldfish babysitting
---
Hi all. I was tempted to search out another forum to ask about this but you guys have always been so wonderfully helpful, so I figured I'd pick your brains first. :)

Over the summer I'm going to be caring for four comet goldfish who are in less-than-ideal living conditions. They're pets of a teacher at my school, who was given them by another teacher when he retired; their current owner can't take care of them over the summer and asked me if I'd help out, since she knows I have experience with fishkeeping. (We're a small school.)

The fish are (I think) about three years old (they're all about the length of my hand), and there are four of them being kept in a 10-gallon (ish?) tank. This is the biggest problem-- there's nothing I can do to change the tank size, so I need to know what I can do to make them as comfortable as I can during their two-month stay with me. Their tank also comes with an acceptable heater, filter and thermometer, and I believe it is cycled.

As far as I can tell, the fish are all in very good health. However, it's been awhile since I've cared for goldfish, and it would be great if I could get a general overview of how I should be taking care of them. Some questions:
- what temperature should their water be kept at?
- how much food should they be fed per day, keeping in mind that there are four of them? I believe the food I'll be getting with them is flakes-- are there any other foods I could introduce into their diet?
- assuming the tank IS cycled as I think it is, how often and what percentage of their water should I be changing per week? (Again, keeping in mind that there are four of them and the tank is overstocked.)
- I use Prime water conditioner for my betta tanks-- will this work for the goldfish as well?

Any other tips you can think of would be greatly appreciated. Ideally I'd just like to keep these fish healthy and comfortable over the summer. (When they're returned to school in the fall they'll have a more attentive caregiver and will be kept in the Special Ed room, which I'm pretty happy about.)
---
rescues: Idaho, VT ∙ Arro, VT ∙ Thistle, VT ∙ Niles, VT ∙ Konrad, VT ∙ Dorian, VT ∙ Oro, VT ∙ Novo, VT
adoptions: Desi, DeT ∙ Ladon, HMPK ∙ Plato, HM ∙ Firefly, HM ∙ Meja, HMPK ∙ Havet, HMPK ∙ Alexei, CT ∙ Gavril, CT ∙ Ilia, CT ∙ Shale, SDeT ∙ Drae, HM
lps/lfs: Taffler, VT ∙ Dove, CT ∙ Corvus, CT ∙ Auton, HMDT ∙ Rhett, CT ∙ Stirling, HM ∙ Vesper, HM
the sorority: Liberty, VT ∙ Saorise, PK ∙ Neith, VT ∙ Ceres, VT ∙ Thegan, VT
Ouch! Four comets in a 10 gal tank? Those guys should really be in a pond, but their survival is a testament to how hardy they are. Since there is nothing you can do about the tank size, water changes will be the next best thing. If you want a goldfish forum, I'm a member of an excellent forum.

You won't need the heater. These guys can survive winters outside. The water will be warm enough for them at room temp. Just make sure you keep them in a room with a stable temp. A basement would be good. The insulation of the dirt keeps them pretty stable year-round.

The flakes are not really that good for them. They have less nutrition than pellets. If you can find New Life Spectrum pellets (any formula) it will be good for them. Feed them once daily. You can feed them treats of green veggies like spinach and kale if you really want. A neat trick you could try with them is teaching them to hand-feed. It doesn't really serve much purpose except it is really fun ^-^

Cycling: this is a tough question. That tank might just have too much ammonia to cycle. If you have a liquid test kit, test all of the parameters. A friend of mine kept a single comet in a 10 gal and had to change 50% of the water daily to keep the ammonia down; the tank would have been impossible to cycle like that. But we really won't know anything until we get test results. In the meantime, do small daily water changes. A sudden change even for the good will stress these guys out. About 10% until we know should be good. Quick question: what brand of filter is it? Could you get/build a sponge filter for the tank?

Prime will be best as it also detoxifies ammonia (which I'm sure there is a lot of in this tank). It's concentrated which is good because you'll be using a lot of it. If you can get any live plants, that would be great. Hornwort (if your water is hard) will be great.

Feel free to ask any more questions as they arise. Also, we'd love to see pictures ^-^

Koimaiden is the best goldfish person ever, so listen to her LOL.

Poor comets...such a small tank :<
---
{
Currently Cycling
}


Kelsey | [Fish Blog]
www.thewiredlife.net
New Member
Join Date: May 2012
Location: Illinois
Posts: 97
Don't change the temprature, they are cold water fish.
---
Some say the world will end in fire,
some say in ice.
From what I've tasted of desire,
I hold with those who favor fire"
From
fire and ice
by Robert Frost
"
Not to revive a dead thread or anything, but the goldies are officially home as of this afternoon. :) The tank is actually closer to ~17 gallons, give or take, and each fish is about the size of my hand (minus tail-- GOSH their tails are long), with the exception of one boy who's a little smaller. Transporting a 17-ish gallon tank with four fish, a stand and all its equipment out of a school and driving for 15 minutes with it is an EXPERIENCE, guys.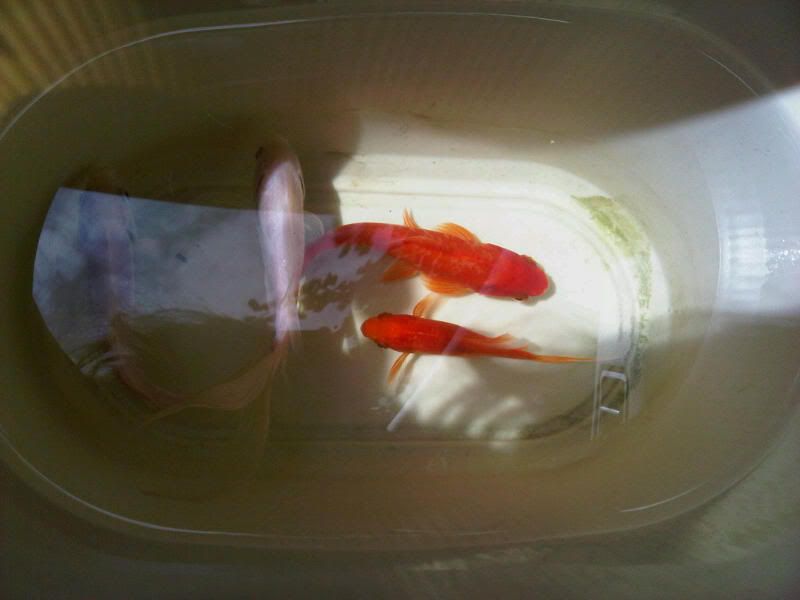 On the way home, rather annoyed that I've put the four of them in a bucket.
Anyway, the five of us got ourselves home; I wrestled with the filter for awhile, did some tank-cleaning, set up some new plants and finally let the boys explore their (new, clean, well-maintained!) home.
All four are in wonderfully good health and couldn't be perkier. They're curious, nosey and have the attention span of, well, goldfish. (One of them dug up an entire plant earlier.) I'm loving their personalities already and it'll suck majorly when I have to bring them back in September.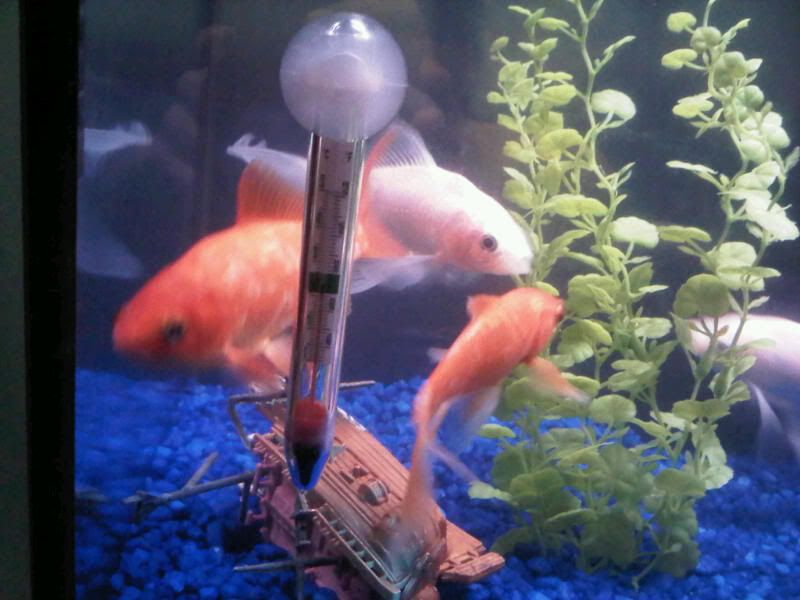 ---
rescues: Idaho, VT ∙ Arro, VT ∙ Thistle, VT ∙ Niles, VT ∙ Konrad, VT ∙ Dorian, VT ∙ Oro, VT ∙ Novo, VT
adoptions: Desi, DeT ∙ Ladon, HMPK ∙ Plato, HM ∙ Firefly, HM ∙ Meja, HMPK ∙ Havet, HMPK ∙ Alexei, CT ∙ Gavril, CT ∙ Ilia, CT ∙ Shale, SDeT ∙ Drae, HM
lps/lfs: Taffler, VT ∙ Dove, CT ∙ Corvus, CT ∙ Auton, HMDT ∙ Rhett, CT ∙ Stirling, HM ∙ Vesper, HM
the sorority: Liberty, VT ∙ Saorise, PK ∙ Neith, VT ∙ Ceres, VT ∙ Thegan, VT
They look in remarkably good condition for being in a 17 gal tank for two years. No bent spines or muscle degeneration. Just remember to keep the water changes up. That's the best thing you can do for those little (well not really) guys. If you have any live plants like anarcharis or hornwort those would be great to throw in there.
OOoh, Anacharis works wonders for an overstocked goldfish tank. They are like ammonia sucking up magnets. And lots of gravel siponing
---
---
Last edited by Tikibirds; 06-23-2012 at

01:31 AM

.
Isn't hornwort good for sucking up ammonia, (and taking up tank space :P)?

They are beautiful!
---
10 Gallon Tank:
~Countless Pond Snails~1 Espe's Rasbora~1 Harlequin Rasbora~
5 and 5.5 Gallon Tanks:
~empty~
Avatar by Fenghuang
Many of my scaly friends from my original tank from 2011 have passed, except for two! I am in the process of re-doing my tank. :)
I've kept my goldfish in a 50 gallon once with hornworts,they ate them. -.-
---
The kindness one does for an animal may not change the world........but,it will change the world for that one animal.Stop animal cruelty!!
Some goldfish do gain a taste for any aquarium plants, but I've found that mine will leave anything with needle-like leaves alone. Hornwort and anarcharis are ammonia-sucking machines; they can also be grown floating which is great because goldfish like to uproot things. I have hornwort in my tank, and it has grown like 5 inches in a week.