Member
Join Date: May 2011
Location: Elk Grove, California
Posts: 10,782
You have some of the most beautiful little fish, LBF. Your killis and these guys . . . all gorgeous.
Those liquorice gouramis are amazing D: Sooo cool!
---
Elrohir the plakat
Galah cockatoo & African Grey
Sadly I lost all my killifish to some bacterial infection that went right through my fish room. It's one reason I cut way down on the amount of tanks I have.

I am hoping to move my goldfish tank back downstairs and have two tanks dedicated to breeding pairs of killifish on my fish rack.

Now it's warming up here I am planning on putting a few tubs out with duckweed, hornwort and some hydrilla in the backyard. Then I am going to introduce some pairs of australe gold, clown panchax, and gardneri gold to see if I can get some fry out of them.

Hoping to be able to raise reasonable numbers of wild bettas and killifish for my personal collection and resale. Hopefully at least then I can get a little bit of money back from my hobby.
---
Member
Join Date: May 2011
Location: Elk Grove, California
Posts: 10,782
:( Oh no! I'm so sorry about all your gorgeous killis, LBF. *hugs*
Thanks. Was most cut-up about losing my beautiful male gardneri (he was a hybrid) that I raised from a tiny fry.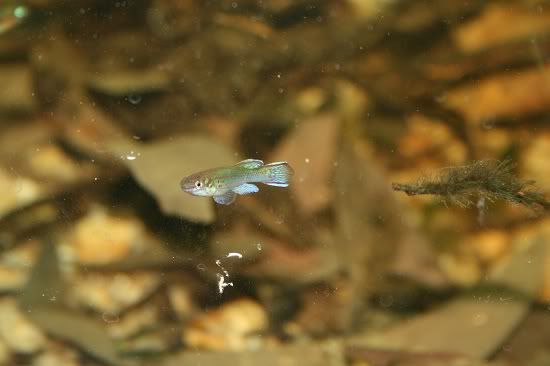 He was absolutely gorgeous and I had intended for him to have a little planted nano tank with a couple of females for him to hang around with.
---
Member
Join Date: May 2011
Location: Elk Grove, California
Posts: 10,782
:( Yeah, I can understand how that would really hurt to lose him. Do you know what he was a hybrid with? Would he have still been fertile or were the females supposed to just be company, not mates? I know some hybrids are infertile, like parrot cichlids.
He wasn't a hybrid in the sense he was crossed with another species of fish. Killifish have a weird naming system that I don't fully understand, but it is something like the locality of the area the fish was collected in is used to distinguish between fish of the same genus.

So he was I believe a Fp. gardneri nsukka crossed with a Fp. gardneri udi-berge. He is still fertile but it is very frowned upon by killifish breeders to cross and sell these 'aquarium strain' fish on the aquarium trade as it can be difficult to discern whether a particular fish is pure or not (particularly females).

I was only going to get him females for company and any resulting eggs/fry would have been kept solely by me.
---
Member
Join Date: May 2011
Location: Elk Grove, California
Posts: 10,782
Wow. There's so much about killis that I don't know about. But I think I get it. Several fish species have geographical variants, especially in cichlids.
New Member
Join Date: Oct 2012
Location: Norway
Posts: 7
My other fish :)
Two ropefish and one male dwarf gourami. He had two girlfriends, but they died. I was going to get company for him, but he ended up super happy being the only gourami in the tank XD I know there's a lot of food in the picture. It was the first time I fed them bloodworms, but I took out almost half of it XD
Also have two rainbow sharks. One black and one albino (they're not together in the same tank)
Member
Join Date: May 2011
Location: Elk Grove, California
Posts: 10,782
How big are your rope fish right now? I love the head shot. What a face!