Got some better killifish photos this morning. This is only a temporary tank for them (they are moving into a divided 2ft tank on Monday)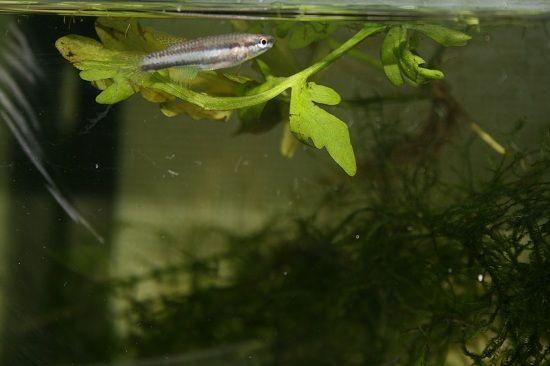 Poliaki female. Male is very shy and rarely comes out for photos
Ijebu ode female
The Ijebu ode side of the tank. The poliaki are in the other half.
---
Tasty looking H formosa male (only 1 cm long!)
too bad Kuro cant catch him!
Took some photos of my gardneri gold female the other day. She and her male were really listless and skittish when I first got them and now they spend all day spawning and eating.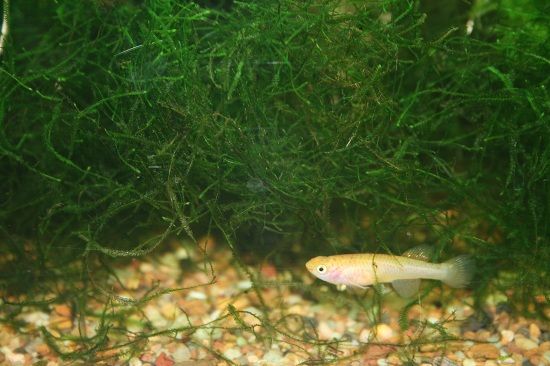 Then here is my poliaki pair. They got through the divider into the gardneri section so I just removed the whole thing and now they are happily co-inhabiting until I move the gardneri into a separate tank.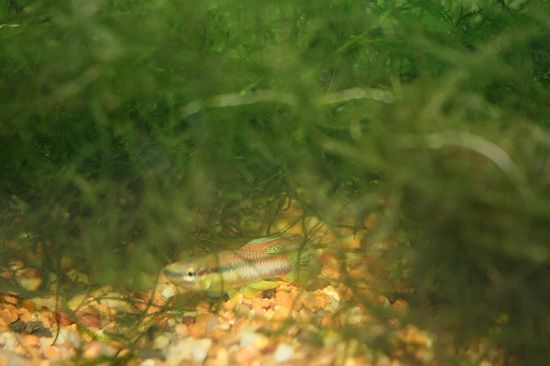 Here is also a photo of my dominant Chromaphyosemion Ijebu Ode male in full display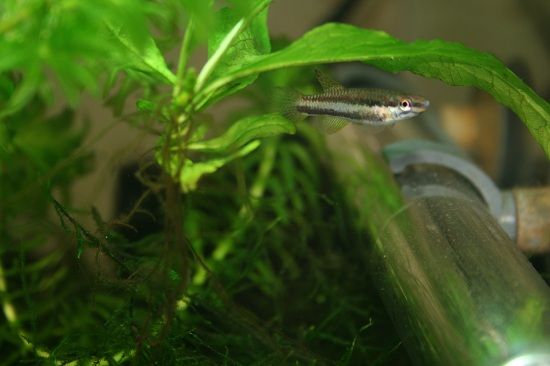 ---
New Member
Join Date: Nov 2012
Location: West Chester, PA
Posts: 11
Those Ijebu Ode are really nice. I passed on a a pair at an auction last week. A friend of mine bought them so hopefully there will be more soon.

I had good luck with the poliaki pairs I had. They were throwing eggs like crazy then one day just stopped. I changed everything and nothing changed. A friend of mine had about 100 of them and they did the same thing....Good Luck.
My Amano Shrimpies. From left to right; Thing 1 and Thing 2. I believe I have a male and female pair here. But from what I read, they won't breed unless in brackish waters. And if they did, Spike would have a buffet. xD
Lastly, I believe Thing 2 has either an "old" injury to one of his eyes or something else going on with that eye. It is significantly smaller and it has a small white "dot"(?) on it.
---
Last edited by FishyFishy89; 11-22-2012 at

08:20 PM

.
Yeah it's the first time or at least the first time in 20 odd years that we have had that strain available in Australia. Killifish market here really stinks.

Can't import half as many killifish as most would like and of those we can there isn't enough stock to make it worthwhile. Have several Aphyosemion and Fp. species I would to get my hands on.

I haven't made any conscious effort to collect any eggs as it is a pretty natural set-up and all three pairs have been spawning everywhere.
---
Anyone ever take side view photos of their aquariums? I always think these views are super cool since we tend to look at our tanks from the front. I've been thinking about buying a few more plants at some point, I want to find a big java fern, and a crypt(since my nieces goldfish ate mine) and maybe try another amazon sword.
If you have time add your own side view photos :D
---
Elrohir the plakat
Galah cockatoo & African Grey
Is that a bosemani in the front?
---
10 Gallon Tank:
~Countless Pond Snails~1 Espe's Rasbora~1 Harlequin Rasbora~
5 and 5.5 Gallon Tanks:
~empty~
Avatar by Fenghuang
Many of my scaly friends from my original tank from 2011 have passed, except for two! I am in the process of re-doing my tank. :)
There's a 3" Australian rainbow fish on the right and a 2" turquoise rainbow fish on the left. I have 2 turquoise and 3 Australian. My coworker tried to talk me into getting a bosemani but I'm not a fan of orange lol.
---
Elrohir the plakat
Galah cockatoo & African Grey
---
Last edited by copperarabian; 11-25-2012 at

07:12 PM

.
Member
Join Date: May 2011
Location: Elk Grove, California
Posts: 10,782
They're beautiful, Copper. That side view of your tank looks amazing.

LBF, your killis never fail to amaze me with how gorgeous they are.