I assumed the tank should be cycled with the current stocking o_O otherwise... *horror*
LOL true that.
---
If we are made of cells, then a scientist who studies cells is actually a group of cells studying themcells!
I believe nearly EVERY fish is sensitive to a tank that isn't cycled. It just comes down to wither or not they show more physical signs of stress.
My senior Kuhli still enjoys swimming around :)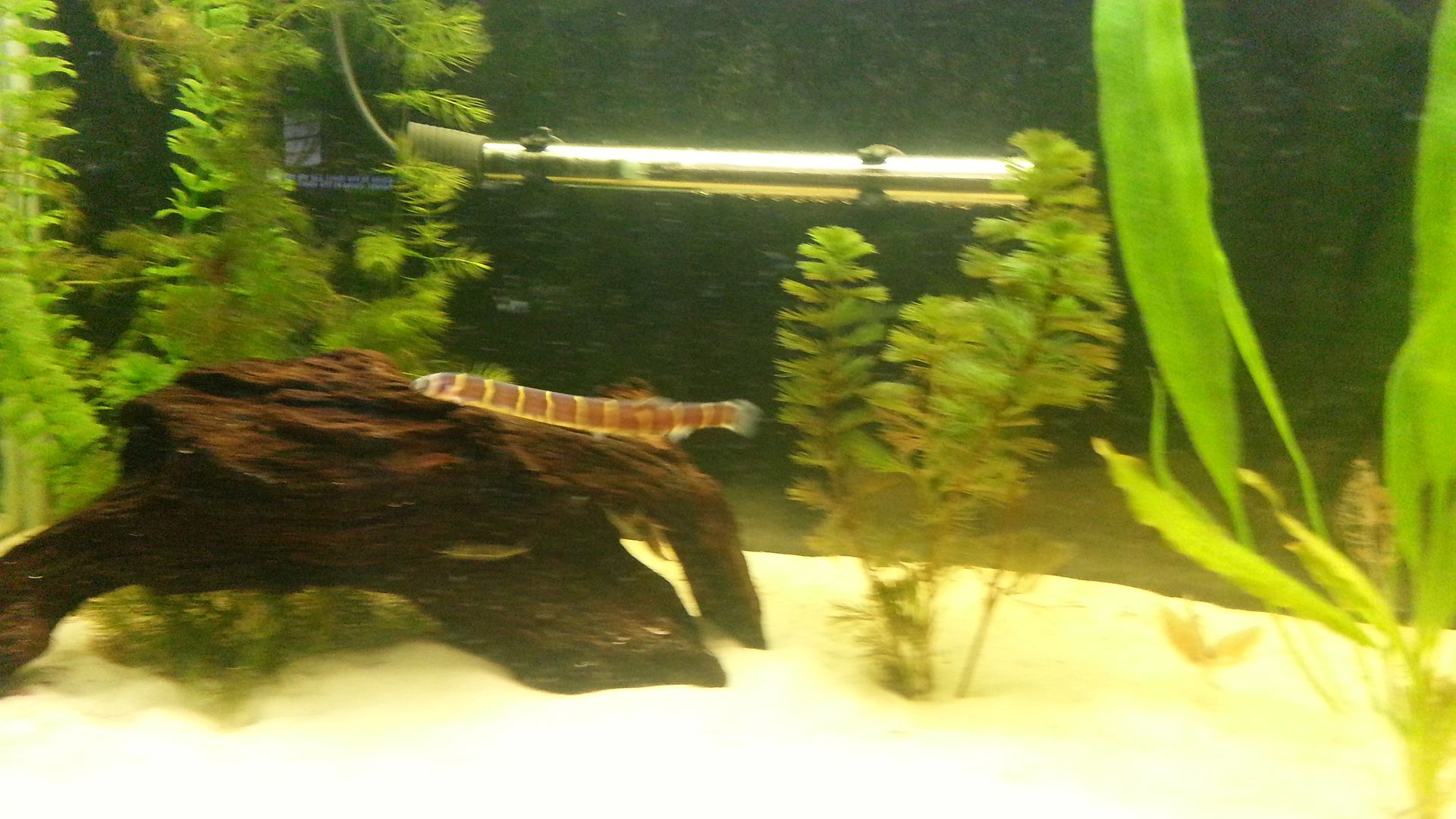 i don't know how to cycle a tank... O.O
---
<>< MistersMom <><
¸.·´¯`·...¸(><((((º> . .·´¯`·.. >><((((º>`·.¸¸.·´¯`·(><((((º>`·.¸¸.·´¯`·
Start with a fishless tank. complete with decor and what not. Add PURE AMMONIA, no scented. When you shake the bottle, it shouldn't suds up. Add enough ammonia to reach 2-3ppm. Now wait....let it do it's job. I believe within 2-3 weeks you should be seeing some nitrite. If ammonia goes down, add more to maintain the 2-3ppm. Once that ammonia disappears overnight and you have a spike in Nitrates, your tank is cycled. Now do a water change to remove the nitrates and add fishys.
http://www.kokosgoldfish.com/FishlessCycle.html
O.o how about a fish-in cycle? I dont have any liquid test kits, they are always out when i go to get them.
---
<>< MistersMom <><
¸.·´¯`·...¸(><((((º> . .·´¯`·.. >><((((º>`·.¸¸.·´¯`·(><((((º>`·.¸¸.·´¯`·
Where do you get ammonia?
---
<>< MistersMom <><
¸.·´¯`·...¸(><((((º> . .·´¯`·.. >><((((º>`·.¸¸.·´¯`·(><((((º>`·.¸¸.·´¯`·
fish-in cycling can be harmful to the fish and takes longer to cycle the tank than fishless cycling.
Fish in requires daily water tests and water changes whenever ammonia rears it's ugly head.
With fishless, in the beginning you can test once a week(for 2-3 weeks) and add ammonia when needed. No water changes until ammonia disappears overnight.

Ammonia can be purchased at walmart, grocery stores and even the dollar store. I went through 4 different stores before i finally found a non-sudsing ammonia.
---
Last edited by FishyFishy89; 02-12-2013 at

02:01 PM

.
Quote:
O.o how about a fish-in cycle? I dont have any liquid test kits, they are always out when i go to get them.
uh... if your tank has been setup for over a month and you never change te filter... it's most likely cycled.
that's why I never under why people don't do planted tanks :P no cycling involved >.>
Well I think it depends what kind of plants you have. A single anubias isn't going to help much in terms of removing ammonia but something like a handful of duckweed will.

Mistersmum, I really recommend that you try and find test kits for at least ammonia and nitrite. These are the two that will kill your fish if they get high enough.

Your tank may be cycled or it may not be. If you periodically remove all your filter media for example, your tank is probably not going to have had a stable cycling period.

I definitely would not be adding sensitive species such as tetras or smaller corydoras until you know for certain that your tank is cycled and able to handle the bioload of these fish.

Otherwise you will just be wasting your money.
---