I think this one came out pretty well if I say so myself. Guess what I used to take it.
---
Everything happens for a reason, but the reason isn't always good.

Your phone?

Sometimes my phone takes crappy photos. Sometimes it takes awesome ones lol. With fish it's hit or miss.
What species of fish are they? Look almost like Pseudomugil red neon. Nice photo though. It is hard to capture some of the smaller schooling species of fish.
---
Yup it was w/ my iphone 5 lol. I was pretty surprised. And yup that's what they are. I just transferred them to a new tank before the photo so they were a bit pale. They've colored up more since.
---
Everything happens for a reason, but the reason isn't always good.

They are a beautiful fish and I am extremely jealous of you. I have kept several of the native Australian pseudomugil species and these are one I would love to own, but they are just not available here.
---
The fish look amazing, but I can't get over how the vals are thick and drape over... I hope mine do that.
Thanks everyone. I actually got them last Saturday when the LFS was having a 25% off sale on everything. Besides 2 male forktails I had as a kid these are the first rainbows I've kept so I'm pretty excited.

As for the vals, I find that they're pretty much indestructible as long as the tank's large enough. The tank that photo's from is 20" tall. In my smaller tanks I find that the vals tend to be smaller and thinner. Otherwise they're pretty nondemanding. The kind I have are jungle vals if that helps.
---
Everything happens for a reason, but the reason isn't always good.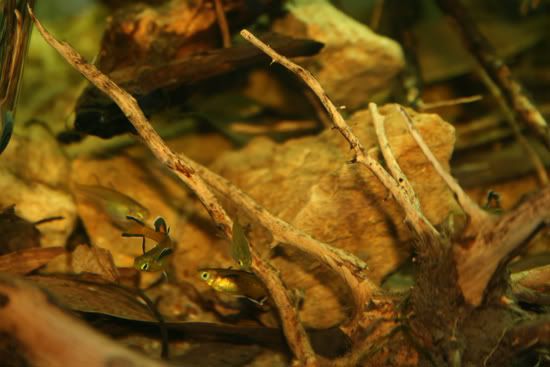 This was a shot of my old group of honey blue eyes. I got fry a couple times but this species really needs a pond sort of environment if you seriously want to breed them.
Hope all goes well with your group. I have always found them to be extremely personable fish once they warm up to you. Mine used to nibble on my hands when I did water changes.
---
Everyone meet Mr. Jack Skeleton! He's a Calico Ryukin Goldie <3 Has a rather friendly personality and eats from my hands. And I haven't even had him for a week!
i love spamming everyone with pics of my finbabbies :3
Let's start with the albino cories;
AND onto the three goldfish ('calico' veil tail Steve, black moor Suzy, pearlscale oranda NoName)
---

|| 10g divided, bettas: 1m, 1f ||
|| 50g, fancy goldfish x3, albino cories x3 ||