Yup! I'm in Sydney at the moment. Too cold to get out of bed :( during the day temperatures are somewhat ok. ie wont freeze my hands off if i stuck it in there for a couple of minutes. I'll take that photo after I pull myself out of bed.

My Family friends with the fantails said they've have them for 5 years( in the pond, butI' ask for more details). I think they have the gold fish as a part of an irrigation system with their home grown vegetables, it's winter so they weren't growing much when I went over this time. it's pretty cool. Using fish water to water plants. I'm pretty sure it's much bigger, not sure about the depth.

I think I need to buy a thermometer next time I goto the LPS, it's probably the temperature drop from night to day that is affecting the newcomers
---
Last edited by ao; 07-08-2012 at

07:11 PM

.
I didn't realize you were in the southern hemisphere. That does change things. Introducing goldfish or koi in the off season is dangerous. The temperature change is too much. Going from tank water which ranges in the 70's to pond water in the 50's can cause them to go into shock. This is going to add to the stress of being put in a new environment.

Certainly get a thermometer for the pond. Water is usually a little warmer than the air. Still really interested to see the picture of the injured goldfish.
I guess we'll let this round of goldfish febd for themselves. The red ones are doing great. the two patterned ones...not so much.
Pictures as promised!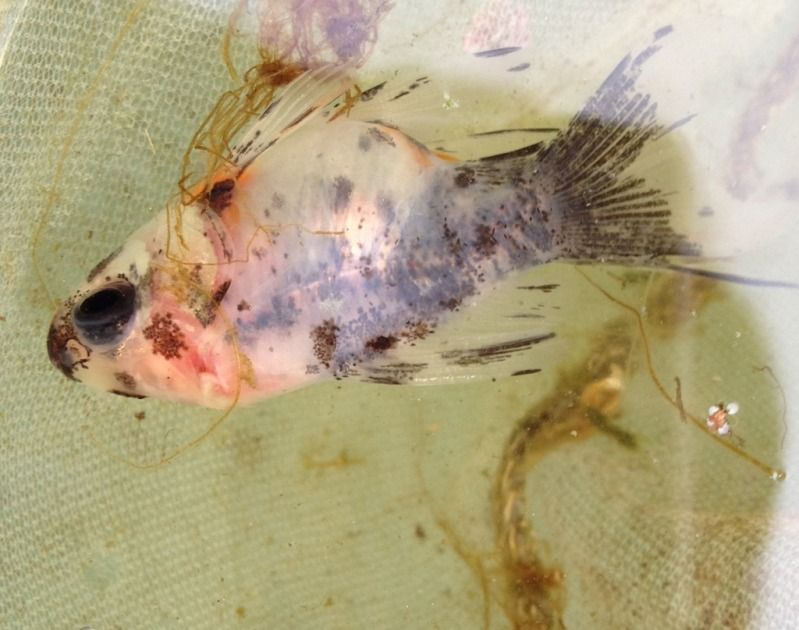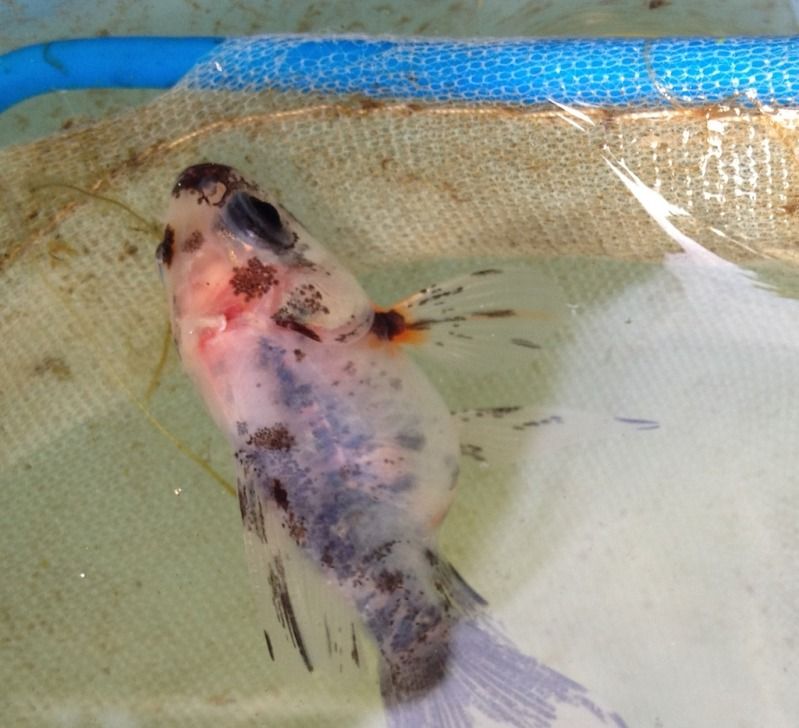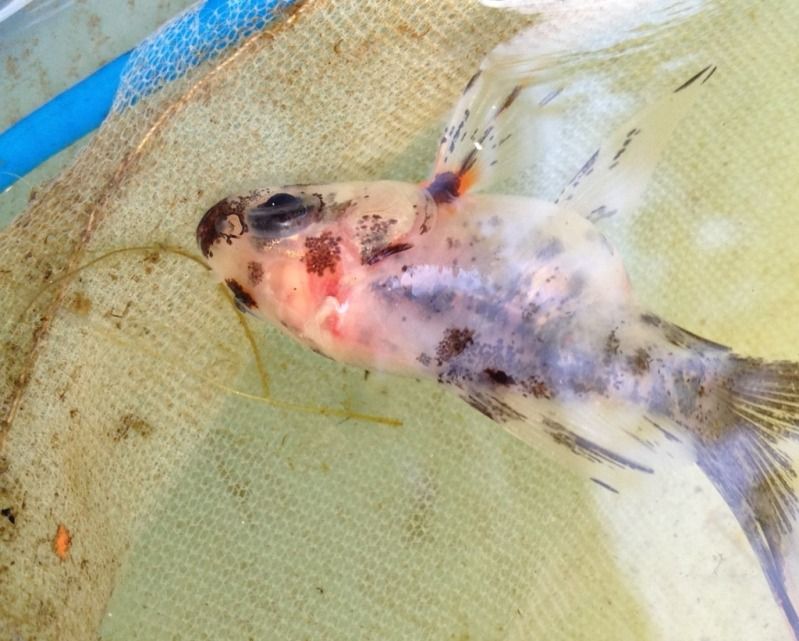 in person it looks like the scrape began at the black spot between the eyes and up to where the skin is gathered
I honestly don't know what caused that. Could its head have gotten stuck in the filter intake? My first thought was that it looked like something had been dropped on the fish.
:O that is possible. I poured in some left over gravel cleaned from our recent water change a few days ago. I thought I had shooed all the fish to the other end, but the black and white spotty fantails are not very visible. So I merely assummed that since the reds were there that these two would be with them. D: I feel so bad for dropping gravel on the poor thing! should it I
it just be alone time for her? I have a ten gal, but not a filter yet.... I doubt goldfish will be ok without a filter :/
:( You said that that particular fish was a little more clumsy. I'm sorry, but that sounds very plausible.

As for what to do with the fish, we're caught between a rock and a hard place. You could move the fish to warmer water where its immune system would be able to work faster and fight off any oncoming infection, but in that tank it wouldn't have the vital filtration system; you would have to do 100% daily water changes. Or you could leave the fish in a cycled tank where it could be subjected to rapid temperature changes that can happen in ponds. It's a tough call, so I'll leave the final decision up to you.