My New Convict!
---
So I recently had to rehome my goldfish to my friend who has a very large pond. Leaving my 30g empty. I was looking on my local CL and saw an ad for a 2.5 gallon tank, my mom has been wanting another betta so I clicked on it with the idea to buy her the tank for a new betta and in the picture I notice there is a fish inside the tank, it was a Convict Cichlid!
I know they do fine in 30g so I went and picked up the tank and fish (tank for my mom and fish for me). He has since been moved to his new, larger, home. Still not sure if it is a girl or boy, I am thinking it is a boy. Either way I named it King. :)
Here is a picture of him in the 2.5 gallon:
Here is his new setup:
And here is the King himself:
Questions: I have never owned a cichlid before, as with Convicts, would he be happier with a friend? And if I do end up with a breeding pair, will they attack me when I clean the tank?
---
Bettas - Giovanni (HM), Burly (HMPK Giant).

IDK about Convict Cichlids, but I had an African Cichlid that ate everything in my tank.
He is my first cichlid. But I have heard they can be aggressive towards other fish so that is why he is in there alone. :)
As for the decor, he can do whatever he wants with it. Afterall it is his house. lol

He is already warming up to me. And it is so cute to watch his tiny body trying to move rocks and plants around. One day he will be big enough to redecorate. lol
---
Bettas - Giovanni (HM), Burly (HMPK Giant).

Definitely a boy!
And yes he's he's off on his own.
What a horrible thing to do, keep a fish like that in 2.5 gallons.

Breeding pairs are aggressive, but if he accepts the female you will soon have thousands of fry on your hands, don't know if you want that.
Posted via Mobile Device
They are very agressive, And they dont like other fish in there tank. Most likely he would kill any other fish that you put with him. Also dont get a female unless you want several thounsand convicts i wouldn't get a female lol
I also see he is just a baby now, he will be about the size of your fist when he is done growing
Thanks for all the help everyone!
Ok so, the color of the fish has been coming in more and just now I was looking at "him"...and there are little orange spots in patches on the belly. Is it actually a girl?
---
Bettas - Giovanni (HM), Burly (HMPK Giant).

:O
Yes orange bellies are girls. How odd. I guess she's becoming more comfortable, and probably still young also.
---
taking a break from fish-keeping.
3 lovely male betta still keep me company.

So I just got some photos of King. The spots are much brighter in person, my camera just could not seem to capture the color very well but you can still kinda see it.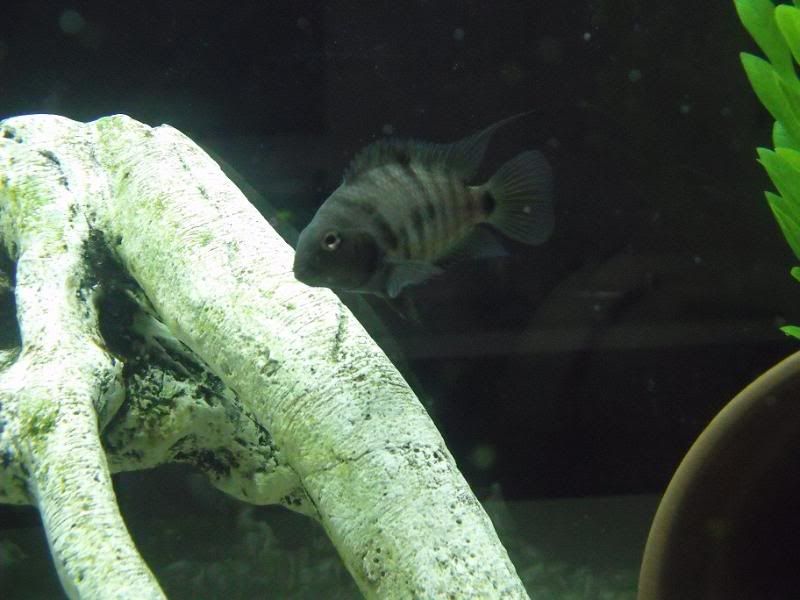 If King indeed is a female would she get along with another female or would it be better for her to live alone?
---
Bettas - Giovanni (HM), Burly (HMPK Giant).

I would giive him/her a few days then check the belly and see if its orange or not. If it is a female then you could try another female. but its hit and miss if they will get along.