This is one reason I don't have kitties. Last one I had destroyed every window blind in my house.
---
Keep yourself clean and bright, for you are the window through which you must see the world.
Lol that's why I don't have blinds in windows they can get into. Lol!!
I'm sorry that happened, Gizmo but it looks like you've gotten it under control. Those larvae are just so darned cute! Good luck little ones!
---
"There will come a time when three words uttered with charity and meekness shall receive a far more blessed reward than three thousand volumes written with disdainful sharpness of wit."
Not really under control, but at least it isn't a total loss... Heh, now we wate to see what grows... I'm going to just leave them to their own devices in there, I can't really see them to do anything else.
I'm so glad you still have some live ones! Best of luck with them.
---
Member of IBC
Yeah, me too! Lol!! I saw a couple swimming at about mid-tank today, and they looked like they had full bellys, so I am sure they are eating on their own now. And they will be strong too, survival of the fittest an all that! Lol
I started following this thread a while back, I just wanted to say how cool learning about axolotls has been. they seem like really neat pets. I don't remember learing anything about them in school when we learend about newts and other creatures. I went to vet tech school too, and never even heard about them.
How are your babies doing?
---
Chris
Lavender and white female Ct Bruiser, blue ct female Boy
red vt female, Dumbo ear Butterfly male Cloud
RIP ~ Cheeto, Pineapple, Shela, Double tail, Big blue


Well they aren't super popular. Lol
Mine are doing alright from what I've seen of them, hard to keep tabs on them in the big tank.
*dusts off thread*
Here is a bit of an update!! The baby lotls seem to be thriving in the tank by themselves, I haven't done anything at all to them or with them since taking the adults out.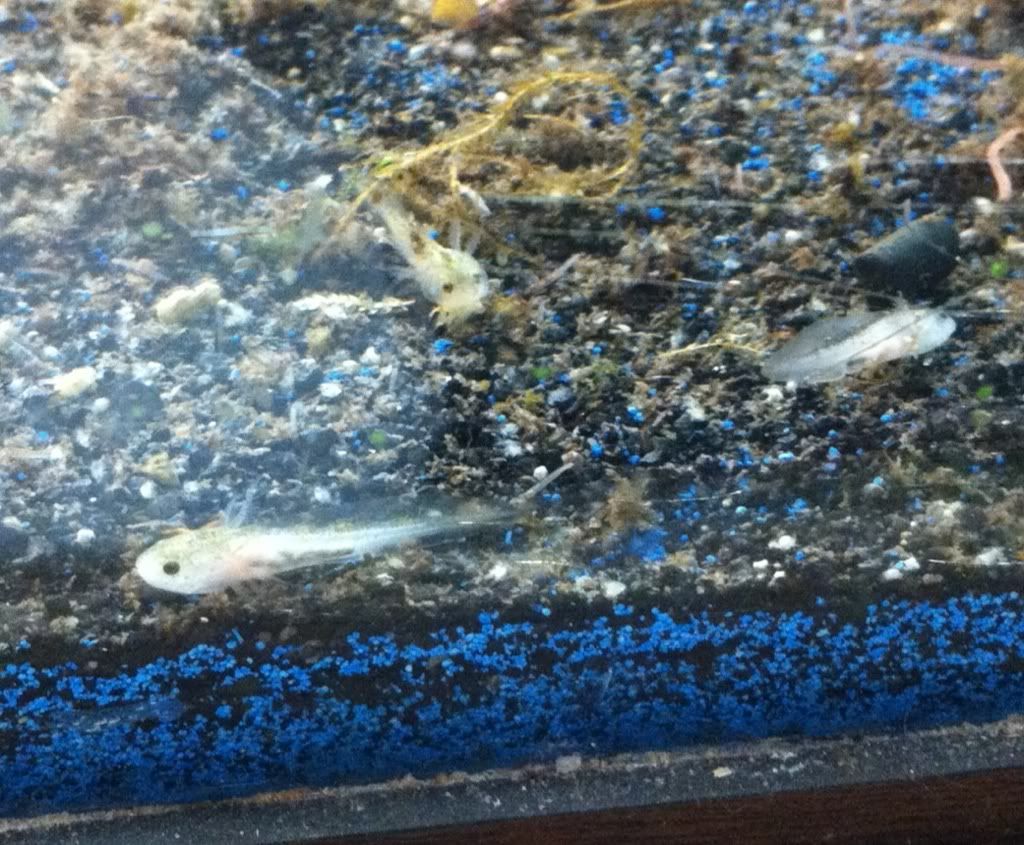 It looks like I have some high marked leusistics and some wild types... These are pictures of what look like high marked leusistic babies, none o the wilds were close to the front of the tank. Lol!
I'm still trying to get a setup going. Sadly I had a bad experience buying a tank so I still haven't progressed at all. :\ I refuse to give up on my mission until I have an axie! :D
---
| Tribble the Pomeranian | Oxley the Rabbit |
| Viola Chubbs |
My Journal