Happy goldfish...sort of
---
Well, happier, anyways.
They have been upgraded to a 20G tall. Still not ideal but much better then the 10G my sister kept them in. This will be the biggest tank they are gonna get as both my mother and younger sister are of the "they are just fish" mentality
.
Naturally, I bought the tank.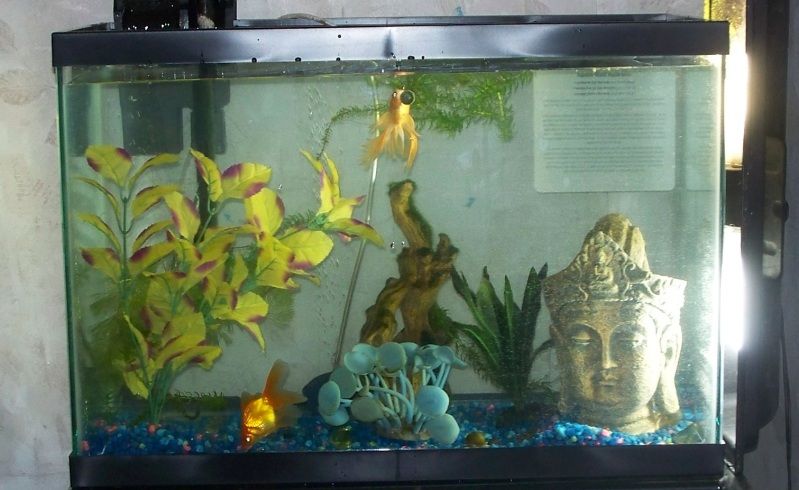 If I find a cheap 40 gallon filter, i'll get it for her but other then that, I am done fighting with both of them about proper fish care. My sister is willing to go along with it as long as she isn't the one paying for it or doing the water changes, my mother on the other hand...don;t even get me started on her.
Of course she helped herself to my decorations. I am kinda jealous that she can get moss or algae..whatever it is, to grow on the fake log. It looks like the same stuff moss balls are made out of. A side effect of never changing the water, maybe?
question:
Its the same filter, gravel and decor. Does this mess with the cycle? Basically everything is the same minus the head, yellow plant and the tank itself.
---
---
Last edited by Tikibirds; 09-09-2012 at

04:13 AM

.
The cycle should be fine.
Glad to see these guys have more room!
I hope your sister doesn't take this to mean she can get more. -__-
---
taking a break from fish-keeping.
3 lovely male betta still keep me company.

Olympia is right. The cycle should stay intact. And if there is any extra ammonia, the anarcharis should help with it.

Glad they did finally get an upgrade. The algae stuff you are describing is a product of not changing the water enough. I've seen it in other tanks that have a large bioload and few water changes.
Quote:
I hope your sister doesn't take this to mean she can get more. -__-
She knows enough not to get more. She does know how to properly care for them, she just chooses not to listen >.<
Quote:
The algae stuff you are describing is a product of not changing the water enough
Awwwh. It makes the stuff look more natural. The snails I took from a lake were covred with it. The ones I kept lost the algae but the small one my sister kept still looks like a moss ball with antenas
---