Goldfish Fancy
---
I've seen more than a few goldfish threads pop up recently. Knowing that there are a few goldfish fanciers out there, I thought I would create a place where we can all share pictures and chat about anything goldfish. Goldfish ponds. Goldfish art. Even the mistreatment of goldfish (we all know the feeder tanks are horrible so try to keep this to stories about how their condition was improved). There is a lot of sadness surrounding goldfish, but let's keep this positive. Feel free to ask any quick goldfish questions here and we'll do our best to answer them!
BASIC GOLDFISH CARE
*Aquariums
- Stocking rules of thumb for fancies: 20 gal for the first fish plus an additional 10 for each other fish
- Commons really get too large for normal aquariums and are best kept in large outdoor ponds. The can be temporarily housed in 55 gal or larger tanks. Most places suggest a 100+ gal tank if you want to keep them inside permanently.
- tankmates: goldfish are social fish and prefer company of other goldfish; two or more is always better; lone goldfish may be shy
- temperature: Due to the deformed nature of the digestive tract of fancy goldfish, they can't digest food well below 70F, heating the tank to the mid to lower 70's even in the winter will help keep them from becoming constipated and bloated
- plants (this is a tricky one): some people can make this work and others can't; it depends on your fish. Plants that have had success in the past: hornwort, anubias, java fern, large amazon swords, anarcharis, ludwigia. I've also found it helps to introduce them to plants when they are young.
- filters: goldfish poop a lot and need strong filters; at least double filtration is recommended when using HOB's
*Ponds
- stocking: no hard rules here just remember that less fish means less waste and that goldfish are known for reproducing in ponds
- temp: stop feeding goldfish when water gets down to 60F
- plants: marginal plants best, floating plants good to provide shade
- filter/water movement: essential to getting through the winter, keep these going year-round to prevent fish kills
*FAQ:
- Do goldfish really get that big?
: Yes... Yes they do. Photo proof:
- How long do goldfish live?
: Average for a propyl cared for tank goldie is 10-15 years. Average for a properly cared for pond goldie is 15-20 years.
- What do goldfish eat?
: Goldfish are omnivores which means they can and should eat both plant matter and animal matter. Younger goldfish need a higher percentage of protein (30-40%), but older goldfish should only get 10-20% protein. For a tank fish you can provide a complete diet with a high quality pellet food supplemented with fresh greens or with a gel-food diet (my preference as it goes a long way to prevent floaty issues in fancies). For pond fish, a high quality pellet diet will do as goldfish will get their greens from the pond plants and algae.
Normally I would start off by sharing my fancy goldfish tank, but it's undergoing a major revision right now. I'll have some pictures of that for you in a week when it is all done. I promise they will be worth the wait.
Instead I'll show you some pictures of a little goldfish pond I found while visiting family in Ohio.
This is the pond. Mostly crowded with lilies but near the skimmer it was clear so I could get some pictures of the lovely little goldies!
I lured them out of the lilies with food. But it was getting to the point where they shouldn't be fed anymore, so they were a little slow.
---
Last edited by Olympia; 01-06-2013 at

12:51 PM

. Reason: request
I don't have goldfish but I do love them. In the spirit of the thread (sort of): this is the guitar I would love to own someday:
It might not be very evident in the photo, but the guitar is decorated at the waist and on the fretboard with kingyo, Japanese goldfish.
I have three shubunkins.
My oldest one had a very rough start with my dad. It was kept with four or so other goldfish in around a 15 gallon tank with a very weak under-gravel filter.
I got the tank when my dad moved interstate, after he had kindly bleached and washed everything in tap water! When one fish died of dropsy I soon realised that I needed to do some serious research and it kind of went from there.
Ernest was the only survivor so I think it is around 4-5 years old. He is half the size he should be (I think he measured around half a foot from head to tail), but has grown a lot since he came into my care. He and my other two live in a smaller tank than I would like but I do regular water changes, feed them good quality food and over-filter so it is the best I can do for now.
Hopefully in a couple of years we are going to move and they can get a bigger tank/pond. It is impossible now and I don't want to give them to someone else since goldfish are seen as such disposable fish. I really need to get some updated pictures but the stinkers never like to have their photos taken.
A big victory was that I finally got them to eat some greens by putting duckweed and hornwort into their tank. Until then they never ate any greens. They totally ignore lettuce, cucumber etc. I tried making a gel food from the goldfish website and you'd think I'd poisoned them the way they spat it out.
Anyways, here's my biggest shubunkin Ernest and his friend. These two sometimes chase each other around bumping each other after a feed and water change. Don't know if it's spawning behaviour or them just playing.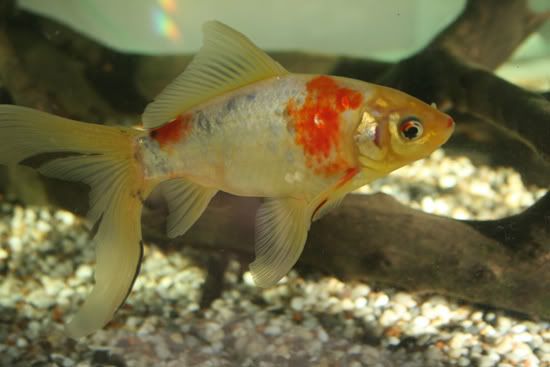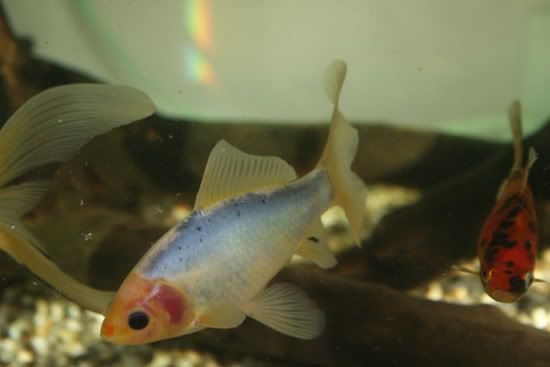 ---
YAY goldfish thread!
Here's my guys:
iPod photos, the best ever.
---
taking a break from fish-keeping.
3 lovely male betta still keep me company.

I absolutely adore goldfish! It has been a very long time since I kept goldfish (about 15 years) but I recently inherited ayoung black moore from someone who couldn't keep it. So I guess I'm starting over.
He's got some swim bladder issues but he's a little sweetheart.
Also, what kind of filters do all the goldfish keepers use?
Awww, so cute. I want a moor, I want them all.
My 90 gallon has a Marineland C-360 on it right now.
---
taking a break from fish-keeping.
3 lovely male betta still keep me company.

I have one little goldfish who is in a 29 gallon until my friend can take him. I tried feeding him lettuce a few times and he swims away like it's gonna kill him.
---
Open your eyes
Now is the time
To rise up
With darkness we'll still shine