same belly:
Either way, there's only a few species of pleco that is completely herbivorous. anything you buy at Wal-mart won't be lol
I'd look into a vegetarian species, or resign myself to losing every fish housed with the pleco. INCLUDING the betta! This fish needs to be fed tilapia, shrimp, and things like cucumber, zucchini, and nori (sushi wraps)
---
IBC Member
this would be safer (they come in albino also, and females of both colors don't look this ugly)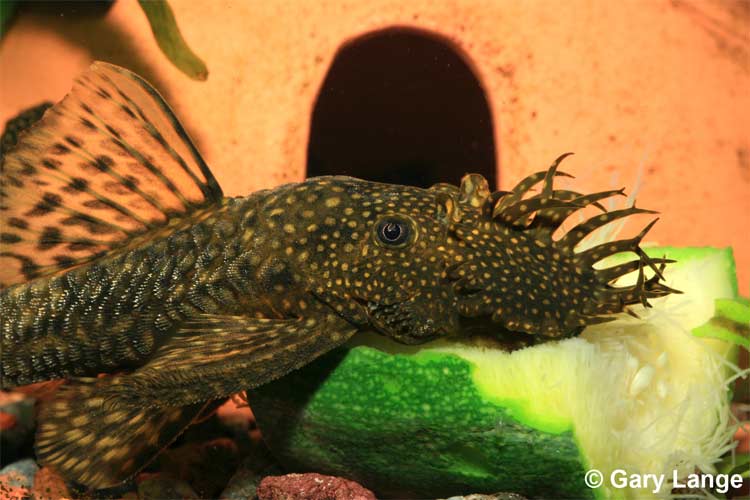 This is a longfin bristlenose girl (what we have in our guppy tank)
---
IBC Member
The darker ones max out at 6", the albinos are usually smaller, around 4-5"
---
IBC Member
I can verify 100% that is a baby common pleco you have there, they must have lied on age, people are not wholly honest on common pleco's. If people knew how big and aggressive they became then the sales on them would take a nosedive. That was what our boy looked like when he was a baby, in a few years he got close to 2 feet and had to be relocated after eating all our fish.
---
IBC Member since 2013
their grandma bought it 15 yrs ago.

Fish put off a stunting hormone if they're too crowded. That easily could've happened here. (and yes, 1 pleco can overcrowd itself, they're VERY dirty)
---
IBC Member
They are, even in a 30 gallon we were cleaning the tank every other day. T.T They just can't be in a small tank, no less than 50 gallons I say.
---
IBC Member since 2013
I never understood why petstores and walmart sell common plecos - since they get so freakin huge. There are much better species that are suited for smaller tanks like clown plecos which max out at 3.5 inches, Bristlenose plecos and rubber lip plecos. Brsitlenoses are supposed to be awsome at eating the algae.
---
Tikibirds - ours still sells South American catfish species, Oscars, Dragon Gobies, Green Spot puffers (not huge, just brackish/Salt) and Goldfish. They only recently stopped selling Koi, Pacu, and Pictus cats. And 99% of the employees will still tell you that they only grow to their tank size.
---
IBC Member
Yeah, my walmart stills sells koi. I know the manager of a small lfs, I'll go there to get a bristlenose pleco, the bristlenose longfin pleco if I can. I get discounts there for befriending the staff and helping out! thank you!
---
I am the Emeraldmaster, hear me roar...
*meow*
And after I roar at you, may I entice you to look at me fishies!
http://www.bettafish.com/album.php?u=42673