Ooh, I hadn't thought of natives. I looked at the gertrudaes when I first set my tank up, but didn't think they'd enjoy living with a betta. :p I like the mellis a lot. Where do you purchase yours from? I'm guessing Aquagreen or Jodi-Lea?

Now I have to choose between a gourami, a betta, a native and a killi. Dah! Too difficult! :p

On an unrelated note, what's your opinion on leaving water outside for a week before adding it to a tank?
---
Life.
My honey blue eyes I got from Coburg Aquarium and Exotic Aquarium down here in Melbourne. They crop up from time to time on the AI wholesalers list but they aren't extremely common.

My spotted and delicate blue-eyes come from Dave. I don't know if Jodi-Lea stocks many natives. If you can get your hands on pseudomugil ivanstoffi they are absolutely stunning. I am thinking of getting some when I have everything sorted and money in my bank account.

I don't leave my water outside. Any reasoning for doing so? I just use tapwater treated with Seachem Prime and all my wild bettas and their fry thrive.
---
I was reading on AquaGreen, which stocks a lot of natives (including spotted blue-eyes), that the practice of adding dechlorinator to tap water then putting it in the tank was not good. *shrug* He just recommended leaving it outside for a week. To me, that just seems risky.

If we could only get the pond in and cycled by the 24th! Sigh. :( I'll be used heavily seeded media so if we can get it in, chances are I can get the fish in within two weeks, then get my tanks changed around...
The reason for my hope is that there is a super-charged auction happening here in the capital on that date and we'll be seeing a bunch of rare fish, plants and invertebrates at stupidly low prices. Be awesome if you could make it up for that. :)
---
Life.
Melbourne tapwater is generally of excellent quality. I have wild-caught species and they won't stop spawning in it!

Also if you are using a good brand of conditioner like Prime I don't think you would need to bother with leaving it out.

My honey blue eyes spawned a couple of times in their tank (think they used to eat a lot of their eggs) so I don't think they really cared.

I saw the big auction happening up there. I went to the one in Melbourne and after having been to actual auction houses it was so bloody slow. The auction place we go to does about 100 lots in a couple of hours so it is really fast and there's no mucking around. You either bid or you don't. All the auctions I have read about that are fish-related seem to go on for hours and hours.

I'm more of a get in, get my fish, get out kind of person haha.

It also seems like so many fishkeepers in Australia are into boring African cichlids. Would love to see an auction chock full of little oddball fish.
---
Yeah. That's one problem I have found with this group: cichlids are a major thing, and pros tend to view their fish as hobbies rather than pets. Not saying that they don't have massive regard for the welfare of their fish, but there isn't really a huge bunch of affection; I like fish that are 'pets'. Luckily, we do also get some great cories, Endlers, shrimp, rare plecos, ghost knives, elephant noses etc. The auctions do tend to move quickly enough. :)

LBF, if this was your tank, what would you do? Totally disregard the species I have atm.
---
Life.
If it was me it would be a wild betta tank haha.
But otherwise, I would probably do a biotope style set-up for a decent sized group of pseudomugil mellis. I am really peeved I sold mine and wish I could get them back.
I would put river sand down, buy a packet of riparian leaves from Dave and put these all over the substrate. Then I would see if you couldn't find some tea tree roots at one of the fish stores in your area. If not, I would use grapevine to give it the sort of 'roots going into water' look.
Any plants would be Australian natives, but since I am not a big plant user I would probably just have it non-planted.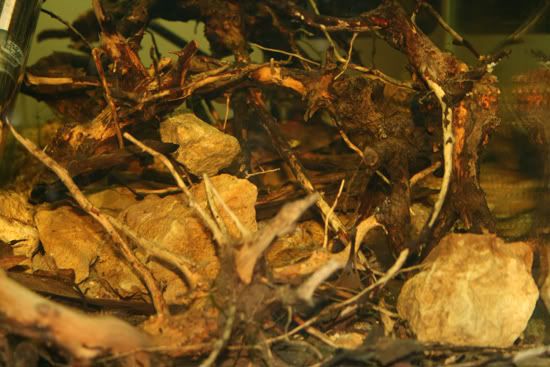 Something that looks like my old mellis tank.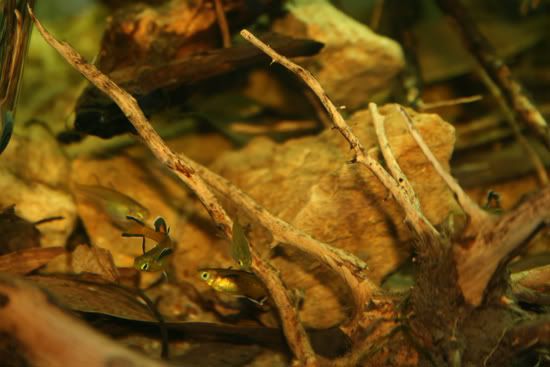 This is just my opinion however. I am not a big fan of tetras or rasbora or corydoras or many of the more popular species of fish. Therefore, my tastes may not run to what you like.
---
No, I love the natives. I like my embers because they are so different from the ubiquitous neons, and such a lovely flash of orange. :)

Could a wild betta species be happy in my tank?
---
Life.
Probably it would have to be species only. Unless you went with something like albimarginata or channoides. They are fairly tolerant of a broader range of water conditions, and mine used to live with my honey blue-eyes and some clown killifish when I had them in a 3ft tank.
Only trouble is wild bettas will spawn like crazy if you get their tank right. My burdigala pair have fry swimming everywhere and seem to spawn as soon as the last lot of fry leave the nest. So if you don't want to have to deal with fry you may need a same sex group.
This is my adorable albimarginata male having a show-down with a plakat male when I used to own them.
Who wouldn't find that face endearing?
---