Male betta + 2 rabbit snails + 3 otos
---
This is how I'm going to stock my 10 gal: 1 male betta, 2 rabbit snailies, and 3 otos.
The tank is near a window, and the algae is constantly growing. Too much light, but there is nothing I can do currently about it.

What is the best way to introduce the otos to the tank? && will they nom the green algae growing? I don't mind buying zucchini and algae wafers if they don't. (:
Petsmart just got a brand new shipment of otos in, they had a power failure on saturday night and apparently it killed off most of their stock. So, I'm getting new fish! Hopefully going to get them tonight after work.
Sounds like a good stocking plan! For introducing the Otos, they are very sensitive. Do the drip method. Keep in mind the otos may not eat all the algae!
---
Flame - Red and Blue Veiltail Male
Oswald - Blue Halfmoon Male
Bah I do not have the pieces for the drip method. Is there a way I could float them, and slowly add water to their bag? Dorm rooms limit space for fish supplies + me. (:
Oto's should have at minimum 20 gallons. They will run through algea in a 10 within a few days. Maybe with the tank being in direct sunlight that might change some things, but I really think they should have a bigger tank.

As for acclimating, do as you would with a new betta. I hope your tank is cycled though, oto's are pretty sensitive to water parameters.
---
10 HM, 3 HMPK, 5 HMPK fry
8 German Blue Ram, 5 Green Dragon BNP, 4 Albino BNP, 4 Calico BNP, 6 Red BNP, 5 Kuhli Loaches, 2 ADF, 7 Peppered Cories, & 6 Tiger Endlers + Fry
12 full time tanks, 4 NPT, 6 QT/Breeders
Member IBC
Is the tank planted? I wouldn't keep them in a tank with artificial plants.
---
Flame - Red and Blue Veiltail Male
Oswald - Blue Halfmoon Male
Are you sure your not thinking of plecos? I know plecos need a larger tank, and I know larger is always better, but I've gotta work with what I've got. (:
No the tank isn't planted, but it is cycled. I was looking into planting my tank but petsmarts plants look gross, and I don't have the proper bulb in the tank, it is technically in a window but ive got a brown thumb with the few plants i did have. Plus I'm on a fairly tight budget.
If you can recommend where to get a cheap bulb proper for a 10gal I'll try and see what I can do. And also what plants are easy to care for/almost impossible to kill? I'm also not at my dorm for two days a week. (:
carefully watch the rabbit snails. they are natively brackish and often times carry parasites when caught and shipped overseas.
Instead of rabbit snails, I'd do nerite snails, like Zebra nerites. They don't breed in freshwater.

Java Fern, Java Moss, and Crypts are great beginner plants. To make it easier on yourself, use a base of fertilizer like Eco-complete for your substrate and if you want, cap it off with natural looking gravel/sand. I'd add CO2 to the tank and make sure you dose with some ferts!
---
Flame - Red and Blue Veiltail Male
Oswald - Blue Halfmoon Male
I already have the rabbit snails ,I got them happy and healthy from Bekah here on the forum. She sent them to me back in like September. I was just including them because they are currently residents in the tank. I have a betta, and 2 rabbit snails in the 10 gal. I'm just currently looking to add the otos. I fish-in cycled this tank. (:
I have a sand substrate. So if those do well in a sand substrate that'd be awesome. So if soil substrate is necessary I'm kinda SOL because its already set up.
I know its complicated but I can show you what the tank looks like.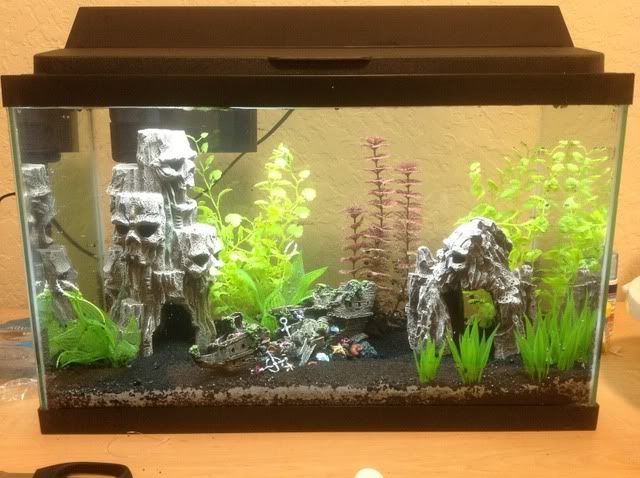 Plants will do fine in sand. And otos love sand.

Eco-Complete is not a fertilizer. It contains no fertilizer. It is a high CEC substrate, which basically means that it can hold onto fertilizer better, and is used in planted tanks often because of that.

Unless you have VERY high light from that window, or want to upgrade your lights, you do not need to dose CO2 (and probably shouldn't go to the expense or the bother). It wouldn't hurt to get some Flourish Comprehensive and/or some root tabs if you add plants, but I generally don't bother in a low-light tank with low-light plants.
---
I blame spelling mistakes on my iPad. You should too!