View Poll Results

: Which goldfish?

Two comets
5
35.71%
Two shubunkins
3
21.43%
One of each
6
42.86%
Voters: 14. You may not vote on this poll
Which goldfish should I get?
---
In a few weeks we should finally have a pond installed (this is three years after I first started this project!), so I can add in my goldfish. We'll be putting my sister's 10 inch comet into the pond, but as it is 540 litres/140 gallons I can afford to put at least another two in there. But my question is, what two? Two comets? Two shubunkins? One of each?
---
Life.
I saw a pearlscale yesterday... I was like WANT!!!!
Member
Join Date: Jul 2010
Posts: 3,026
I like normal looking goldfish, no deformed heads or eyes, and I like the calico colored ones.
Sorry, I'm not much help am I?
I think if you are going to have another comet in there you might as well go with all comets. Also, since your sisters is so big perhaps it would be better to get others that are similar in size? I'm not sure how big of a deal the size difference would be but I have heard of some goldfish (who have been kept alone most of their lives) getting kind of aggressive with new comers.
---
happy owner of a wild type GFP axolotl named Percival and too many guppies to count.
I say go with Shubunkins! Get some variety in there! Plus, the really nice ones almost look like koi!
You will want to find some larger than average ones, tho. A 10 inch goldfish has a pretty big mouth on it, and don't want some friendly nipping to wind up with a missing eyeball or fin. Goldfish have some pretty strong suction power behind their mouths.
Congrats on the pond! I can't wait to see it when it's done! You should make a build thread here and let us follow along, too!!
Yay, Izzy, was hoping you'd weigh in! :p I will definitely make a thread for when it goes in. :)
---
Life.
I'm very, very partial to Orandas :X But Fantail calicos are pretty! I say go with calico comets.
Is a shubunkin just a calico comet, or is there a difference?
---
Life.
I'm not certain on the difference between comets/commons/shubunkins (think shubunkins don't grow as big), but I vote for shubunkin.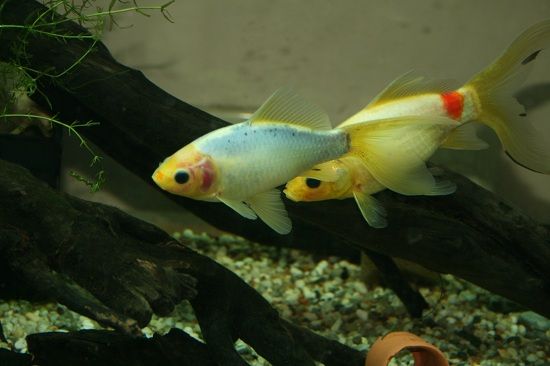 How could you not like them? They have great colour and loads of personality. Personally not a fan of the fancy types of goldfish. They always look rather deformed to me.
---
New Member
Join Date: Mar 2013
Posts: 24
Commons are the original goldfish, not bred for modifications in any way. Comets look much like commons, but they have much longer (single) tails with a very deep fork. Both commons and comets can reach lengths over 12 inches at maturity. Shubunkins have a body shape like commons and comets, but they are calico fish. The calico colors may not be present in baby shubunkins, as it takes a while to develop. Shubunkins usually grow to about 9 inches long, although they can be larger depending on pond conditions.
---
You can't change the music of your soul. Katharine Hepburn