New Member
Join Date: Apr 2012
Posts: 23
Fish emergency!!
---
I have a fishy emergency!!
I know I haven't been around for a while and most views aren't the same but I have a serious need for anyone and everyone's help with this!
I didn't notice this this morning when I was getting ready for work and after ten or so hours (my shifts are 10 hours), I go on my rounds of feeding the bettas, tropical fish and the goldfish and spritzing our hermit crabs. I stopped when I noticed this guy laying at the bottom of the tank, looking like he swallowed a ping-pong ball, which I assure he did not. It seems to me, though my pictures are really blurry, that something is leaking from a side. His scales are starting to flare out, but I think that may be from his swollen state and his eyes are starting to bug a bit... Any suggestions and help?
He's been quarantined, both tanks have been given quick cure and the quarantined tank has been given aqua safe for immediate transfer.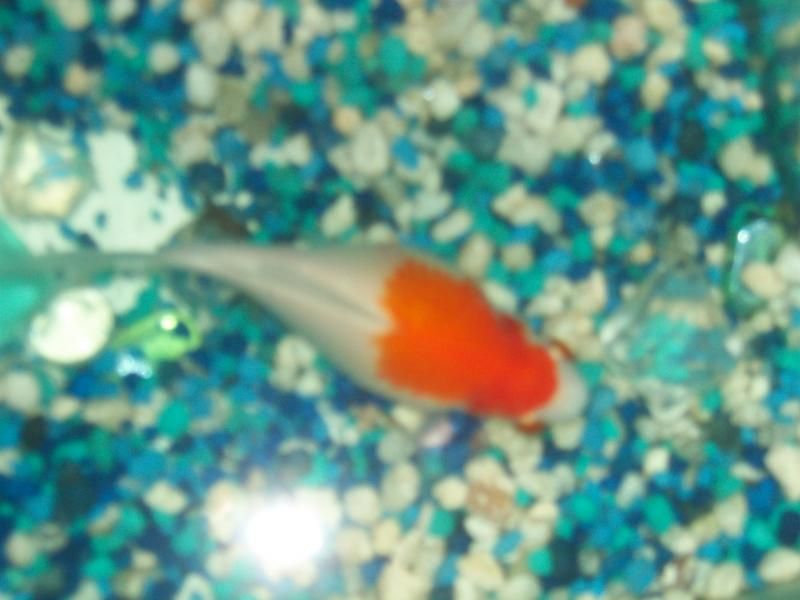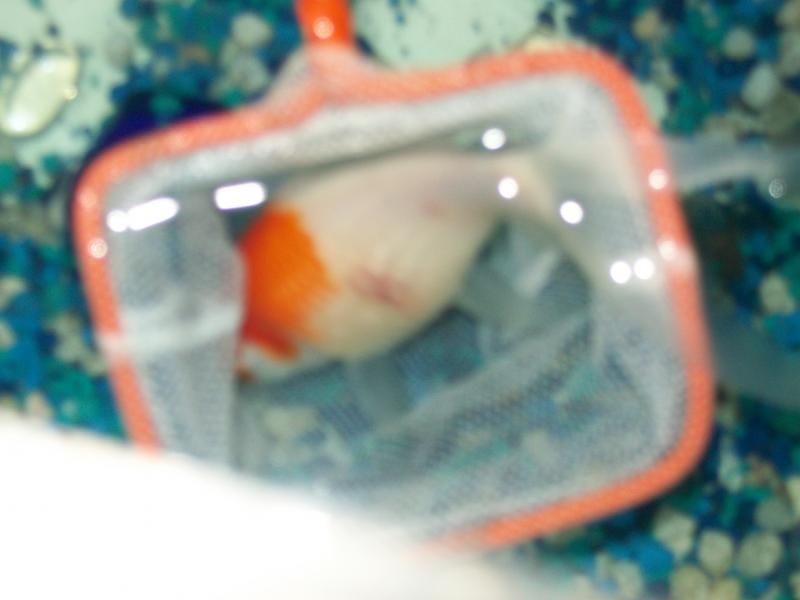 Yup. I do believe that is dropsy. Its very hard to treat at that advanced stage and is always fatal so make sure your other fish don't display any signs of it and treat them with antibiotics just to cover your bases.
Things that can cause dropsy are (as taken from the About.com page on dropsy):
Poor water quality
Ammonia or nitrite spikes
Large drop in water temperature
Stress from transportation
Improper nutrition
Aggressive tankmates
Other diseases
Sometimes it can appear for no apparent reason as well. But, just to be sure, I would check the water params and such to make sure there is nothing amiss.
---
~~~~~~~~~~~~~~~~
"The day the power of love overrules the love of power, the world will know peace."
―
Mahatma Gandhi
~~~~~~~~~~~~~~~~
Yes it looks like dropsy. Way way too much of this recently.
---
Proud IBC member
New Member
Join Date: Apr 2012
Posts: 23
We were kinda hoping it wasn't ):
My fiancee googled it while I was getting the pictures to be put up.
We've medicated the original water and the other tank. I'm just glad we didn't put our crabs in the tank we put him in.

Well thanks guys; I'm hoping he passes quickly if this is the case. I don't like to see him suffering.. But he's still swimming a bit.

Edit:
Oh and none of the others are showing signs. I'll keep a closer eye on them the next few days and I'm going to do a 80% water change soon on the main tank.
Dropsy isn't a disease; it's a symptom of something else. It happens when the fish goes into kidney failure. This is often caused by internal bacterial or fungal infections. That spot on his side is septicemia which is an infection in the bloodstream. It's hard to fight even in humans. At this stage I think the most humane thing is to euthanize. If you have any clove oil around, you can use 5 drops of that per gallon to euthanize. He will slip into a sleep and die painlessly. It's not an easy decision, but when you have a case this advanced you can't usually bring the fish back.
New Member
Join Date: Apr 2012
Posts: 23
Unfortunately, we don't have any of that ):
The fiancee had seen something about euthanizing the fish and we didn't know how to do that and were just too worried about getting him separated from the others and getting to bed since it was pushing 2:30 am when we discovered him to look further into it.

He's swimming around more now and eating again. And right now; funds are pretty tight.. How much does the oil usually run and where can you usually find it?
You can buy clove oil usually at any chemist, cost me about $6-$8. It is used for relieving human tooth ache and is definately the most humane way to euthanaise a fish. I have used it before and the fish do seem to peacefully fall asleep. Just add a few drops at a time.......wait for 5 minutes and add a few more and continue to do so until you can no longer see your little guy breathing. Be sure he is dead because clove oil in small doses anethitises (spelling) and fish will wake up again after the effects wear off. Only over dosing will actually end their life.

It is important to add only a few drops at a time as in large sudden doses it is an irritant to the fish and stresses them out.
New Member
Join Date: Apr 2012
Posts: 23
Unfortunately, or fortunately depending on the way to look at it, we no longer are in need of the clove oil, but may still purchase it for in future references.
Our not so little guy passed late last night or early this morning (Saturday into Sunday)

The fiancee had added some medicine since we didn't have a spare filter and thought it would be a good idea to add more Quick Cure as a just encase and he ended up dying from that, I believe. (he swam to the area where the medicine was concentrated at and started to spazz a bit and ended up rolling onto his side and didn't move from a spot)