Quote:
Bettas are probably too small to move a lot of things... and I've seen some dig in the gravel to make a spot to sit, and a betta dig underneath a divider, so you aren't completely right. Cichlids definatly do it more but bettas can too. Just wanted to point that out lol.
uerrrmm... hold on.. I'll take a pic of on of mine..brb lol
Well they aren't easy to take pics of lol.
So Matt, Mine so far are mostly just a bit over 1 inch. They are baby's with BIG attitudes. And all except the albino zebra rearange there "homes" and clean their rocks. Like picking the sand off. The demasoni (the blue and black striped guy) picks up sand that makes he rock "messy"
then puts it in the crater that my Acei has built. And even though they are little they stil move the rocks. The Rusty has been digging a hole under a rock MUCH bigger then him to loosen it and has been shoving it towards his other rocks lol
Sorry for the picture quality...looks like I need to replace my phone(It went swimming in the Ocean a little while back (note to self..when walking up the dock to the bar after drinking on the boat don't bring phne
)
The is Demasoni picking sand off his log haha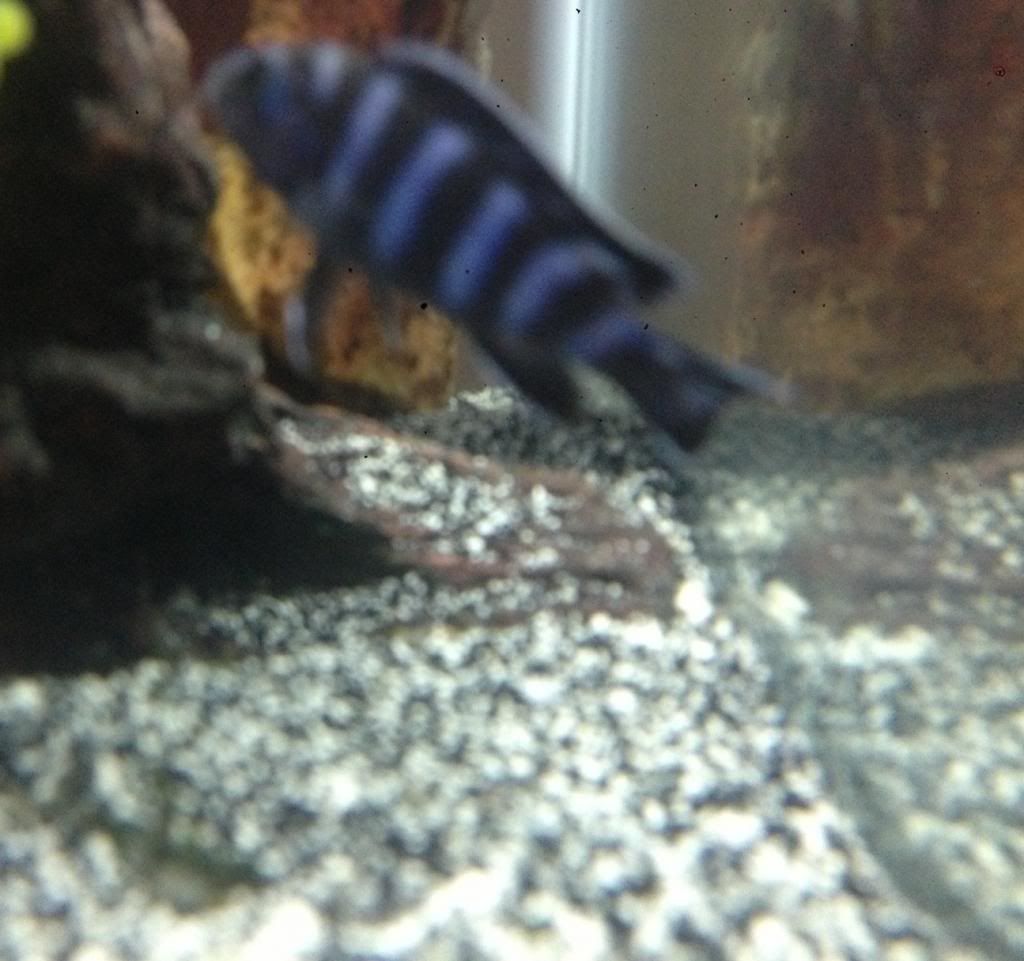 This one is a rust color..don't know why the picture looks yellow...?
Wow,blue lobsters!! thats way too cool
---
Freshwater fish
Thanks... She is super pretty and also funny to watch. She was annoyed with the barbs last night and chased them around but they didn't care. Claws all open ... Even at me when I got close to her but didn't pinch anyone. I have a male now but he has a pattern to him so I need to look up exactly what kind of blue lobster he is
The Boy!
---
So here is the smaller boy I was talking about. He doesn't look the same as you can see and he is about at least 1/3 or less the size of the girl. I did get him because he just looked so cool with the pattern but what type is he? He surely can't be the same type she is...can he?
Well as for the experiment of housing two together. He stays in a 10g most of the time but I put him in with the girl while I was home for lunch. I threw in two ghost shrimps to see what would happen lol. Jaysee...you were wrong those shrimps took NO time to be munched! They actually picked out the shrimps they wanted and then scooted back about 3inches from eachother face to face and ate them.
I'm going to leave the boy in until I get the kids after work. Or should I just leave him in? She didn't act aggresively towards him( I know that can change..I'm not that blonde
) He hasn't acted opened his claws at anyone...well me, but he wasn't happy about being picked up. She uprooted the plants again but oh well the golden wonders seem to think its a really fun carousel at the top of the water haha
Thoughts on keeping him in? And what kind he really is?