Wow that was a good thing you did. To think someone might do this to their pet I'm glad you saved them.
---
In Love With My New Baby Girl Lily.
"Next time you feel small and insignificant, look at your betta, his whole world is on your table or whatnot. See how small his place is in such a big world? Now think of every time that fish has made you smile. If something as small as a betta can have that effect on a person, imagine what an effect you can have on the world."~ Olympia
A few days ago I got Pacer a new friend. I got her in the adoption section of my local fish store. She is a common goldfish close to his size, her name is Pushy.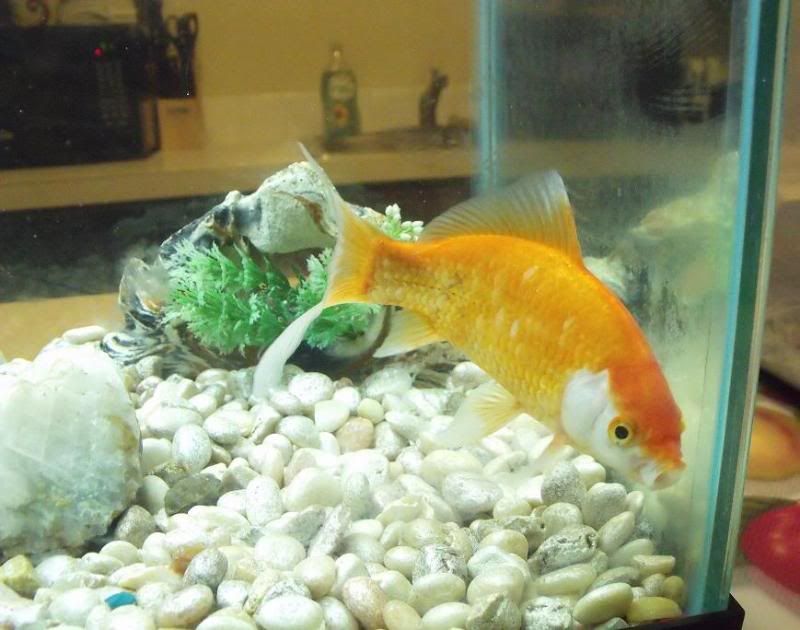 ---
Bettas - Giovanni (HM), Burly (HMPK Giant).

Quote:
Originally Posted by
bettalover2033
View Post
Wow they are really big goldfish! Pushy is a nice color. Any reason for the name Pushy?
Their names are both themed from the game Fallout New Vegas. Pacer is a character on the game and Pushy is a unique weapon. :)
---
Bettas - Giovanni (HM), Burly (HMPK Giant).

Those goldfish aren't going to be able to stay in that tank for long. Common goldfish are active, messy, and large. Commons like yours regularly get over 6 inches and up to a foot long. You will need a 100 gal or larger tank to keep both of those fish. They are better suited for a pond rather than a tank. Your best bet is to find someone with a pond or build one yourself.
Member
Join Date: Jun 2011
Posts: 46
[quote=bettalover2033;979209 All of those rappers and things are just get tossed in the ocean and we are creating and have been creating a huge sewer.

[/quote]


Well... if we're throwing rappers in the ocean can we start with Lil'Wayne?

Seriously though, apparently theres a mass of garbage quickly coming up on the size of China floating around out there.
+1 to KoiMaiden. It's great that they have clean water and friends, but if you can't get them into a pond or larger tank, it is a bit like being rescued by the Titanic.
---
Life.
Either way, they are having a better life than they would if you hadn't come along. They are beautiful.
I just bought a 60g w/ everything off of craigslist for only $100! I will be putting them in that once it is ready. :)
---
Bettas - Giovanni (HM), Burly (HMPK Giant).