(I'm sorry, I appear to have broken the page very slightly!)
I have to say scanning through this topic and seeing all these gorgeous, well cared for and lovely animals has been the highlight of my day! I have a few animals of my own besides my two bettas and have recently gotten around to rearranging photos (so I actually
know
where they are, yay!).
I have two cats. This is Misi, caring about the world as always in her own way.
Couple of old photos of her:
This is Skatty, helping me read my game walkthrough by sitting on the page I needed...
I have
so
many more photographs but I don't want to spam the forums with them! I don't just have cats though, I have a pair of sun beetles lovingly named Herp and Derp (I have yet to find "serious" names for them due to their crazy antics), they're rather sweet.
They live in a terrarium with a few carnivorous plants (don't worry, the plants can't hurt them). They regularly hang out upside down from the mesh roof of their home. Such funny little things. They fly randomly in the evenings and look like scarabs.
I also have a giant African land snail, unfortunately I have no photographs of him but I have one of his "father" (GALS are hermaphrodites but I gave each of my current snail's parents a mother and father title for ease). This is Dusk, and a very old blurry photo of him with his head sticking out of a flower pot.
Last but by no means least I have a trio of stick insects. I've made a topic in the past about them but I'd like to share some newer photos here. I'm not going to use IMG tags as I have a few friends who are very uneasy around insects and I don't want to cause anyone discomfort. Please click on the links if you want to see my lovely
Extatosoma tiaratum
This is Creeper, my subadult male. He is an absolute love bug and I handle him as often as I can.
http://i759.photobucket.com/albums/x...eperHiQual.jpg
This is Gaia, my subadult female (who shall be housed with Creeper and act as his "wife")...
http://i759.photobucket.com/albums/x...iaSizeComp.jpg
http://i759.photobucket.com/albums/x.../GaiaClose.jpg
And finally Terra, my adult female. She's a monster (size wise... though she's rather aggressive but I don't believe she's been handled in the past so that's understandable).
http://i759.photobucket.com/albums/x...TerraClose.jpg
http://i759.photobucket.com/albums/x...raSizeComp.jpg
Thanks to everyone who shared their photos
I needed a pick-me-up.
---
"There will come a time when three words uttered with charity and meekness shall receive a far more blessed reward than three thousand volumes written with disdainful sharpness of wit."
I'll be getting two young rats as soon as they are ready to leave the nest! I'll post pictures after we get them. (:
---
You will always be my best friend,
.
Misi is soooo cute!
As for me, apart from my bettas? Just my old man Smokey, who's also my first pet. :>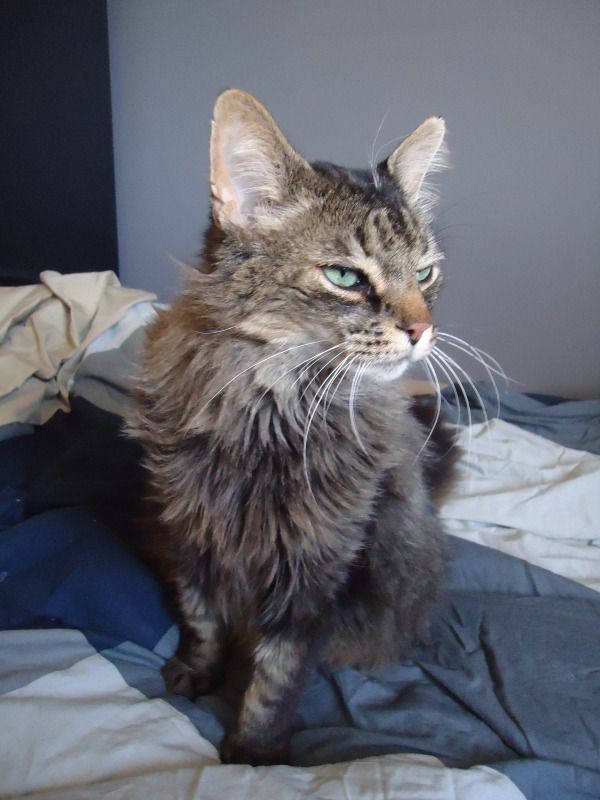 ---
Puck (Yellow koi HM king) / Scar (White HM) / Salt 'n Pepper (Silver HMPK) / 'That fish' (Copper butterfly HM) / No name (White DT) / No name 2 (Turquoise/white marble HM) / No name 3 (Lilac HM)

Bo Peep (Cambodian VT) / Goldilocks (Yellow VT) / Joie de Vivre (Multicolour VT) / Lil' Peep (Blue VT) / No name (Dalmatian VT) / No name 2
Mr. Whistles suddenly crossed the rainbow bridge. Then I found these lil girls. The lady was gonna sell em to a snake dealer!
From left to right: Lady and Korra(both approx 5/8 months)
Cute!!
I didn't know people feed guinea pigs to snakes
---
"Some people talk to animals. Not many listen though. That's the problem."
― A.A. Milne
__________________________________
Espeon female halfmoon / 10G

Jolteon male dumbo plakat / 10G

Quote:
Originally Posted by
teeneythebetta
View Post
Cute!!
I didn't know people feed guinea pigs to snakes
large snakes
both Lady and Korra are about the size of a large rat.
The following pets don't exactly live with me... but I consider them my pets still. The dog and fat (black) cat live with my parents, and the two white ones live with one of my sisters.
Tilly, aka Meemers/Meems (don't ask, it just kind'a happened lol) is a very, very fat mix breed tuxedo cat. She's VERY fat. Last we checked, she was about 16lbs. She also hates everyone except my mother XD
Murphy, my 14 year old Black Labrador. I love this dog with all my heart, and its depressing to think she might not have long left :( I shall enjoy whatever time she has left!
Leinie (after the Leinenkugel beer) is a rescue from my dad's farm. The people who used to rent the house from us left two cats when we kicked them out, him and his sister (next). He's a big tub, but also a sweetheart. He loves to cuddle!
And finally, Honey! (also after Leinenkugel's Honey weiss). She's the one actually looking at the camera. Her brother and Murphy (who don't get along very well) are begging at my mother's feet for a treat XD
Banned
Join Date: Jul 2008
Location: Central Texas
Posts: 27,607
Your cats are beautiful. especially the white one!
Quote:
Originally Posted by
betta lover1507
View Post
Blaze, albino male ball python, he is almost done recovering from scale rot and respiratory infection (i actually have no idea how he got it)
do you use red cedar, or really any evergreen wood as bedding? these are notorious for causing respiratory infections in reptiles, and a lot of them now say "for mammal or bird use only" on the packaging.
---
So remember, when you're feeling very small and insecure,
How amazingly unlikely is your birth,
And pray that there's intelligent life somewhere up in space,
'Cause there's bugger-all down here on Earth.

Godric/Eric/Sookie/Frodo/Sam/Vlad/Rasputin/Genghis/Hannibal/TARDIS/
LaVey/Crowley/Dahmer/Ripper/Al/Thor/Skadhi/Freija/Sunna/Mead/Mani/
Loki/Grendel/Gail/Beowulf/Camilla/River/Bathory/Arwen/Lafayette/Deb/Jack Skellington (soon)