Aw! Those pictures are so adorable they make me want a ferret! (:
---
You will always be my best friend,
.
Wow such a cute ferret :3 those guys are hyper like cats.
Awww I've always wanted a ferret but mom said NO! lol.
I love the one that's laying on the floor, that's how my dog lays on the tile when he is hot. (:
---
"Some people talk to animals. Not many listen though. That's the problem."
― A.A. Milne
__________________________________
Espeon female halfmoon / 10G

Jolteon male dumbo plakat / 10G

Thanks guys! Having ferrets is like having a herd of toddlers. They are so hyper 24/7 but I love them
---
Ferrets: Wesley, Percy, Owen. RIP Bandit
Fish: Pip, Logan, UnNamed DTHM
Bird: Kita- Sun Conure
Powerball is a crowntail but is nice nonetheless. :)
Those furr-ets!! I love ferrets, they're so silly. Not the pet for me but they are nice to play with! And cute as heck.
---
"Education is the most powerful weapon which you can use to change the world." -N. Mandela
To my journal!
http://www.tropicalfishkeeping.com/j...ourami-592858/
Cute ferrets! I love the silver one. I saw a show on TV once that had a segment about an older lady who was kind of lonely and depressed and I forgot how it came about, but she got two ferrets and she fell in love with them and she talked about how hyper they are all the time and that she loves them for it, and they helped her through her depression.

I loved seeing everyone's pets! Actually, I couldn't see all the pictures because they're blocked at work. The only ones I could see are the ones that were uploaded and not linked.

I'm gonna post pics of my kitties later tonight after I look at the pics I couldn't see now.
This is Callie, my pretty kitty!
She lives with my parents but I still consider her mine.
We have three cats, and soon fish!
Tails is Mr. Trouble. My friend with ferrets does not go through as much as we do with this bad boy! He has learned how to open drawers (so gets into the clothes, digs them all out, and sits in the drawers). He figured out that turning off the power switch that controls the wi-fi makes us come into his room (he cannot be out of the room because he randomly decided to start trying to kill our little female). He used to knock anything cylindrical on the floor, and I swear he would look RIGHT at us to say, "Hey, you watching?" while he did so! He sleeps on my stomach or curled up against my back.
Tails - AKA, Ferretcat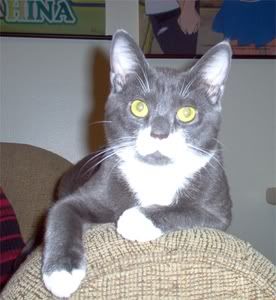 Tails 'helping' with the laundry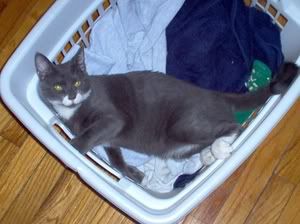 Kirby believes in the philosophy of being a lover, not a fighter. He is 12 pounds, and he gets picked on my the 6 pound female. He usually just looks confused when she pounces on him, then wanders over for some consolatory petting. If there is an empty lap in the room, he needs to occupy it, even if he has never met the owner of said lap before in his life! He even likes dogs!
Kirby
Scootaloo is the latest addition. Named for a spunky pony in the show My Little Pony: Friendship is Magic, she truly lives up to her name. She loves the new apartment, and she is convinced the carpet was put in solely for her. She rolls around on it or tears up and down the hallway (much better traction than the previous wooden floor!) most of the day. The rest of her day is spent pouncing on poor Kirby or trying to convince us she missed a meal. :P She refuses to share the multi-level cat tree you see in the picture with Kirby (even though there is plenty room for 3+ cats), so now every cat has his or her own tree. We're such suckers...
Cat and mouse?
Haha my cat, baby, likes to help with laundry too! She likes to get on the table when all the laundry is poured out (no-no!!) and do that thing cats do when they bite something and kick it, to the towels.
---
"Some people talk to animals. Not many listen though. That's the problem."
― A.A. Milne
__________________________________
Espeon female halfmoon / 10G

Jolteon male dumbo plakat / 10G

Annie, my mom's dog, loves to sleep on laundry fresh from the dryer.
---
~~~~~~~~~~~~~~~~
"The day the power of love overrules the love of power, the world will know peace."
―
Mahatma Gandhi
~~~~~~~~~~~~~~~~