Member
Join Date: Apr 2013
Posts: 174
Member
Join Date: Nov 2012
Location: New Jersey
Posts: 451
I have a slight problem. I have a small Blue Pearl Shrimp tank. It has been going for over a month. I began with six, very nice blue color. One is about to release eggs and I can see the eyes (with a watchmakers/jewelers loupe).
I decided to add more and bought 10 from a different shrimp seller. The seller's auction pics were of very blue shrimp. I received them 6 days ago and released into my tank. The problem is that they are not blue. I assumed the color would develop....maybe two have the slightest hint of blue, but otherwise no color or slightly yellowish. Seller has 500+ feedback @ %100. I am not the least bit a stickler, but I do not desire a tank of breeding non-blue BPS.
I contacted seller and am waiting a reply.
Any opinions are greatly appreciated, :)
Quote:
I have a slight problem. I have a small Blue Pearl Shrimp tank. It has been going for over a month. I began with six, very nice blue color. One is about to release eggs and I can see the eyes (with a watchmakers/jewelers loupe).
I decided to add more and bought 10 from a different shrimp seller. The seller's auction pics were of very blue shrimp. I received them 6 days ago and released into my tank. The problem is that they are not blue. I assumed the color would develop....maybe two have the slightest hint of blue, but otherwise no color or slightly yellowish. Seller has 500+ feedback @ %100. I am not the least bit a stickler, but I do not desire a tank of breeding non-blue BPS.
I contacted seller and am waiting a reply.
Any opinions are greatly appreciated, :)
It might be best if you start your own thread in the "other fish" section of the forum..(here:
http://www.bettafish.com/newthread.p...ewthread&f=142
) sorry I don't have enough experience to help you but making a thread there would allow more people to see it! Good luck!
---
"Some people talk to animals. Not many listen though. That's the problem."
― A.A. Milne
__________________________________
Espeon female halfmoon / 10G

Jolteon male dumbo plakat / 10G

It's snowing in MN today (AGAIN :( :( :( ) and I took a few pics of the kids (well, 3 out of 4).
Titan wasn't impressed.
Orion loves it, he basically wants to stay outside all the time.
And Ganymede..."NOPE"
I apologize those pictures are gigantic...but felt the need to share.
Member
Join Date: Mar 2013
Location: Florida
Posts: 695
Titan is so cute! I like Orion's color as well and Ganymede...he's a cat. What do you expect him to do? Lol.
This is our dog Goober. He is a nut. Also a great fish guard lord help anyone who would steal his fish friends.
He has been promoted to assistant fish keeper as he spends more time watching fish than I do.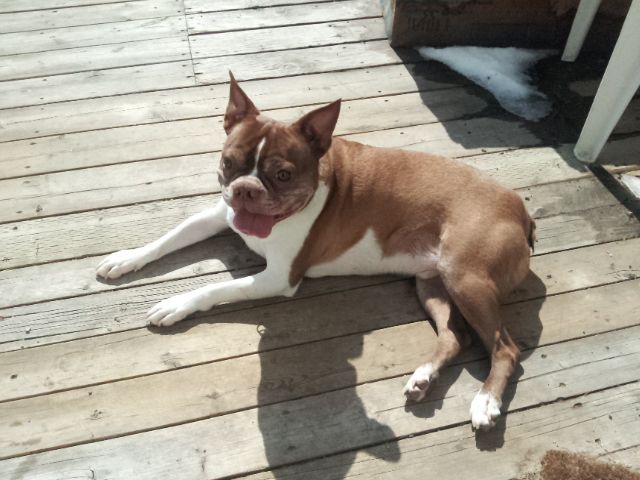 ---
Proud IBC member
I remember seeing your dogs CJ! Full of energy.
Thanks Artemis! Ganymede really wanted to go outside on my deck so I let him, and he decided it wasn't a good idea, haha! He always does that too...he can see it snowing/raining from inside and still wants to go out there. Silly cat.
Orion is beautiful!
---
10 gallon planted
- HMDT male betta, 4 peppered corys, assassin snails, Amano shrimp
10 gallon divided bare bottom
- HMPK male, 2 VT males
29 gallon sorority planted [journal]
- 6 females, 4 bronze corys, trumpet & nerite snails, 3 Amano shrimp
Thank you! He is my handsome foster failure, I couldn't say no to that face.... :)