People are so cruel...
---
So, I guess this kind of stuff really happens. A box of tiny newborn kittens was dropped off at my doorstep. WHO DOES THAT??!!! I cannot begin to tell you how much work goes into hand raising kittens. I'm not even much of a cat person. I love dogs lol I mean take a look at my username. Either way, I was not going to let these little guys die. I took them in, bought some kitten milk replacer and a little bottle. Funny thing is, I usually do not work. I'm "on call" and normally I will go weeks without working at all. It just so happens that these little guys came into my life when I was scheduled to work 5 days in a row. There was no way I was going to be able to do it on my own. I contacted several rescues and finally one was able to take them. I had them for a total of 2 days but I got attached. It's hard not to fall in love with these little guys, especially when they just wanna purr and fall asleep in your hand after being fed. Enjoy the picture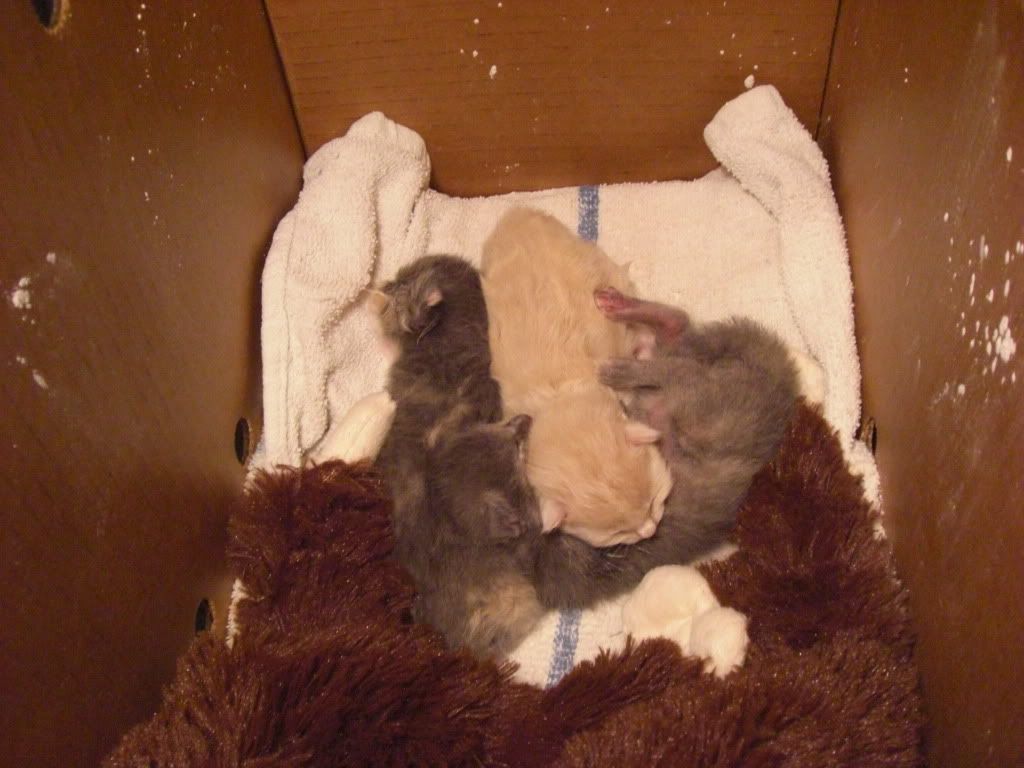 Poor little babies.
---
Open your eyes
Now is the time
To rise up
With darkness we'll still shine

Thats what happens when irresponsible cat owners do not get their cats neutered.. If you can't afford to pay the vets bill to have it done, then don't own cats. I have 2 cats (both neutered) and I hate it when I see the male toms come snooping around, spraying and being aggressive. And the females howling at night. People are so stupid.

Kudos for taking them in, at least they weren't put in a weighted bag and dropped in a river or lake somewhere... I am sure that goes on too. poor animals.
---
Peace always..

If you worry you die, and if you don't worry you still die..... so why worry?
So very very cute!
If I lived closer, I would have helped you with them. XD I love baby animals. Had to bottle feed a couple of beagles once.
Someone knew you were an animal lover and left them on purpose IMO. Jerks!! I'm glad you were able to give them some love for a few days and found a place for them.
---
Animal testing is a terrible idea; they get all nervous and give the wrong answers.
Couple of years ago, we found a very young mother cat dumped in our street, she'd just had kittens, still had blood on her.. producing milk for her babies - but no babies to be found... :( My hearts breaks for these helpless little animals.
How hard is it to call a shelter? A few calls, so they're not just dumped on a doorstep or in a vacant lot?
I've said it before and I'll say it again: Bring back public flogging, so the sods get what they deserve. I'd sell the popcorn.
Aus - How could someone DO that?? The mother must have been devistated looking for her babies :( Just like with the litter that was in my care. I kept thinking, where's the momma and how is she dealing with this?

I was actually going to take the babies to the shelter but one rescue group informed me that if you take them to the shelter that young they will be euthinized because the personnel there does not have the time or resources to put into raising the babies. After I heard that, I had made my decision that there was no way I could send them away to their deaths like their previous "owner" had done. I hate people so much sometimes. My cousin (who was helping me out) really wanted to keep the cream colored girl but the rescue we gave them up to said we'd have to pay $400 to adopt her back. Um... no. Even after the mandatory $75 "donation" we had to pay for them to take the kittens, we would not be given a break. And originally, it was $100, but they dropped the price for us.
At least they went to someone who knew what to do and was willing to take the time to care for them (or find someone who could)
---
Bettabettabetta [~] Corrin [~] Mega [~] Rinji [~] Red Robin [~] Jr. [~] Billy [~] Opti
Tidbit [~] Princess [~] Little [~] Spazz [~] Rosie [~] Sakura [~] Cocoa [~] Pylia
So many fish, so little sig room :)
Miko - forever kitten [~] Cain & Tyrael - twin cats [~] Sadie - RN Pitbull; Proud new mother!! 1-21-13
Gwen - Perfect Daughter!
Thank God for you and your willingness to help out the kittens. Hat's off to you.!
Yeah all in all, I'm just happy that they are safe and sound and are off to a great life. I miss them though and their loud meews...