If you take the eggs off the leaves and put the sacks in water will they still hatch? I just got a new plant today and put the egg sacks in a tiny tank with a heating pad near it to keep the eggs warm. I want them to hatch just not in my plant qt tank. I also already have a tiny baby hitchhiker in the tank too. I have no idea what type they are but I am assuming pound snails. Once the one baby gets large enough i am putting it in with Phoenix and Nikola Tesla. Only question, will Tesla eat a tiny snail smaller than him?
---
IBC Member since 2013
I don't know about the nerites, but as far as I know, Mike and I have transplanted eggs and they've still hatched. I had some on some anacharis that I was shipping out, so I just pinched off that section of the plant and dropped it back into the tank. But now I have crescents of ram eggs everywhere.
---
IBC Member
I hope they can make it, I would feel bad, I already have some people who want them.
---
IBC Member since 2013
No snails have hatched yet. Do you think it's safe to say they won't be hatching at all?
---
IBC Member since 2013
You might have them in a cool place which extends the time it takes them to hatch. I've also heard that they are like bettas in the sense that the first try or two is a bust. Cross your fingers for next time hun!
Posted via Mobile Device
I hope they hatch, I got them off my live plant i bough, have about 4 egg sacks I scrapped off and worried I may have hurt the eggs when I did it. They don't look moldy or anything but I'll give them another week. At least I have one baby who was on my plant already hatched and he's gotten a little bigger. I named him Sherlock Holmes.
---
IBC Member since 2013
Member
Join Date: Jul 2010
Posts: 3,026
Quote:
Originally Posted by
pittipuppylove
View Post
Alright, I'm way too excited about this. I had to meet my dad halfway between home and my school this morning to switch cars, and I figured that I'd stop by the LFS just to look around (famous last words) and discovered that they had Nerites! So I had to pick one up - he made the hour-ish long drive exceptionally well and is now acclimating to his new tank.

I did notice when I got back to my dorm that a small piece of his shell has erroded - is this something that can be corrected with high pH (my tanks are around 7.6-7.8), clean water, and a high calcium diet, or is the damage permanent? If it is irreversible, is there anything I can do to help him?
you mean his shell has a chip? we had a recent thread about this:
Nerite's Shell...
Not 100% but...I think maybe some pond snails hatched But I don't know.

I see little tiny white things clinging to the side of the tank. I also noticed one of the egg sacks missing and what looked like eggs scattered on the bottom...are baby pond snails white when they hatch or brown? I just don't know. I also have these tiny little white things with tails and antenna that zip around at high speeds, what are these? The only things in that tank right now were the snail eggs, the baby snail already in there (now pea size) and some moss to munch on.
---
IBC Member since 2013
Quote:
Originally Posted by
registereduser
View Post
That's it! Thanks - for whatever reason, I didn't see that thread.
---
It's funnier in Enochian.
Hello, my name is Maddy, and I'm a snailaholic.
I'm currently working with 2 species of apple snail, and red ramshorns. In the summer, the apple snails live and breed outside in my greenwater/plant tubs. During cold weather, they stay inside in a wastebasket filled with water. I'm cheap as heck, LOL. I trade babies for more breeder snails, bettas, and food at my LFS.
My favoritest snaily girl ever, Fred. She died of massive internal injuries when she took a tumble off a table. RIP
My big
Pomacea insularum
girl, Frank. She had to get a paint job because her shell was eroding pretty badly.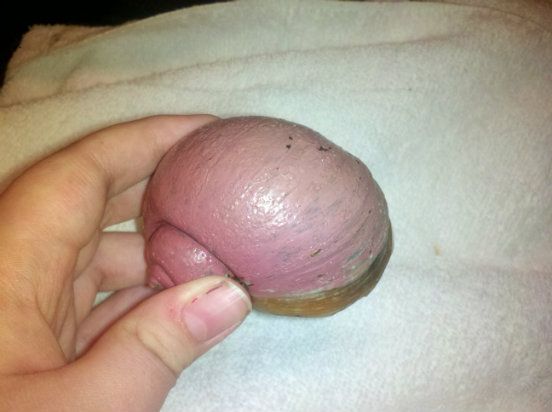 Frank with one of her babies on her
Group of gold
diffusa
babies. The ones I kept from this clutch are now adults, and ready to have babies of their own.
Their jade siblings. Kept one of these, too.
---
Solstice - cellophane HM female