I just bought a new blue mystery snail to go with my female betta in my new 10 gallon tank. <3 Although poor dear looks more green than blue because of algae. :P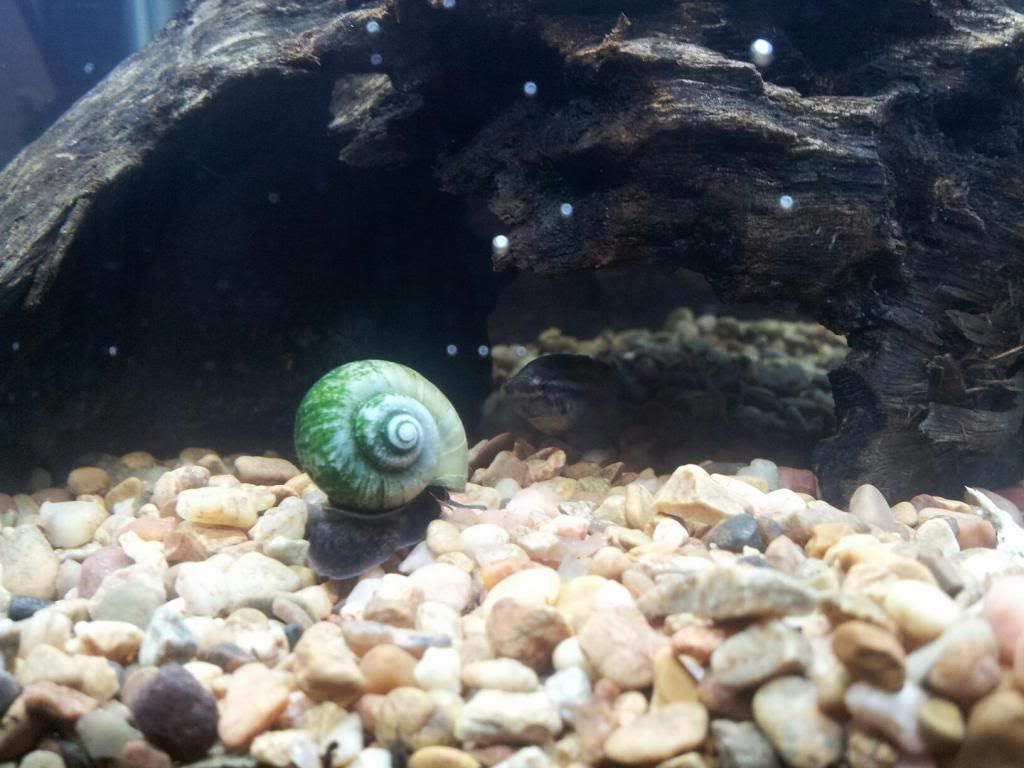 Meet Pupa Pan!
---
20 gallon long - The cories and the tetras.
20 gallon tall - The Platies, Dwarf Gourami
10 gallon divided - Ryu and Slick the betta boys
10 gallon - Vriska Bell the female betta and Pupa Pan the tiger nerite
Ferret Room - Ollie, Riley, Ellie, Jet, Charlie, Cosmo, Casper, WIZARD!, and Champy
D.I.P. Izzie, Dee Dee, Ada, Draco, Penny, Toby, Jet, and Dexter
Banned
Join Date: Aug 2012
Location: Hogwarts
Posts: 2,082
I love my two snail they aren't twins but I named them Fred and George anyways lol.
Banned
Join Date: Aug 2012
Location: Hogwarts
Posts: 2,082
Btw they are huge! Mine are the size of a golfball :)
I have a black mustery snail and a gold mystery snail (the one in the pic)
Quote:
Bluewind my dear, you have ramshorns.
Very cool! So what do I need to know? Can I keep them in a container without a heater?
Did you guys read my "What a day..." thread? Lost my mystery snail Sandy because of the carbon monoxide, but the others are looking okay. Could have been MUCH worse. I'm still bumed about it though.
Posted via Mobile Device
Those should be some beautiful snails :D
---
IBC Member since 2013
i have a slightly stupid question, will a single trumpet snail help clean waste from another snail? i have a 5g dividied tank with 1 betta to a side and 1 nerite on one side. i do need to gravel vac a good deal to clean up after the nerite. i dont have many live plants, 1 moss carpet plant and a plant thats in qt atm.

though the most important question is will a single trumpet snail create a population boom? can my 5g tank even safely support 2 snails and 2 betta? i like to put a trumpet on the darker side of the tank (less brown algea) to keep my Det company. i dont everfeed my betta and often i give them 2-3 pellets everyday. if a single trumpet snail can create a population boom then id look around for a ruby nerite.
---
Kigurumi (F) yellow PK 7/4/13, Kurama VT 9/8/13, Zeydalus Salamander EE PK 21/3/14, Ryuk turquoise dragon DeT 8/5/14----Crested Gecko (8ths old) Sven Cal 27/12/11,

RIP: Osiris copper DT, Nel blue VT, Nelliel turquoise grizzle DT, Zaku red cambo, Blitzkreig Pineapple CT, Halloween orange chocolate DeT, Grimmjow, turquoise green CT