Member
Join Date: Mar 2010
Location: USA
Posts: 10,951
Look what I found....A baby goat...
---
I never wanted a goat, don't need a goat and really didn't want one living in the house....But what can you do when a helpless, injured very young-tiny baby goat is out in your pasture-soon to be killed by the horse. This little girl "Lucy" still has her umbilical cord attached, fractured shoulder-weighs about 2 pounds and thin as a rail-hollow....How in the world did this thing get to my house anyway....The nearest homestead is over a mile away. We did a search and didn't find the mother. We put out the word so if anyone owns the things they can come get it....On one hand-I hope someone calls and on another I hope they don't even though I don't want a goat-but she sure is sweet and I do love to bottle raise critters...lol....But I will regret it in 6 months....they do grow up after all.
I have no idea what kind she is so I posted on a goat forum, they think she under a week old and waiting on responses on the breed.
Here is a pic...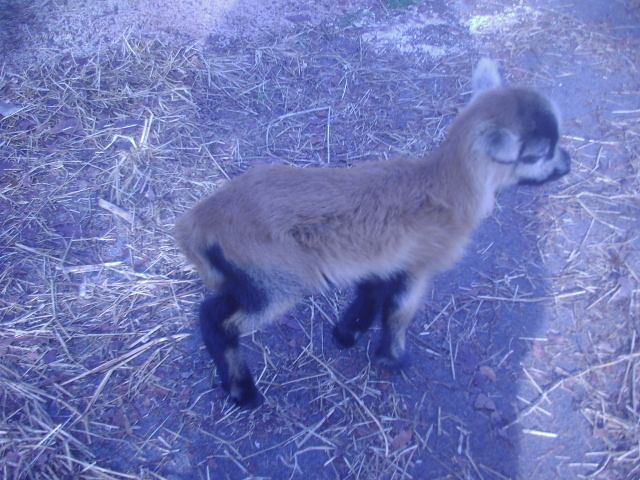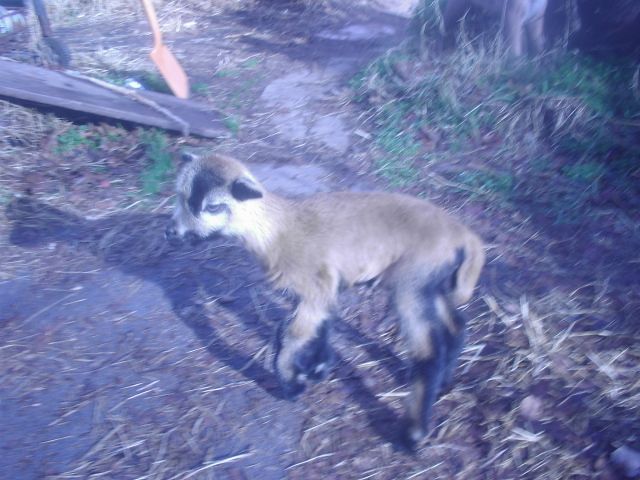 This is the weirdest discovery ever that I've heard on any forum. lol
BUT, she sure is adorable! I hope she'll survive. Based on how you cared for that possum and your fish, I think she will. :p
---
Over hundreds of bettas die in their small, dirty cups each day. Only you can help them live. Research and then save them, today!

Wow
The poor thing! She's soooooooo cute.
She sure knew where to go for nurturing and care - maybe there's an animal "grapevine" that directs them to your house :)
I wonder what happened to the mother? Please keep us posted on how she does.
---
Animal testing is a terrible idea; they get all nervous and give the wrong answers.
So adorable! I have a goat, sort of... it lives in Kenya but I bought it for them and it provides milk and cheese for the family.
---
Veil tail Marco and mystery snail Polo in a 10 gallon
Betta Lover!
Pixel of my betta-
http://i1215.photobucket.com/albums/.../marco-1-1.jpg
Member
Join Date: Mar 2010
Location: USA
Posts: 10,951
Laffs....I often wonder if there is a sign posted with an arrow....."This way if you are lost, injured or hungry"....lol....I do seems to get a lot of critters both domestic and wild and I am out in the middle of nowhere.....

I will admit....I do like it a bit too.....Motherly instinct to want and sometimes need to nurture something....Often they help me as much as I help them.....

These things sure pee a lot...lol....I am getting pretty good at getting a can under her rear to catch it before it hits the floor....lol....
---
Last edited by Oldfishlady; 02-10-2013 at

10:31 AM

.
How adorable best of luck with her of him !!!
---
Remember the Light at the end of the tunnel may be You.
I've raised several goats and lambs in the house! They are so much fun!
Try using puppy pads. I would throw one under them when they started to pee. You won't have to have as good of aim as you do with a can!
Also, may I suggest a whisk broom and dustpan!
The very first one I raised in the house was such a pet. She walked on a leash and would jump up into any vehicle if the door was open. She liked going for rides, just like a dog.
Member
Join Date: Jul 2010
Posts: 3,026
oh you are lucky! I always wanted a goat! They are supposed to be good friends for horses, no? Are there such things as feral goats? Maybe the mother was living off the land and had the baby and died soon after childbirth? Then the baby found it's way to you?

This would make a great children's storybook!
Aww!! congrats on the new baby! :)

I thought sheep and goats imprint? It will grow up thinking you are its mom?
---
"Education is the most powerful weapon which you can use to change the world." -N. Mandela
To my journal!
http://www.tropicalfishkeeping.com/j...ourami-592858/
Too cute. I love goats. You can always rehome her when she's healthy & old enough . . .
Similar Threads
Thread
Thread Starter
Forum
Replies
Last Post
New baby goat :)

RayneForhest

Finless Friends

23

04-14-2012

10:52 AM