Quote:
Shannon, your boy looks a lot like Chevelle! She's a blue nose, too. But sadly she has a little bit of a lower jaw deformity, due to too much inbreeding. :( Still we love her all the same! And I just love the pictures of Poker and your son, too cute!
Thanks! You're right, they do have very similar markings! Your dogs are so freakin cute, I forgot to add that in my last post! Lol.
The reason I love pits so much is because of their bad rap....I've got a sensitive side for "underdogs" in any situation, not only including animals btw. If I see something I don't agree with happening, I will defend it. Like if someone is getting made fun of or picked on, I always come to their defense. Everyone can judge my dog all they want, but the proof is right in front of them. The lady who threatened me with animal control, I told her, 'call them, I'm not afraid. They'll just see how sweet my dog is and laugh at you'.
I feel sad for the pitties around here I went to adopt a dog for my mom and the SPCA is just full of pitties. Most just wanted to lick you to death. I could not take one as I knew my br other would never let his kids around a a pitbull and they visit my mom all the time. I used to be pretty afraid of them based of the news reports I see but I've met some that are great. For the right owner they are great dogs.
---
I love this thread. It's fun to see all these adorable and positive pictures of everyone's dogs. I tend to like the dog breeds other people are afraid of. I guess it's something about loving the underdog, as Shannonpwns said. :)

I've had pit bulls in the past, although I don't have a dog right now because I'm not at a point in my life where I feel I could give a dog the attention, exercise, and attention it needs. Plus, I'm afraid my thirteen-year-old orange tabby (Socks) would try to beat up a dog since she attacked my mom's dachshund/terrier mix the first (and only) time they met face-to-face. But when I am able to have a dog again, I have my heart set on a pit bull or a pit bull mix, preferably from a shelter.
I've had a pitt in the past now I have rottweilers.. It's sad that they get bad names as well... it especially makes me mad when you see them in movies where the bad guys set them onto the good guys...
Here's my boy Sebastian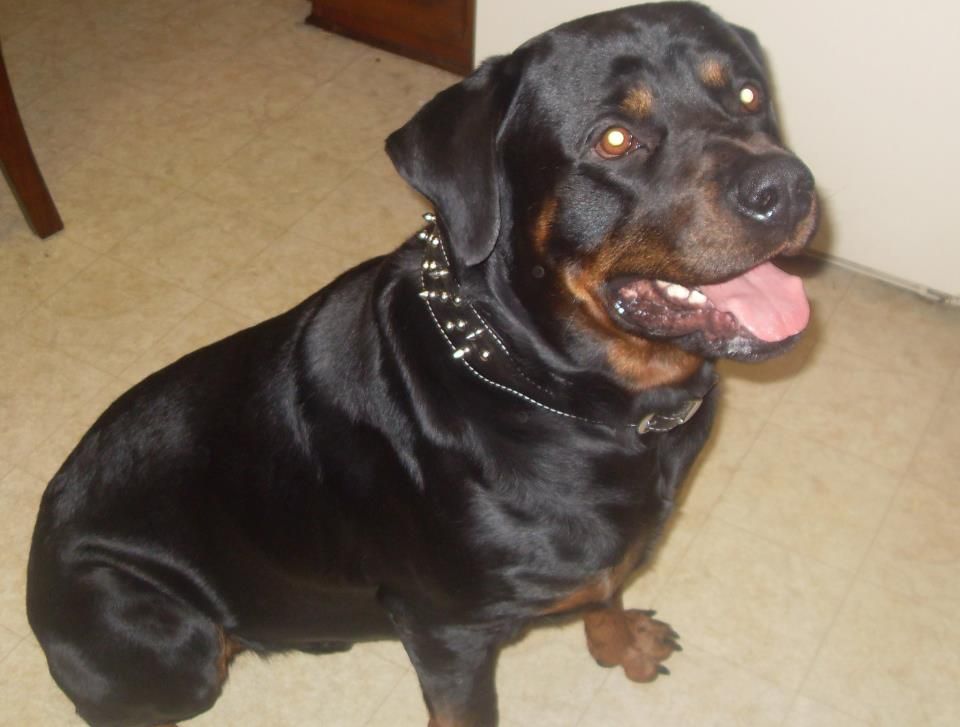 He likes to sneak up on my bed for naps...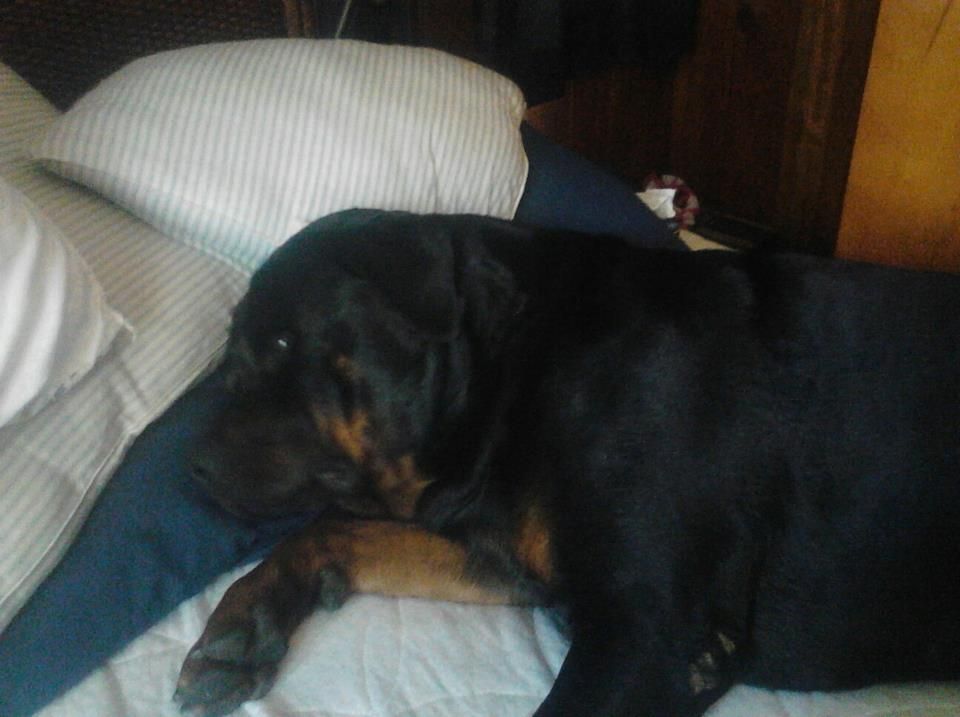 and here is a pic of him and Zena on game day... (dad's brilliant idea ~insert eye roll here~)
---
Last edited by sbrit94; 09-05-2013 at

02:37 PM

.
I once worked with a man who owned pitties.
They were beautiful dogs even with a few problems from not being controlled and trained correctly.
I don't agree that he was using his dogs as breeders though however that being said it was an amazing experience to help raise the puppies once they were born, something i will never forget.
Here are some photos, the mothers name was Cherish and her puppies.
She was a WONDERFUL mother, so gentle and trusting of me to be around the puppies.
The puppies were around 6 weeks old (if i remember correctly) in this photo.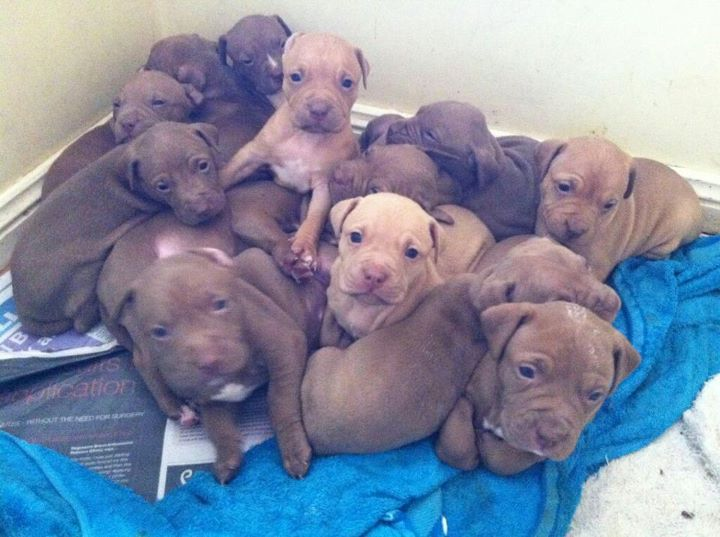 Her life was horribly taken by the council after someone put in a complaint regarding the dogs.. so many things could have stopped this happening but one silly man didnt take the nessecary steps to ensure his dogs were controlled, registered and safe.
The pups however are all still alive and are safe with new owners.
This is a photo of Cherish's half brother, Simba, a big doof head but a great dog with the right match (wasnt so good with other male dogs, egos! HA!)
New Member
Join Date: Jul 2013
Posts: 44
Really the monster dogs in the movies should be the little ones. My Lhasa as sweet as he can be with me and family... will act like a little monster with strangers.
I love pitties! They are the BEST dogs! Such sweet, wide smiles. :) They are the only breed to have made the cover of Life magazine several times as
"breed of the year", and in the 50's and 60's they were *the* breed recommended for families...because of their loyalty and *gentleness* with children. Once referred to as "nanny dogs". And remember the Little Rascals? That dog on there is a pittie. Look back at photos from the 18 and early 1900's...photo after photo is of children and pitties.
How quickly people forget... :(

Breed Specific Legislation is legalized murder in my book. It's inept people who have done ZERO research deciding that an entire breed of dog needs to be destroyed. Such complete and total *ignorance*. I will tolerate stupidity, it's something you're born with, but ignorance is unforgiveable. It's the WILLFUL exclusion of facts and a refusal to learn. That just makes you horrible...and some cases causes absolute evil. Unforgiveable.

I get riled up about this...don't let a southern female get on a soapbox...lol! ;)

I worked as a dog groomer for about a year when I was a pre-vet major in college...and I second the comment about the little dogs being the ones to watch. ;) LOL, they're good little guys, but if you do something they don't like, Heaven help you. ;) Shelties and cockers were by far the most likely to bite. But, we had a cocker spaniel for 18 years and she was the BEST dog. My cousins played with her, pulled her ears, tried to "ride" her (poor little girl!), and she never bit, never growled, never snapped...she just tried to hide. Never met anyone she didn't like, and wanted nothing more than to be loved on.
There is absolutely good in every breed, and every dog has the potential to be special to someone. Sometimes they may need some particular handling or a certain type of home (IE no cats, no children, etc.), but they're all GOOD creatures. :)
---
I LOVE Pit bulls! We can't even own them in my province, which makes me very angry, since they really are sweethearts! Even though there are my many small dog owners on this site, my personal preference is big dogs, because most small dogs don't like me and bite my ankles or my fingers. I've never once had a Pit bull or so called "dangerous dog" lung at me like a Chihuahua has. Well, there was that one mutt, but it was just having a bad day at a kennel, aha. Here's my Daisy, a complete Mutt that has a little of everything in her. I honestly think she might have some Pitt among Sheppard and Whippet XD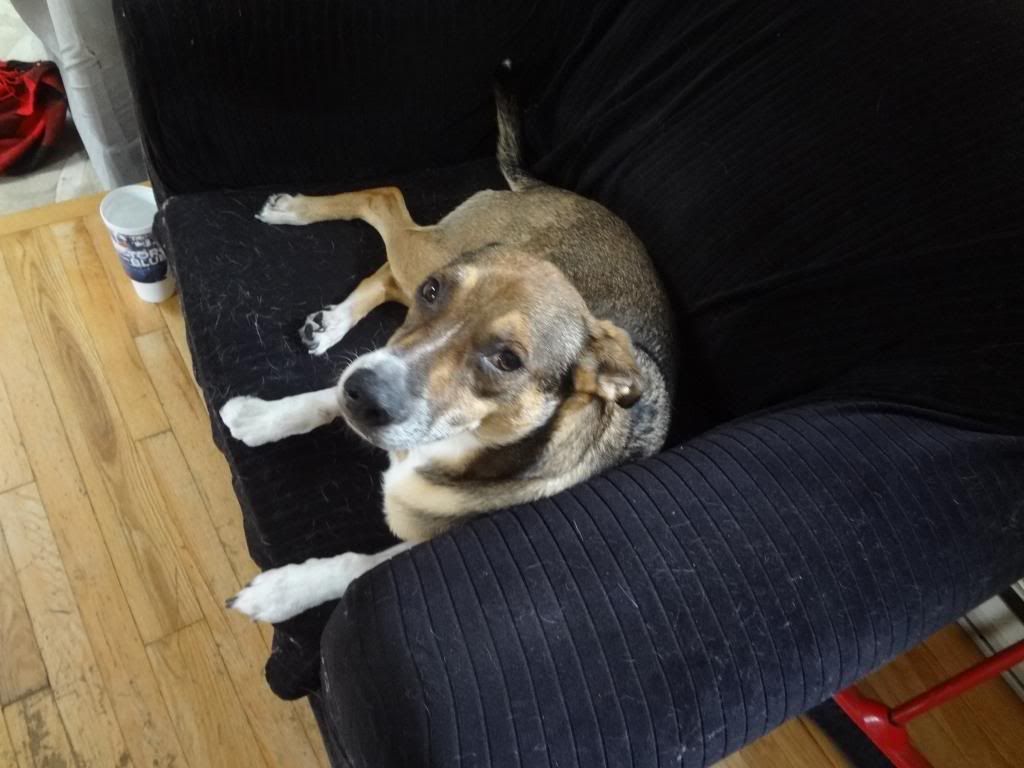 ---
55 Gallon: Crowley: Melanoid Axolotl; Mischa: Melanoid Axolotl; Achlys: Albino Axolotl; Eddard Stark: Leucistic Axolotl
Furry Friends: Daisy and Holly: Dogs; Norman and August: Cats; Gilbert and Mordecai: Guinea Pigs
Your dogs are the absolute cutest <3333
My guess is pit bulls are a really common breed which many crappy dog owners allow to reproduce, thus giving their dogs to their friends. So it's just like an endless cycle of good dogs given to bad owners who keep letting them breed randomly (at least in this area, people have them chained in the backyards with no shelter and they just keep breeding, and it's clear the mothers need a break.)
Quote:
Your dogs are the absolute cutest <3333
My guess is pit bulls are a really common breed which many crappy dog owners allow to reproduce, thus giving their dogs to their friends. So it's just like an endless cycle of good dogs given to bad owners who keep letting them breed randomly (at least in this area, people have them chained in the backyards with no shelter and they just keep breeding, and it's clear the mothers need a break.)
Being common is a big part of it. But a bigger part is that there are some ignorant, horrible, evil people who intentionally use pit bulls to fight one another, often to the death. People hear the word pit-bull, and they instantly conjure up the media-driven idea that ALL pitties are blood-thirsty killers...because of this practice. What the media *doesn't* tell you, is that these dogs are used this way because of their loyalty, and absolute willingness to please their owners. They only want to do what they've been told...and if they've been conditioned, and yes, told, to fight another dog...then they'll do it. If only because they are following orders from their leader. It's not the dog's fault. It's the fault of the evil piece-of-walking-filth who put them in that situation to begin with. :(
They are some of the most loyal, most protective, and most *loving* breed of dogs out there...and it's absolutely heinous what's been done to them in the eyes of the general public. :(
---
Similar Threads
Thread
Thread Starter
Forum
Replies
Last Post
Bad Luck and lots of it

Sena Hansler

Betta Chat

19

10-25-2011

10:29 PM