Yay for kitten videos! She seems pretty chill for having a camera shoved in her face though, so that's good.
Oh my goodness! How adorable!!! I love when she nibbles on the coat, soooo cute! One of my kittens used to do that as well and another one was obsessed with feet and apparently still is haha.
And thanks you! Siberian is our young boy, only three years old now we've had him for two though. He's very much allergic to either Summer or grain's...we haven't figured out which one yet >.< but during the Summer he losses almost all his fur
he's just now growing it back but I've been giving him daily kitty vitamins and washing his coat so I think that's helping. But anywho, this thread isn't about my kitty! lol
How's the little white one doing??
---
Rembrandt II, Suiché
Leopards: 1:4 Hawkeye, Luna, Astrael, Dorian, Cullen
Gargoyle: Cloudjumper and Toothless
So, oddly enough, it seems like the home page/forum index is the only page on this site I can't get to load. Once I get into the actual sections and threads, everything is fine. But this means I can't navigate Bettafish very well. >>
Poor Siberian. ): I hope he feels better. And you can absolutely talk about your kitty in this thread. He looks like a sibling! :D
Growing boy pictures. I think he is a long hair.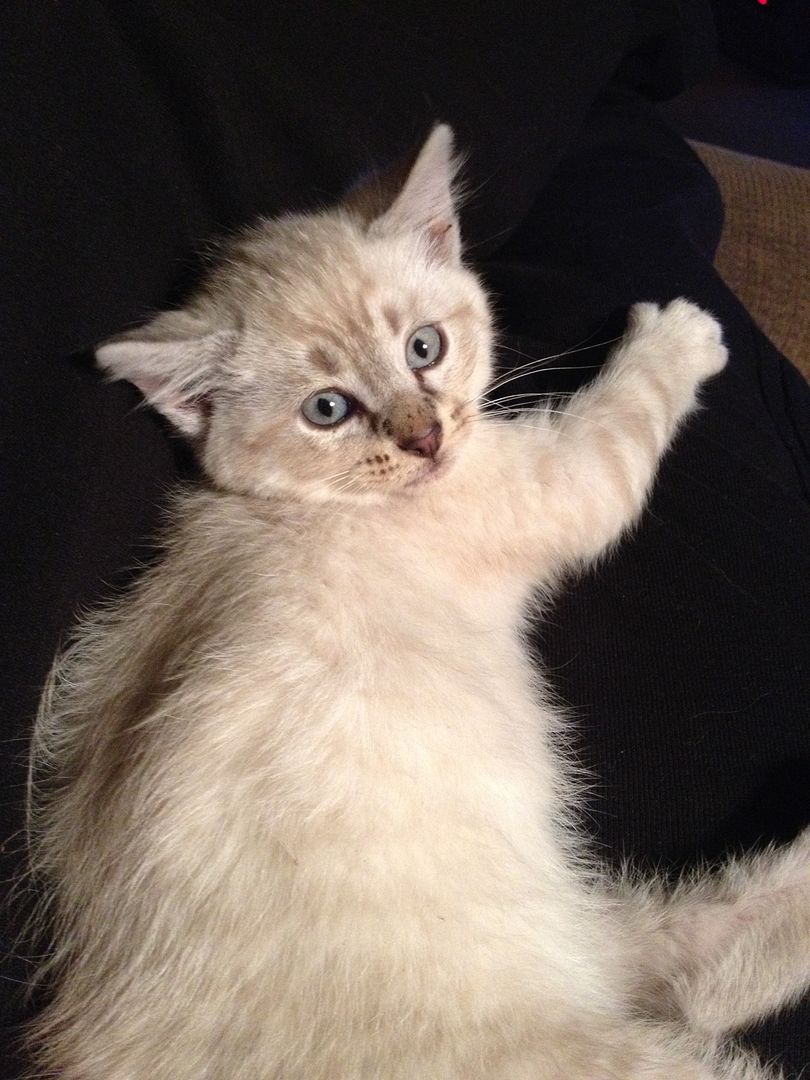 ---
---
Last edited by Fenghuang; 12-13-2013 at

07:28 PM

.
Having the exact same issue, home page being the only page that takes forever to or never loads. It's weird.

Your kitten looks great. I'm happy you got them to fix the mom.
I wonder if it has to do with that time TFK and Bettafish got merged accidentally. It has been like that for some weeks now.
We're relieved too. Ci talked to the owner of the local pet supplies stores and the lady offered to look into when the free spay/neuter clinic comes to town, so we can get her to take all her cats to get fixed (neighbor "owns" a number of outdoor cats, not just the mom), or ask if we could take them.
Baby with his first toy.
http://s692.photobucket.com/user/Kro...cknz8.mp4.html
---
To clarify, she works at All Pet in WP, I'm not sure who owns and operates that particular store, but she is renown as the "cat lady" because she nurses kittens, helps find homes, and is an excellent go-to source for cat/kitten care.

Also, if I recall properly, which is how I got Lux fixed for no cost, we have a local individual who pays the local vet during a specific time so folks who cannot afford to have their pets spayed or neutered to be so.

Grandma knew her husband and used to work for their company, either gave her a call or ran into her, can't recall, and he told her how I had another rescue cat (a Walmart cat no less) and she told him to tell me to take her in and she'd foot the bill.


I am sure there are se free clinics that come to this area, but this is a total local venture if I'm recalling right, xD It could be she is talking about something else, but I'll find out when she does.


Also still working on grams to let me bring the handsome little guy in.
Our little boy has been named Jasper! And grandma finally gave the go-ahead to bring him indoors for good. :) He has been an indoor cat for a few weeks now and took to his new surroundings swimmingly. He is slowly winning over our grumpy girl, Luxe, and just growing nonstop.

His siblings are doing great too. They get along with big brother Blackie and they are all just one nice big happy family. Mama Kitty has put on some weight and looks a lot healthier.

Annoyingly, now that Mama Kitty has been fixed, a new female showed up in town. Ci found her after she got treed by the neighborhood tom, Velcro. She's a little tabby stray and was absolutely ravenous when Ci rescued her, mistaking her for Mama Kitty. She begged for some food and left soon after, so Ci thought it'd be the last of her. Then, she came back and took up residence on the next door neighbor's porch with all of the neighbor's other outdoor cats. Asdfghjklahshkdfgk! Neighbor needs to take care of her existing pets (and human children) before taking in more! D:<

*deep breath*

Here's a cute kitten picture.
---
Similar Threads
Thread
Thread Starter
Forum
Replies
Last Post
Third time's the charm

Capricorn

Betta Memorials

6

11-20-2010

05:44 PM