View Poll Results

: what pets do you have?

Dog
47
61.84%
Cat
46
60.53%
Horse or Pony
10
13.16%
Rabbit
11
14.47%
Guinea Pig
8
10.53%
Hamster
4
5.26%
Bird
9
11.84%
Rat
5
6.58%
Mouse
3
3.95%
Gerbil
0
0%
Snake
6
7.89%
Ferret
0
0%
Chinchilla
0
0%
Degu
1
1.32%
Fish
63
82.89%
Lizard
10
13.16%
Bugs
6
7.89%
other
18
23.68%
Multiple Choice Poll. Voters: 76. You may not vote on this poll
8 betta fish
2 cats - westin and panda
A sun conure - georgie
A crested gecko - Baelfire
A ball python - Logan
---
One hand reaches out and pulls a lost soul from harm. While a thousand more go unspoken for, they say what good have you done? By saving just this one... It's like whispering a prayer in the fury of a storm. And I hear them saying... You'll never change things...
MoonShadow Betta Fish Rescue
Saving the world one innocent life at a time

2 mini poodles- Beans(father), Jack(son)
4 parakeets
A bunch of livebearers
A little baby girl betta
Sent from
Petguide.com Free App
I recently added axolotls to my list of critters.
List of current fish is in my signature.

Other than the fish, I have a chihuahua and a chi-papillon mix - both rescues.
---
125 - BGK, chanchito cichlid, pictus cats, silver dollars, palmas bichir

125 - cichlids (severums, bolivian rams, chocolate), rainbows ( turquoise, red), loaches (angelicus, zebra, kuhli and horseface), plecos (BN, RL and clown), denison barbs, tiretrack eel, pearl gouramis, betta
90 - Congo tetras, african knife, upside down cats, spotted ctenopoma, kribensis, delhezzi bichir
2.5 - betta

3 dogs, 1 cat, 6 Fire-bellied toads, 1 Syrian Hamster, 1 parakeet ( who just recently lost his mate), 2 Oscars, 3 Angelfish, 2 Dwarf Gourami, numerous Platy, guppies and other assorted community fish as well as 4 African dwarf frogs and an eight inch Sailfin Pleco...
I have 2 betta fish, Chi and Kirei.
Two cockatiels, Pretty Boy and Kiki who are 17 years old.
And five cats; sisters Sneaky and Cassia (11), Charlie (8ish), Six (3), and Jamal (7mos). All of which are more or less rescues.

Over the years, we have had multiple fish, many baby cockatiels, a love bird, finches, a parrolet, one half blind baby black bird, two rescued baby doves, one rabbit, up to 9 cats at one time (not a litter either). Many of those we had within the same few years where we had a "zoo" as my mom called it.

I've had Sneaky, Cassi, and Six since birth, nearly born into my hands. Both momcats were strays we rescued. My baby Six was born with a cleft palate and we've been bottle feeding since birth. He still can't eat solid food. He's definitely my son. Jamal was also bottle fed by my niece's friend's parents.

In the pictures: Sneaky is black, Cassi is black and white, Charlie is red and white, Six is tabby, Jamal is the siamese marked one. The grey and white is Jaspurr who we lost at age 12 earlier this year in April.
My assistant fish keeper Goober. Funniest dog Ive ever seen he makes me laugh every day. He stares at my fish tanks constantly and my betta swim to the front of their tanks to stare back at him. He is in charge of fish security around here.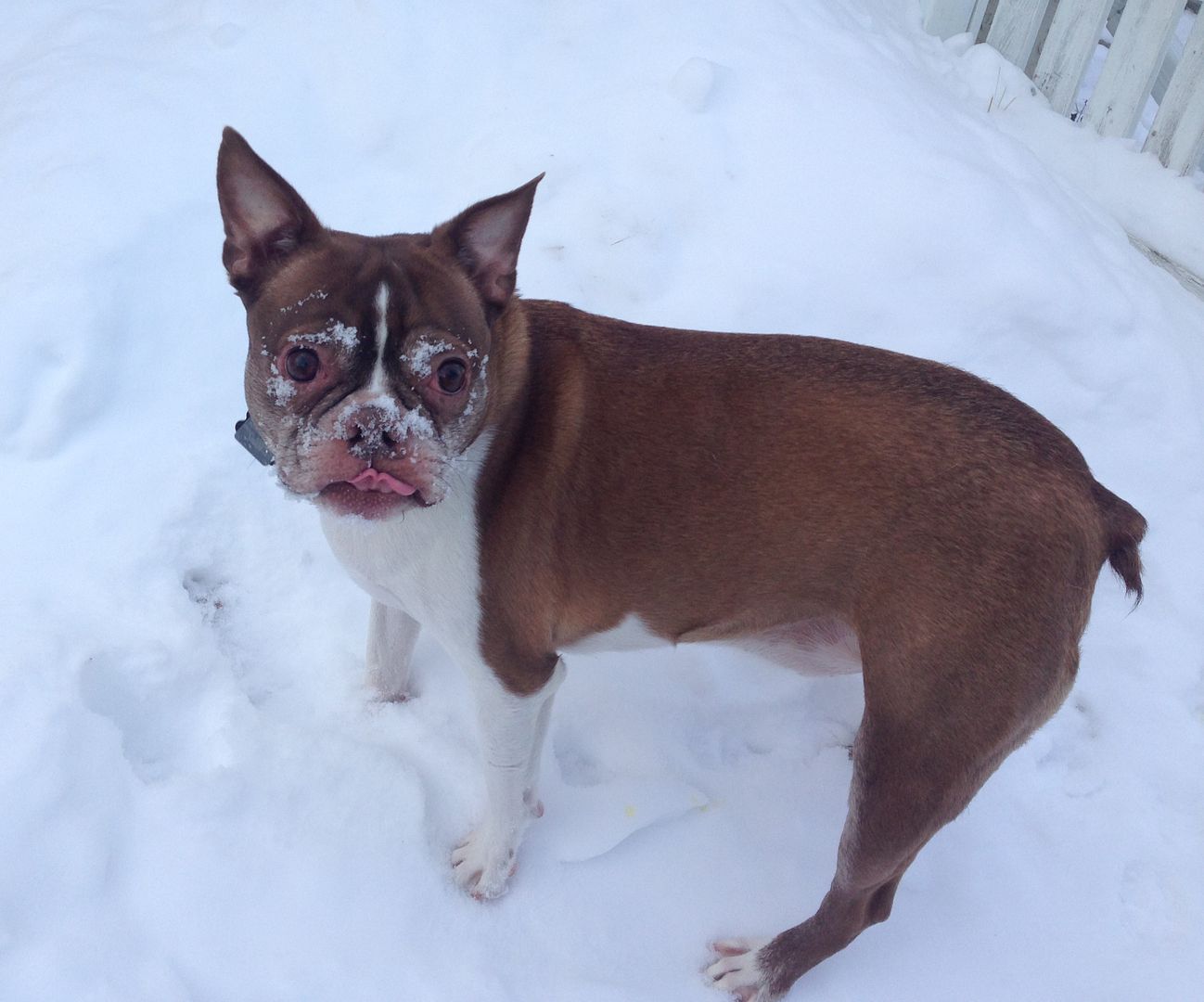 ---
Proud IBC member
Oh jeez, here we go:
6 dogs + whatever foster Pit Bull I have at the time
- Emme, female, Border Collie, 6 years old
- Zoe, female, Border Collie, 6 years old
- Beamer, male, Border Collie, 2 years old
- Kayrageous, female, Border Collie pit bull mix, 2 years old
- Bam Bam, male, Boxer, 3 years old
- LooLoo/Noodle, female, French Bulldog 2 years old

2 cats
- Chronic, male, orange tiger, 1 years old
- Snickers, male, tiger, 7 years old

1 Lizard
- Merlin, male, orange tiger, ~8 moths old

Fish
- 10 gallon divide with 3 bettas and some snails
- 2.5 gallon with one betta
- soon a 13 gallon riparium with Dario Darios
We are obviously all pet people! Love everyone's kids!
We have 2 rescued dogs
- Amydog - almost 8 yrs old,(adopted at 6 months old,where did those years go
) just a heinz 57, possibly terrier/pittie/spaniel sumfin.
- Tess - approx 11 years old, rescued 4 years ago ~chi/doxie/ tasmanian devil mix!
~~~~~~~~~~
And 1 orange and white cat - Petey , 13 yrs old, inherited when my dad passed away suddenly.
~~~~~~~~~~
And the aquatic gang - 6 danios in various color morphs, 2 ghost shrimp, 5 nerite snails, and 2 female bettas.
---
It's more important to be kind than to be important...
Hmmm, no one keeps gerbils, ferrets or chinchillas.
---
125 - BGK, chanchito cichlid, pictus cats, silver dollars, palmas bichir

125 - cichlids (severums, bolivian rams, chocolate), rainbows ( turquoise, red), loaches (angelicus, zebra, kuhli and horseface), plecos (BN, RL and clown), denison barbs, tiretrack eel, pearl gouramis, betta
90 - Congo tetras, african knife, upside down cats, spotted ctenopoma, kribensis, delhezzi bichir
2.5 - betta