Anybody here have pet birds?
---
If so what kind do you have and can you post pics?
---
I have one cockatiel and four parakeets. They were rescues from an ex-friend who were not caring for them properly (she was also evicted from her apt and then fled to who knows where after stealing money from her roommates!!) Unfortunately, none of them are very friendly, except for the cockatiel. She doesn't like if you put your hands near her, though.
---
Proud owner of:

♥45 gal future divided betta tank
♥Capt'n Jack Sparrow, the turq. marble DT
♥Mars, the red bf veiltail
♥30 gal community


Have four here, a blue Parakeet, Cockatiel, Green Cheek Conure, and a Rose Breasted Cockatoo. I would get pictures of them, but my camera is dead.
---
Bettas: Rose, Sophia, Addie, Ghost, Buster, Holt, Aidan, and Mercutio!
Cassandra
Just my animals: 0.2 Cornsnakes, 0.2 Bearded Dragons, 1.0 Water Dragon, 2.2 Crested Geckos, 1.0 Tiger Salamander, 0.0.1 Tadpole, 0.0.2 Red Eared Slider Turtles, 0.0.1 Map Turtle, 0.0.2 Hermit Crabs, 1.0 Hamster, 1.0 Rabbit, 0.1 Horses, 2.2 Dogs, 0.2 Cats, Chickens, Ducks, Oscar Tank, Planted Bowl, 10 Gallon, 4x 0.5 Gallon, 5 Gallon, and Planted 25 Gallon Tank....Is that it?
I have a bird, just for this week though.. Haha.

He's my friend's cockatiel and awfully cute!!! He says Thank you and pretty bird and does a wolf whistle when you walk past his cage, oh and he waves. LOL He's sooo cute and Joey keeps staring at him....

I would love to have a bird, but honestly, their life span intimidates me and I don't want to get a pet and then have to give it up or something. Because I have no idea what I'm going to be doing in 10 years!

Ps. I'll get a pic of him later.
---
"Whoever said fish were low maintenance obviously never owned fish"
Arzela: he's beautiful!

Ninjafish : That's so good for you to rescue them.

Doggyhog and Thejadebetta :I will be looking forward to the pics!

And I might get a bird I just don't know what kind yet haha
---
This is our Congo African Grey. Her name is Sam. She has quite the vocabulary and loves to yell at the dogs (by name)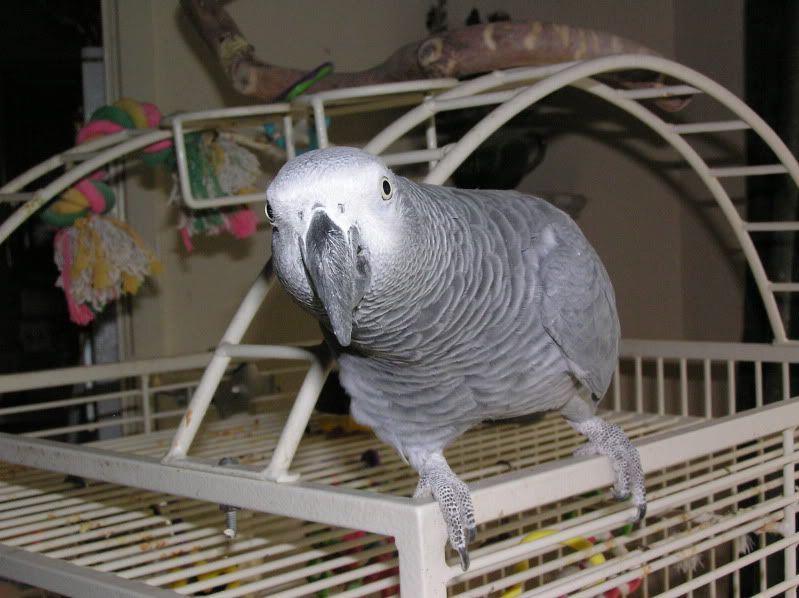 Member
Join Date: Sep 2009
Posts: 3,477
I used to have a pearl white-faced female Cockatiel. I had her for about 4 years, than my mom gave her to a friend of hers and she passed away a year later. :( She used to chase my dogs around the house and bite my Corgi on the nose if he got too close.lol She'd love playing cards (she'd grab them and fling them all over the floor). When I move out I am definitely going to get another bird. They're such amazing pets!
---
Anyone recommend a specific kind of bird for me?
---
Budgies for beginners are really good- I used a few- really sweet birds. Lineolated parakeets are good too, from what I've heard. Cockatiels are good as well. Are you looking for small or large birds?
---

In the hobby for 9 years.