that's awesome... i love the look of Blizzards. And is that a zoo-med reptile hammock? i have one of those keeping the duckweed out of my filter discharge on my 20 gallon.
I'm currently fantasising about a chinese water dragon of my own... fun to see the pics of dif animals.
Here's a pic of one-
Not mine yet, but soon. Enjoying the research of foods and developing the perfect enclosure ;)
Oh, definately a 3' X 5' by 5' tall, maybe for a pair. ;)

I think the picky eater thing comes into play when they're raised on single types of food.. I plan on getting a hatchling thats easily trained to eat a variety...
I would still maybe just house them alone. I've seen some gnarly bites between pairs, not to mention if you were unlucky enough to get two males! YIKES! But that's just my personal opinion. I'm on a herp forum that specializes in dealing with medical situations and so we see a lot of injuries from animals housed together. But what I would do is make a cage big enough for two and divide it in the middle..but make it kind of look like it's one cage. :D Gives them their own 'bedrooms' but still looks really cool!

I'm trying to see if my boyfriend's dad would like a chinese water dragon. He loves iguanas but..well.. LOL.. Those are about the most difficult reptiles to handle.. Even monitor lizard/crocodilian owners don't want them haha! He likes big green lizards though. Figured a CWD would be a liiittle more suited for him! :)
---
Nice reptiles! Here is my Crested Gecko, Taji.
Getting ready to shed...
Eating Crested Gecko Diet, Mmmm...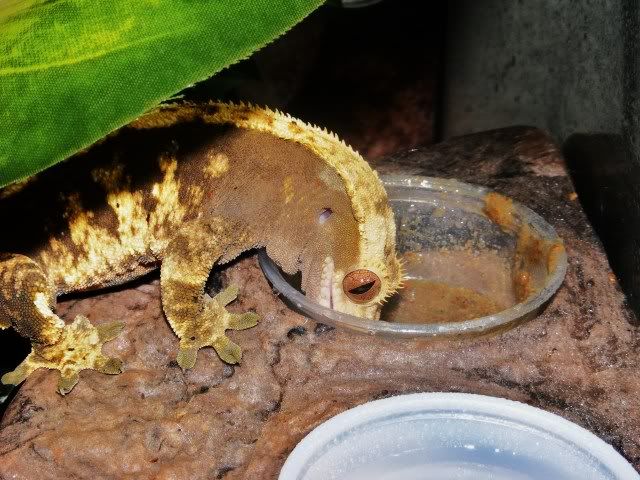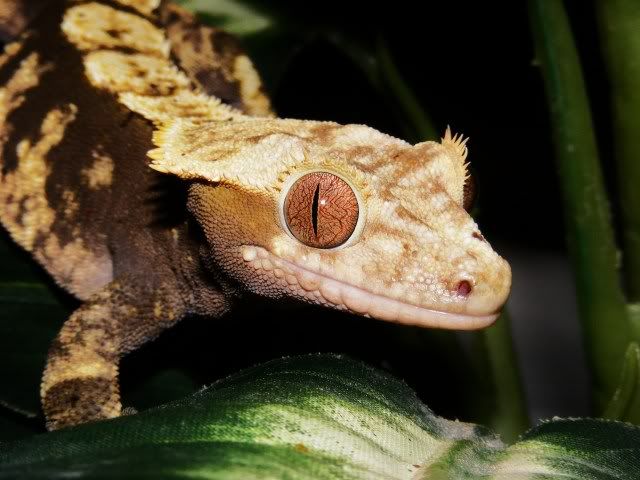 ---
Erika
| Betta Fish Advocate
Thank you! I love Cresties.
Here is his set-up for those interested.
---
Erika
| Betta Fish Advocate

No, he doesn't like cameras. LOL. My beardie loves computers though. He sits on the keyboard and watches the screen change as I type, or watch videos and stuff.
A leo would be very happy in a 29 gallon! Generally the minimum is 10 gallon, but I always recommend at least 15 - 20 gallons. :) If you end up getting a juvie then I would get lots and lots of hiding spots, as juvie leos are more comfortable with hiding spots, and spend a lot of time hiding. :P As they get older they come out more.
I love mealworms as a feeder. They don't smell, they aren't messy, they don't carry parasites or disease easily. They will pupate (turn into beetles) if you leave them long enough, but I'm currently trying to get a few to pupate so I can hatch my own, and its taking weeks to get them to turn. So I wouldn't be worried about them turning into beetles too much.


Yes it is a zoo-med reptile hammock! She loves it (as you can see in the picture lol).




---
Life with Lupus is still a life worth living.
Dishing out the truth one post at a time


A lizard is my first choice for that 29 gallon( well, a snake, but I my mom would kill me) or a giant community tank. I really like the Albino Leos. Blizzards aee cool, too. The only way I would do a 10 gallon is if it had 2 levels. Out of cutiosity.....what color ate the beetles? :D
---
6 Betta Splendens