Congrats! Good luck!

Edit- Forgot to write that I'm also glad to hear about the enclosure. I've seen a lot bad T care, so its exciting to see someone who cares enough to do the research. Good for you!
---
"My dither fish need dither fish!"
I'm sure this is normal for all you people who have been keeping Ts for a while but WOW! My first molt, and what a doozy! I came back to a BRAND NEW SPIDER! Or so I thought looking at the change! Red hairs!? Different body shape!? What a cool cool change, and how awesome that I got to see it so early in T keeping!
And the little one was a turd and of course the mold was ridiculously torn and mangled RIGHT where I'm supposed to look to sex the thing.. I don't know..included molt pictures to see if any of you can make anything out of the mess! lol! My prediction is that all of you will say, yeah no way to tell from these pictures! Oh well. Not that it matters as much with such a long lived species.
Speaking of species, considering the tarantula's recent change and the lack of info from the place I rescued him from--any clues as to what specifically it is? We guessed Hentzi, but I have no eye for this sort of thing.
First, a few pics from before the molt:
Now... after the molt!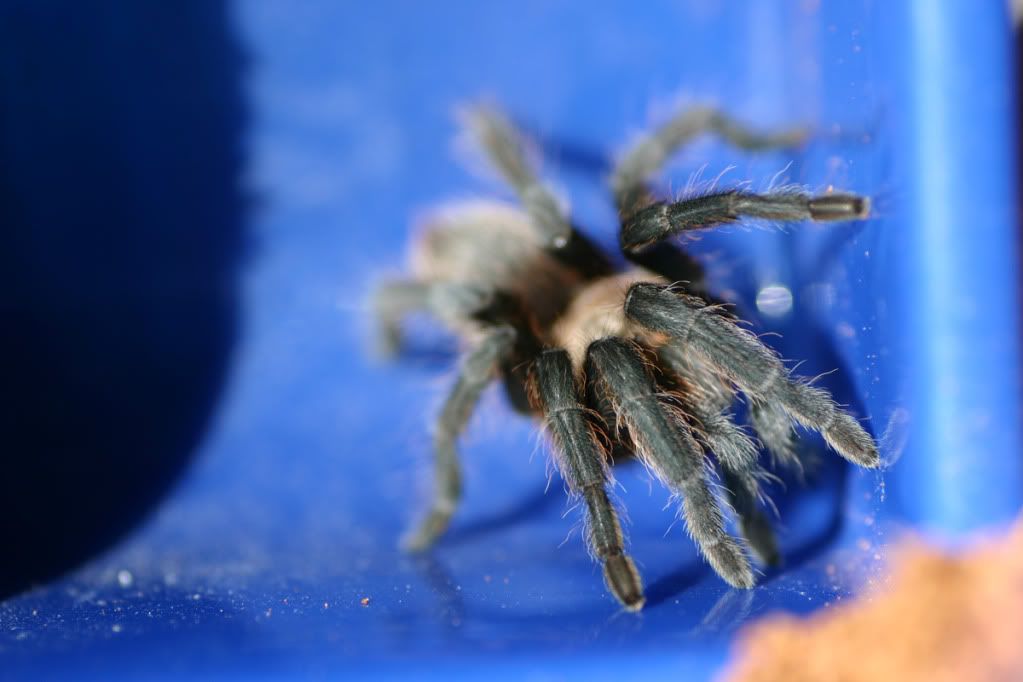 And the photos of the silly molt~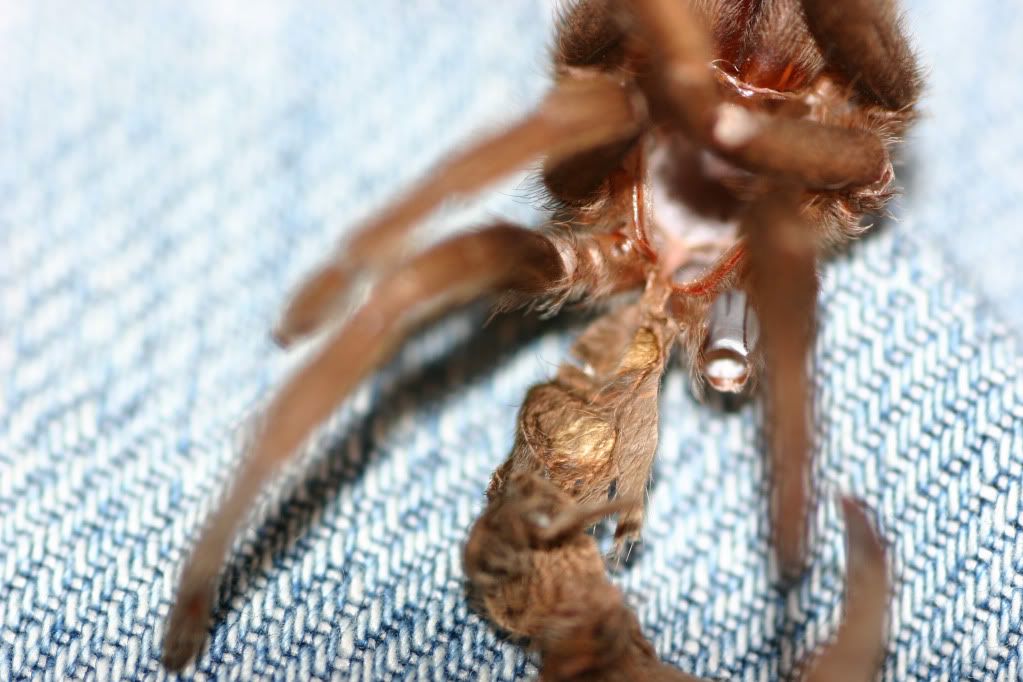 ---
---
Ok,I did some reading, so I think I am going to get a red knee tarantula.The tank is about 20gal.
But I am new to this can any body give my some good advise.(purplemuffin gave my some good advise, but I'm to new to this)
Some places say that they get 5' and others say they get to 20cm,I don't now any thing!
PLEAS HELP.
---
Good,better,best
I Shall Never Rest
Until My Good Is Better
And My better, best!!

---
Last edited by nicolaas; 02-07-2012 at

06:05 AM

.
Here are some threads on a tarantula forum about B. Smithi (You will want to start learning their scientific names, you would be surprised how much common names can confuse things...there are like 4 spiders people call the Texas brown, but they are all different species with different care. The mexican fireleg looks a lot like the red knee when they are babies. Know what you are buying!)
http://www.arachnoboards.com/ab/show...hypelma+smithi
http://www.arachnoboards.com/ab/show...mmon-questions
Big 'universal care sheet', edit to fit your T
http://www.arachnoboards.com/ab/show...care-questions
!)
This is a good description of their life in the wild, and a good help in determining how to care for them based on that:
http://mantid.nl/tarantula/smithi.html
A good tip with spiders is...Well, with these hardy ones, they don't need as much specific care. It's easy to over-worry about our fuzzy friends. as you can see, the temps the spiders go through are not super warm, but of course not super cold either. Average room temp matches their wild temps very well generally. They burrow in the months that it rains to escape that excess moisture, so you can see they appreciate a moderately dry environment. But as you can see, it's not a full desert environment... You don't need to match a specific number per say. They aren't quite as specific like reptiles would be. Watch your T--if your T is shying away from wherever the humidity is, maybe you made it too humid. If it is hugging the water bowl, maybe it's going to molt and it's simply TOO dry
It's not likely that your room will be 'too' dry though. Our natural humidity based on where we live is usually just fine for the dry species.
If you want an adult, it will be pricier, but you can guarantee sex(nice because males die young), but a baby is cheaper and you can raise it yourself. But they are slow growers, so it wouldn't be able to go into your enclosure for years.
---
AAA! THANK YOU.
Our humidity is about 50-80%(in summer) because it is subtropical were I live, and the temp is about 25-38C(in summer). Winter is colder at about 10-25C and a lower humidity(20-40%).
I'll get a heater mat(for winter).
---
Good,better,best
I Shall Never Rest
Until My Good Is Better
And My better, best!!

OK.Thanks.
---
Good,better,best
I Shall Never Rest
Until My Good Is Better
And My better, best!!