snake pics!!! ^-^
---
well i had a baby ball python named "hunter" even though it was a girl i began to call her "huntress"
but she had a deformation in her stomach and had digestive problems, and she had passed away
, i got a pic of her, my avi and this:
she had a little heart on her scale markings it was so cute x3
also post up some of your snakes(if you had/have one)
also here is a little drawing i made of my brother's ball python "melissa":
don't ask why i made it xD
and here is melissa's beautiful face :
isn't she so pretty
just to add on here is a little doodle i made
:
i only made the face not the armor
---
[CENTER] Cherry Pop, Gus Gus, Gaia
uhhmmm.... nice dog pic? LOL i want baby corn snake sooo baaaddddd :( SOMEDAY I WILL PREVAIL!!! i need to save up some money and probably put it in my 5 or 10 gal.
---
Got my boy Ceviche<3
and a plant named Frank

don't keep it in there forever :P they get big as a ball python. i really want a hognose D: my brother used to have a baby corn snake, but it got out and ran into the building, and weeks later found it dead getting eaten by ants 0-o so sad,and it was an albino corn baby

my little brother has a ghost corn snake, really pretty. we got her for a cheap price for the morph $60- or less. she isn't really a baby, around teen age, but very curious :P. i want a snake again *sigh* ... i really miss my hunter
and thanks about the dog xD
---
[CENTER] Cherry Pop, Gus Gus, Gaia
I'm sorry about Huntress. She was very pretty. At least you had the time you did with her.

Corn snakes need a minimum of 10 gallons, but 20 is best. Keeping it in a five gallon is fine while its a juvie though, but have a adult tank ready.

I really want a snake, but haven't gotten one yet. My mom doesn't want one, but my dad says I could. So I just gotta ware my mom down a bit more lol. I'm looking at corn snakes or western hognoses. I love the hognoses nose! One day I'd like an albino burmese python. <3

I have other reptiles though; leopard geckos, a bearded dragon, crested geckos and a green tree frog.
---
Life with Lupus is still a life worth living.
Dishing out the truth one post at a time


i love the hognoses cute face >.< i only had huntress for 4 months =\
you should get one and say "dad let me get one" XD my parents dosen't want me to get a snake because i have too many fish .... wut? half of my betta's died -_- only have 2angels, 1chubo, and 4 betta's XD

my parents agreed because we used to keep garter's snakes, and 1 green snake. i don't know to get parents really to agree. besides begging a lot :P snakes are not mean unless you treat them that way, that was what my brother said to get a ball python

i never really owned any other reptiles, besides a wild turtle :P
---
[CENTER] Cherry Pop, Gus Gus, Gaia
---
Last edited by betta lover1507; 01-01-2012 at

10:53 AM

.
Aw, I'm sorry you only had her for 4 months. ):
I hope you can convince your parents to let you get another one some day. Fish and reptiles don't even compare to each other though! xD I used to have a lot of bettas, but as they died I moved onto reptiles. I only have 1 betta now, but I wouldn't mind another one xD lol

If I keep bugging my mom I bet she'll say yes. lol. Thats what happened with all my other pets. She doesn't care how many lizards I get, just no snakes! lol! But soon SOON!
Haha, I would sneak one if I could, but mom is my main source of transportation, and I can't sneak anything by her!

I completely agree with you. Snakes are just like dogs in the sense that if treated poorly they will be aggressive. But if taken care of from a young age they are not aggressive. My mom doesn't want a snake in part because when her brother was a teenager he got bit by a friend's snake, and he almost lost his arm to blood poisoning, because the snake had just eaten a mouse and he got bacteria or something from it. My mom does agree with me though that it wasn't the snake's fault, it was my uncle's (he was drunk, and was handling a snake right after it had eaten). But the worry is still there for her I think. BUT I am slowly wearing her down, I think she will agree pretty soon. lol
---
Life with Lupus is still a life worth living.
Dishing out the truth one post at a time


sorry for most of your betta's =[

but i talked with my mom and am gonna get one more snake on march, maybe a hognose (yayy). and yea never hold a snake when they just ate, until the next day :P i held a young red tail boa, he was so cute and big 0-0 i didn't want to give him up, to let my brother hold him XD
---
[CENTER] Cherry Pop, Gus Gus, Gaia
Banned
Join Date: Jul 2008
Location: Central Texas
Posts: 27,607
I wouldn't want a Burmese python from what I've seen on animal planet. Those things are dangerous.
Don't listen to what you see on animal planet, the vast majority of their reptile 'facts' are completely unscientific lies. They are dangerous animals yes, but you still stand a better chance of being killed by your dog if you care for them with responsibility (inclusing a locking cage, and never handling without one or two extra people present)

They aren't bloodthirsty and their bite isn't all that bad. Many of them are downright docile, though there are always exceptions. But they get big and can overpower a single person. Always save to have one extra person for every six feet of snake!
---
Im not a snake person so I was not amused to find this guy or girl sitting on top of my fridge this summer....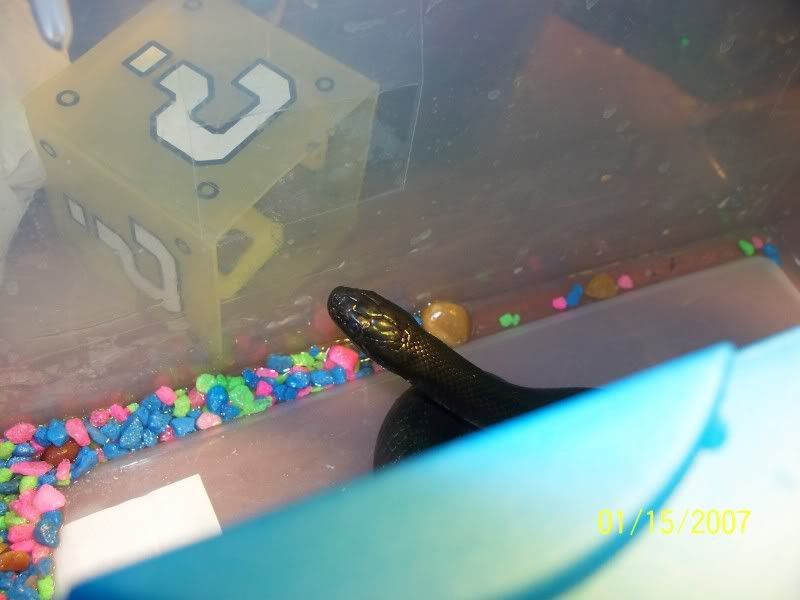 Someone did claim it, but that was the last I heard about the snake.
Speaking of Animal Planet, I was watching something a few months ago about Buremes pythons breeding with some other massive snake in Florida and the hybrid offspring is supposed to be super bad for the enviroment (well, more like bad for urban areas). I don't recall all the details but the offspring is supposed to be super big and super strong but I think the main concern was that they were inhabiting an area very close to Miami.
I don't recall what the other snake was though. Some other giant constrictor, i think.
---
---
Last edited by Tikibirds; 01-07-2012 at

12:47 AM

.
Similar Threads
Thread
Thread Starter
Forum
Replies
Last Post
Betta vs..... Snake? o_O

Burd

Betta Chat

9

05-13-2011

01:04 PM

My Snake

ReyesBetta

The Lounge

2

09-08-2010

02:27 PM