Guinea pig finally had her litter. =D
---
My female guinea pig, AJ, and her cutie-pie mate Rolo finally had their guinea-babies. They are the CUTEST little things I've ever seen!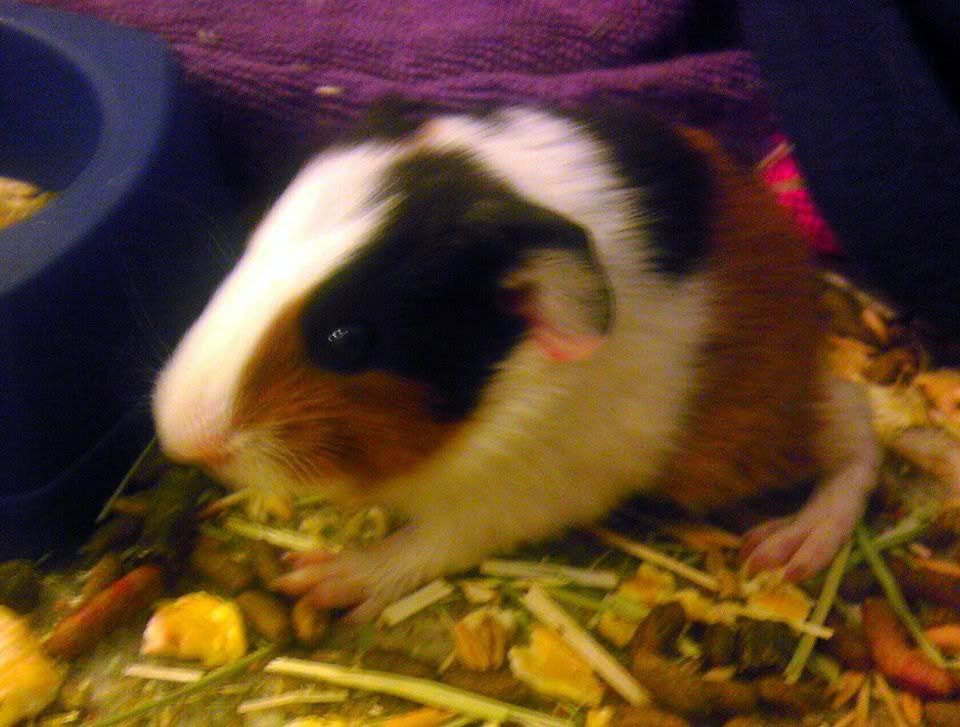 Aren't they just the sweetest things? They're just about 2 inches long, and they all follow mom around like a family of ducks.
I've got great homes set up for them already, but I just don't ever want to see them go.
Aww, how sweet and precious ! :) I just want to hug one !
Was the birth planned ?
---
It was actually not a planned pregnancy. When we got the piggies, we were told they were both females. Then I noticed AJ began to swell.
But, either way, it was a smooth birth, everyone is happy and healthy, and a few of my family friends who have kids are excited to be able to take some when they're old enough.
Extreme cuteness!! Thanks for sharing the pics.
---
Animal testing is a terrible idea; they get all nervous and give the wrong answers.
Ah, I see. But that's good that everything went well.:)
---
aren't they adorable? :3 My one baby, was a "surprise!!!" because Honey was small and just looked....fat xD Then she had a baby and my friend was looking after them... and was surprised to find 4, not 3, guineas. Honey came pregnant ><
---
Breed for the breed, not for the money; the words any REAL breeder would understand.

You must know nothing in order to know all, for all is nothing and nothing is for all.
i never owned a guinea pig before :P held one once thats it. but they are pretty cute XP i don't plan to have one
---
[CENTER] Cherry Pop, Gus Gus, Gaia
I bought them when I first moved into my apartment. It was so quiet and I didn't have any pets besides fish, and you can't exactly pet a fish. xD So I got them because they love interacting with humans. Even earlier, I was holding one of the kiddos and made a "wheek" noise at it, next thing I knew all of the babies were singing to each other. Mom guinea pig was looking at me like "...... really? -_-" ROFL
oh my goodness i want guinea pigs ^-^