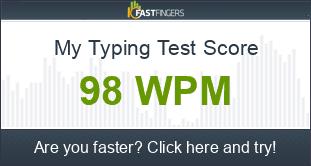 Visit the
Typing Test
and try!
I just kind of wanted to brag a lil.
Well...since last time I posted some things have happened. Not much because my fish don't do much that warrant me sharing.

Last time I wrote Eugeney was sick...and well she passed away a day after I posted that on here. I'm still not sure what was wrong with her. She started breathing heavily, days later she started getting lethargic, I put her in a hospital tank and within the night she'd died. I have a theory it was because of skin cancer just because she had a large black growth on her back that grew as I had her, plus when she died all her colored went away except for this large black spot.

I took her death hard. I've hardly visited BF.com since just because I keep getting reminded of her on here. She was my first girl (technically my second because my parents had already gotten Betty for me.) but ya, know.


The other thing that happened was Steve's filter broke and because it's so cold in my basement the heater wasn't able to heat all areas of the tank without the filter. So therefore Steve has been staying in the empty half of the 10g with Hilda for the past two weeks.

It took a little while for the filter to get here, mainly because when we got it at first it had a large crack throughout it and we had to send it back to Amazon and wait for a replacement. But the filter has now been installed and I'm just waiting on WC day to put Steve back in his home.

I just have to add that Hilda is more manly than Steve is. I was a bit worried about her getting eggy with him in there. However after two days Steve built this cute little quarter sized bubble nest...Hilda built a bubble next that took on most of the surface area on her size. After that Steve let his nest fall into disrepair and no further acts of mating behavior have occurred.



I'm also wondering why my post count has gone from 320 something down to 218?
So I have absolutely no willpower when it comes to animals. If it weren't for my parents I'm sure I'd have a lot more than just 1 dog and now 4 bettas.
Any who, I went into Petco for no particular reason and came out with Viola Chubbs; who is in fact a boy, a 20 long; which I have no need for at the moment
, a new stand for the 10g so it doesn't have to be in the kitchen, and a new pot decoration for Mr Grumpy. So much for just a browse!
Now to meet the new fishie! The new fishie who I shouldn't have bought because I wanted to eventually own just one fish or possibly two in a divided tank. But what can you do when these little fish give you their looks?
He is much more vibrant in person, however I wasn't able to get a better picture because I wanted to get him floating in the 6g. His body is this gorgeous iridescent lilac/pink and his fins are this deep purple. He's just WOW!
After going into Petco my mom and I went to 5 Guys and Target and because the temperature outside is waay to cold for me to have left him he went to both those places in my hoodie pocket.
---
Last edited by birdielikestomatoes; 01-09-2013 at

12:50 AM

.
Today I woke up as per usual, sat up in bed, grabbed my glasses and went to check on Chubbs. The only different thing was that I couldn't see him anywhere in his tank, I thought he was merely hiding but a small voice in my head was like "Maybe he's in the filter."
I think you know where this is going.
He was in the filter.
How he got in there I'm not entirely sure though I do know he entered though the outflow as the inflow is a sponge with nowhere for him to get through.
I panicked as I do but I just turned off the filter and dumped him back in the tank all the while checking to make sure it wasn't actually the inflow that sucked him up.
He's fine, he was just freaking out and was incredibly tired when he was returned to his tank. I also upped the flow so that he hopefully wouldn't be able to get back in there.
More pics of Chubbs!
Also, tomorrow, the 23rd, I turn 18. Yikes.
Scary! maybe you could lower the water level a little to prevent him swimming up there again?
I know! Both Chubbs and I were both quite freaked out by the experience. Luckily he hasn't made a return to the filter.
I have to admit that I'm quite impressed that he actually got into the filter in the first place. Below is the product image of the filter I have in his tank and my water height is pretty much the same as in the picture.
Which means he had to have jumped the two or so inches to get to up to the filter plus my cartridges are flush against the front of the filter so he would have wriggled between the small gap between the cartridges and the 'roof' of the filter.
http://ecx.images-amazon.com/images/...L._SL1500_.jpg
I was going to post the image but it was very large and I'm unsure of how to resize pictures in the forum.
WOW.

Let's just hope it doesn't happen again. :/
I know. xD He's a crazy little guy when he isn't being so incredibly shy. I'm currently the only one he doesn't hide for. Whenever either of my parents or my sister comes into the room he promptly dashes into his plants. It was pretty special when he stopped hiding for me.


In other news my mom is actually on board for getting a hedgehog. This is incredible news as she is not really an animal person and doesn't wish for any of us to be tied down with animals. Therefore, during the next few months I'm going to be doing lots of research, buying the necessary supplies, and visiting a breeder near us to see their hogs, make sure they're healthy, as well as to ask many questions. If I like what I see and hear then I'll be hopping onto their waiting list.

I SHALL BE MOMMA HEDGEHOG. :D
It has been quite a few months since I've even been to this site. I have both missed it and not.

Since Eugeney's passing I've not felt the same passion for these wondrous fish that I had previously. I felt no interest in coming here and seeing other people and their fish. I'm still saddened by her death. She was my first girl, my first betta for the first time in years. She was just special to me.

I'm gravitating back, momentarily at least, because my other real special fish Steve will have to be euthanized in the coming days. His lymphocystis has flared up worse than it has ever done and for the past few months he's had no respite from the ever forming and bursting lumps. Half his face is now nothing but tattered flesh and I'm afraid he'll soon lose his eye.

It's gotten to both of us. He no longer swims around being the cheeky stinker that I remember. All he does now is lay in one corner of his tank. In the past few weeks he's gotten fin rot for the first time since he always sits in one spot, and even when he does move he always returns to the same spot. He's basically sitting in his own poo all day. :(

I haven't been able to keep up on water changes the past couple weeks because I myself have been battling with illness after illness. Which certainly wouldn't have helped his newly acquired fin rot.
So sad to hear about Steve
although I hope you keep posting, I have loved reading your hilarious posts about your animal misadventures. Would love to see some new photos as well.
I hope both you and Steve feel better soon
---
Last edited by gema; 05-13-2013 at

05:42 PM

.
Similar Threads
Thread
Thread Starter
Forum
Replies
Last Post
Fishie's Journal

OrangeAugust

Journals

3

08-14-2012

12:36 PM

Birdie bath time!

finnfinnfriend

Finless Friends

9

05-10-2012

09:34 AM