Just clean up that hornwart and do a big water change (I'm assuming you're gonna do that anyways). Do you use Prime? I swear off of that stuff, haha. :)

And I didn't mean to put Demi and Sylvanna in the same tank, just put the tanks next to each other so they can see each other. The same reason why you would cup an aggressive girl in the sorority tank... So they can see each other and get used to each others' presence without being able to get to each other. And yeah, I don't think it'd be a good idea to put Demi with other girls considering her past and her age.

Sylvanna may not ever be cut out for sorority life, but I think it's best to socialize them when they're younger if you even want to try it out. But many people do have successful sororities with all pet store bought females, but they usually only work if they are bought and socialized when they're still small. Her calm temperament may be a good sign, but it may also be a bad sign as well... Have you ever had her in a place where she can see any of her other fish? (I know you haven't had her for long.) The only way to really be able to test their aggression is putting them into a sorority tank, but seeing how they react to another betta that they can see inside their own tank can also be an indicator of sorts.

It's also hard to tell if the siblings will accept an outsider or not. But many breeders keep all their females in one big sorority, which is why I wasn't too concerned about getting girls who weren't siblings.
---
Veyron Sprite Ayala
S.I.P. Okami, Bahari, Lotus, Mercy, Daihatsu, Ascari, Kuraokami, DaBaDee, Zenvo, & Stella <3

I did the 50% yesterday >.< Bah...

Putting them next to eachother would be a good idea. I'm going to put Sylvannas in Phy's old 2.5g tomorrow if I don't find a better 3g for her that's in my budget, then I'll figure a way for them to see eachother. Maybe I can put them both on the art desk, since Demi doesnt like the vibrations from my music anyways. Phy was definitely a rebel rocker ;] Hung out with me and blasting tunes all the time.

But bweh....fishies.

More plants tomorrow, and I need a bigger bucket for syphoning the gravel. My big 1gallon bowl makes too many trips >.<
I'd keep an eye on them just to make sure they aren't stressed. I have a piece of cardboard in between DaBaDee and Bahari's tanks that I remove every so often so DaBaDee can get some exercise... It also used to work with Bahari :p

I had a friend who gave me a two gallon bucket from his work that is working fine for my water changes. He worked at a place that made feed for livestock and for some reason they had a bunch of clean, empty buckets...

But also, I noticed the other day that walmart has a ton of buckets around their paint section for around 5 bucks, I think. I think they were mostly five gallons but there may be other sizes. I just made sure it was food-safe plastic :)
---
Veyron Sprite Ayala
S.I.P. Okami, Bahari, Lotus, Mercy, Daihatsu, Ascari, Kuraokami, DaBaDee, Zenvo, & Stella <3

I called my Nana (who's taking me to the city for my fish and plants tomorrow) and she thinks she has one, so she's bringing me one. Gona do my best to get out the dead plant material. I tried so hard to make sure there was none, but I guess more broke off >.<

Kalec bit Gary today >.> Gary's learned not to leave himself exposed, and Kalec stopped stalking him. Seiya's oblivious to Sid. >.<

Silly, silly fishies...but yea. Water changes, move teh girls next to eachother, move Slyph next to his tank (a change of scnery might help him anyways) and prep second qt tank for the new pretty boy tomorrow.

And THEN if my boyfriend hasn't fallen asleep, eat popcorn and watch something together finally >.<
They are so fun! Even if they are time consuming :p
Tonight's plans sound super fun... I think I should do the same with my boyfriend! Even though we watched a movie a few nights ago and he passed out on me :p
---
Veyron Sprite Ayala
S.I.P. Okami, Bahari, Lotus, Mercy, Daihatsu, Ascari, Kuraokami, DaBaDee, Zenvo, & Stella <3

I re-added the water, trying not to hit the hornwart and more horwart bits and snail poop was kicked up from the bottom. -head desk- Tomorrow night is going to be so much fun.
Oh boy. I was thinking about getting live plants and right now I'm second guessing :p do you use a siphon?
---
Veyron Sprite Ayala
S.I.P. Okami, Bahari, Lotus, Mercy, Daihatsu, Ascari, Kuraokami, DaBaDee, Zenvo, & Stella <3

The hornwart is weedy, so it's a pain. My java fern's doing awsm though. Thinking about broader leafed plants this next round. Live plants are fine, just I had my hornwart all in a bunch in it's bag, so instead of aptiently untangling it, I kind of just broke bits of it off. prlly why I have this problem.

I was syphoning some, but the gravel vac tomorrow will help a ton since I'll be able to fill a bigger bucket.
So fort eh moment, tanks are fine. All have bamboo. Everyone's healthy.

But now I am going to go ahead and pay for my fish I get to pickup at the end of the month - two handsome males and 4-6 females.

So I'm glad I started cycling my 4g for my future Vol'jin baby, because tomorrow I'll be buying the 10g for my sorority xD

And now I'm going to bed.
So, I threw out that Hornwart. It was icky. I will be getting some anacharis and java moss soon. My anubia and java fern are doing well, as well as my bamboo canes. I'm not sure about my Amazon Sword, I had to pick a dead leaf from it and my nerite's been cruising all over it, but there's no new holes....hmm.
It's been confirmed, end of the month my plan is to take a day trip to pick up 2 males and 6 females from Sena up-province. So far I've chosen and named the males;
This is little 'V' aka 'Vol'jin'::
And Toothless::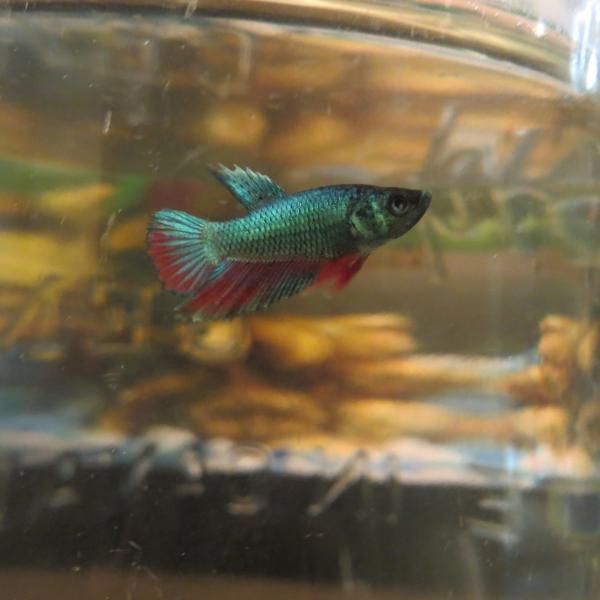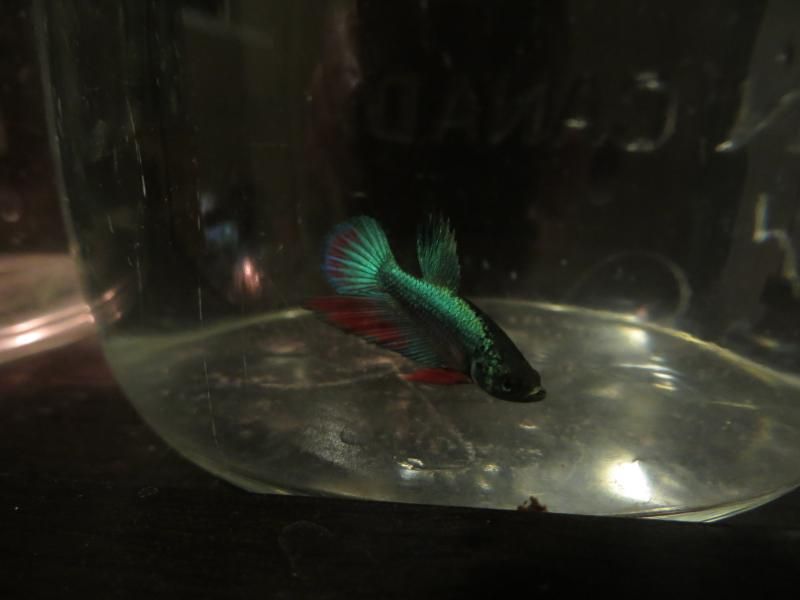 And this is Toothless' tank, a 4g Aqueon evolve (I will get Vol'jin a 3g halfmoon like Demi's next pay check)
The females I have not chosen yet, but will be named after the Japanese Sailor Scouts, so; two dark ones will be Haruka and Michiru (Uranus and neptune), and the other four will be lighter colors and named Ami, Minako, Rei, and Makoto (Mercury, Venus, Mars, Jupiter).
These 6 females will be my sorority, and I just got their tank set up.
Front
Left-Side
Right-Side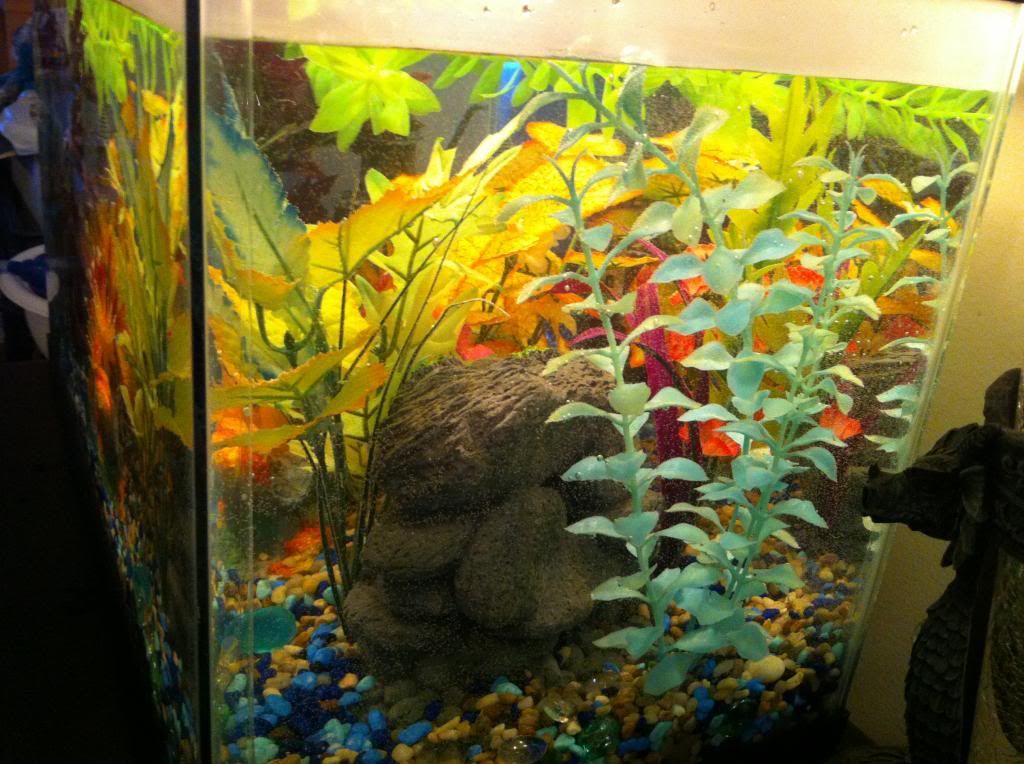 Top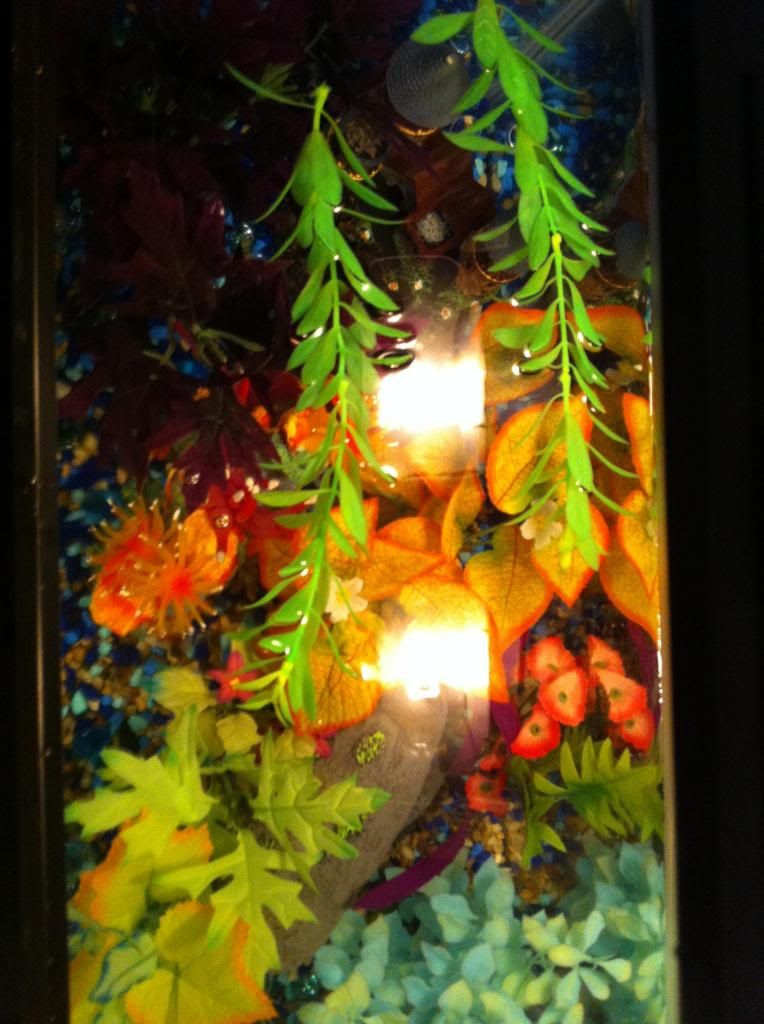 So I'm hoping it'll have enough hidey places for the girls, and it's cycling as we speak, as is the 4g. Eventually I'll go ahead with my idea of adding the sorority to a 29gallon tank with a 3 gallon 'throne room' inside it. I'll add in a small community, nerites, I'm thinking panda cories and not sure what else, but it'll be fun.
Also, all the tanks will have anacharis soon, and some will have java moss =)
And now I'm up to date, and bushed.