Lol! Thank you! Java moss is something I can get pretty easy, so I'm excited to start a new craft project for my boys!
---
Hmm, I think my girls might like that in their tank :p I have some craft mesh and java moss already... I've actually been trying to decide what to do with the java moss, lol.

IMO, you can't be too careful. I have separate clean/dirty water buckets and a different siphon for each of my tanks. When my new girls came in, I created my own siphoning system for their QT tanks by getting a turkey bastor to clean up poo and getting some standard airline to siphon out the water. It was, uh, cheaper than the siphons were, lol, but it takes a lot longer.

Well, 'specially with my girls, I don't want to introduce ANYTHING into that tank, because one sick girl can = 6 sick girls. My boys are in their own tanks, so I don't have to worry about that as much. But if I used one bucket for clean/dirty everything, I'm pretty sure that one sick girl would = 8 sick bettas. (Soon to be 9, I hope :D)
---
Veyron Sprite Ayala
S.I.P. Okami, Bahari, Lotus, Mercy, Daihatsu, Ascari, Kuraokami, DaBaDee, Zenvo, & Stella <3

So I have bad news; Amaterasu has raised scales...not sure if dropsy yet. -sigh-
Oh that's not good to hear. Get out the Epsom salts even if it is just for comfort. Can you post a pic of him? I can't find one.
He is a she, which leads me to believe it's MOST likely severe bloat, and not dropsy. She's still active, more or less, but she was floating in the hornwart yesterday, and today the scales were raised. So now she's in 1 tsp epsom in a .5g qt tank floating in Seiya's 10g so I can keep an eye on her more easily.
Here are the pics of her while I was prepping the qt tank.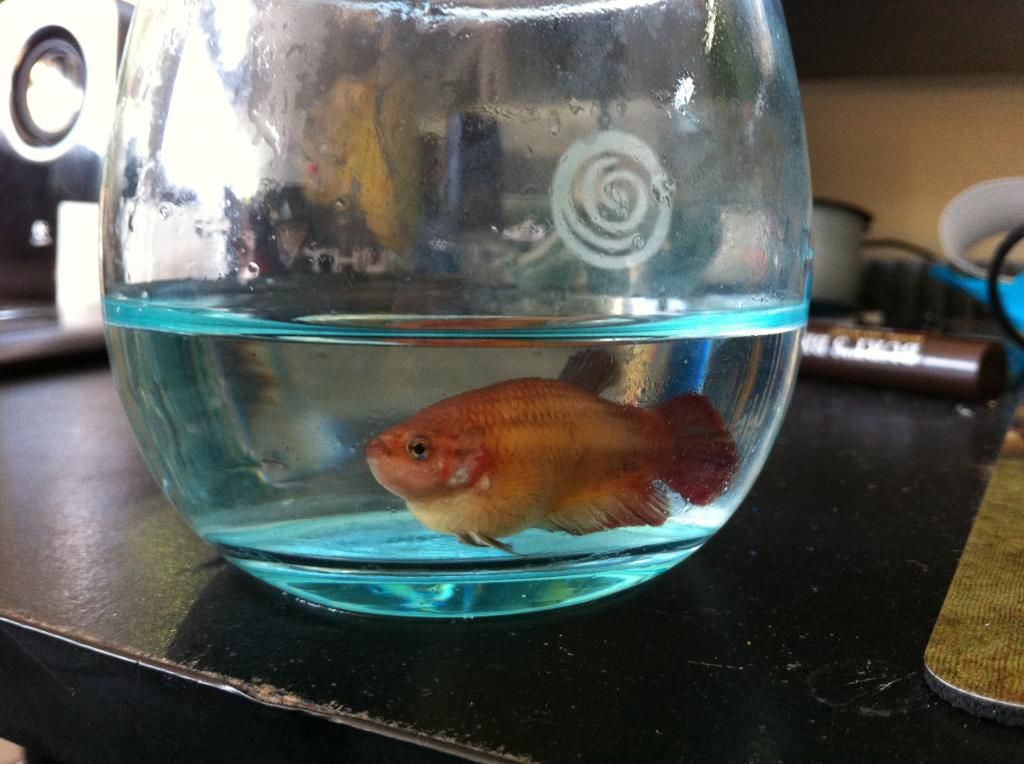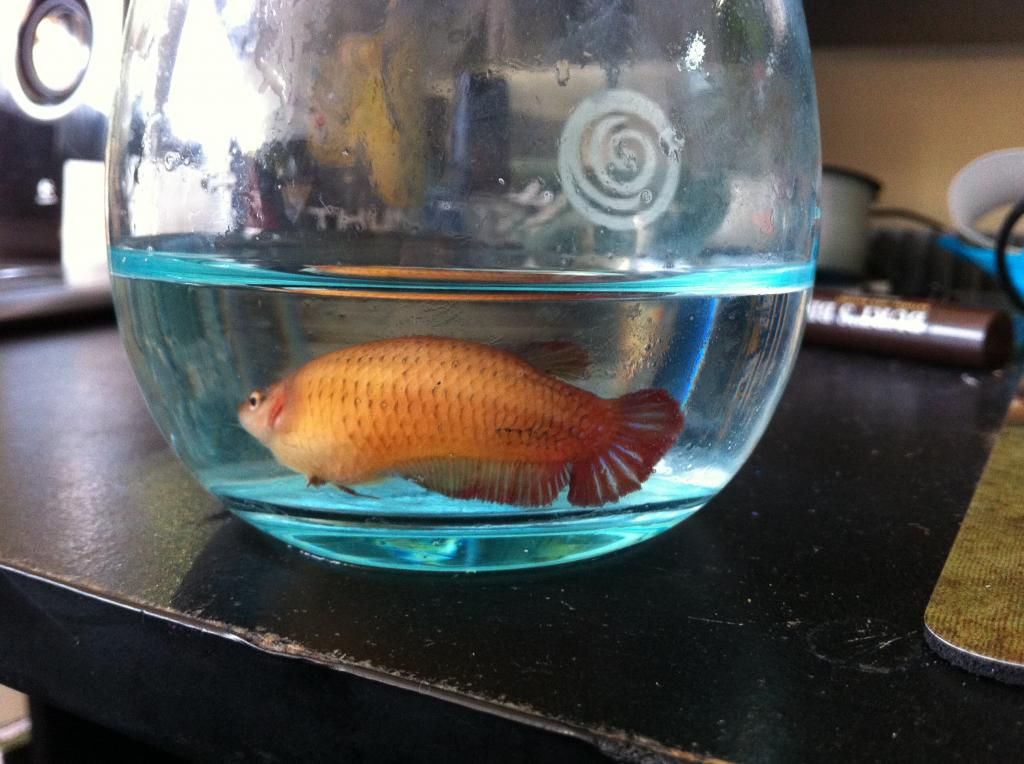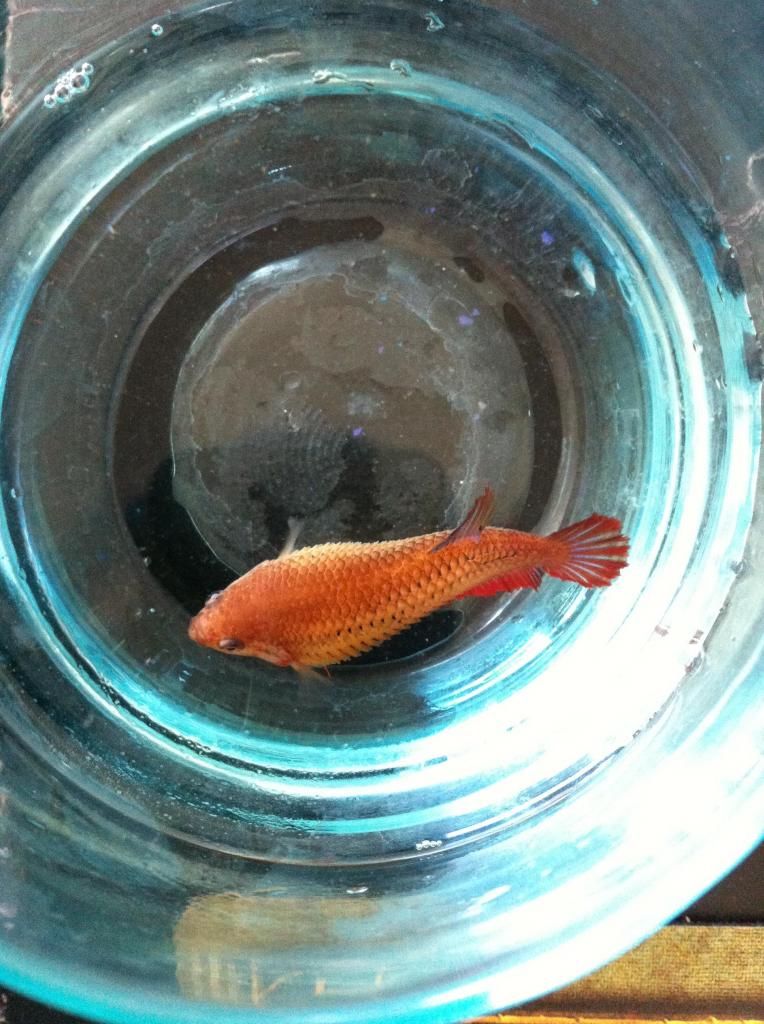 I'll see what happens, I really don't like hauling out the serious meds too soon, that and getting the dosage right for smaller tanks is a pain. All the other girls seem just fine.
And she was a big girl before the bloat, I promise. Her and her siblings all have the giant gene in them, and a bunch of LG's girls are fairly big. But this is big even for Amaterasu here.
She's pretty big. It looks like dropsey to me, but I sure hope its not. Good luck.
She's the biggest girl, with Tigress following shortly after. But yes, she's definitely bloated for her. I'm really hoping that I've caught it early enough. She's not clamped, she's not lethargic, she doesnt have a gray belly.

But I think this may mean I'm feeding the sorority too much (everybody's not getting fed today anyways) but I'm going to keep breezing out to the living room to check. No other girls seem to be having a problem, which is why I think it's because she's been overfed.

Seiya on the other hand doesnt know what to do about her. he flares then runs away to my corner as if to ask me what to do. He hasn't seen a female since his own siblings, so~ =P poor guy gets to deal with it.
Lol. Males are fun to watch with females. I overfeed my sorority a bit to because I want to make sure all my girls get food, and I have really eggy but not bloated females. Her raised scales concern me but its good that you caught it early. I would still recommend Epsom salts because they don't harm the fish and can often make them go poop.
Oh yes, definitely going with the epsom for a week. I just hope it doesnt get worse, watching Demi die from Sropsy then some sort of fungal infection (I'm almost certain it was columnaris) was terrible - but I knew Demi was going to go that way as her swim bladder had been obliterated thanks to the person who had her before me.

Amaterasu...she's definitely a favourite, and a big sweetie (Tigress always defends her). I dont want her to suffer like that.
Okami's raised scales started just on her face - they spread to her body and she died two days later even though I immediately started Epsom Salt. I got my Kanaplex in the mail like, three days later.

If I had had the meds, I would have started on them as soon as I noticed raised scales - after all, it happens near the end of the cycle, not the beginning.
---
Veyron Sprite Ayala
S.I.P. Okami, Bahari, Lotus, Mercy, Daihatsu, Ascari, Kuraokami, DaBaDee, Zenvo, & Stella <3