Banned
Join Date: Aug 2012
Location: Hogwarts
Posts: 2,082
You can buy Kanaplex at Big Al's I am treating Calypso with it and it is helping, Sena gave me hers and it is great!
Sorry but your poor girl looks exactly like Janey did before she died, raised scales and slight bloat, it leads me to believe she did have dropsy, she also became lethargic :(
Sip Janey, hopefully your girl is okay! I have my finger crossed for her.
Syriiven I could probably if you pay me back, get Matt to pick up Kanaplex before he comes over I will pay him. Then I can stuff it in the box along with every thing else :)
Although it won't be there to treat this girl, it is good to have on hand.
I would definatly do that for you. Gives me an excuse to go to big als XD!
Banned
Join Date: Aug 2012
Location: Hogwarts
Posts: 2,082
I know any excuse to get into a pet store works for me lol
Shae Im going to pm you now so I don spam up sy's thread.

Any updates on the girl sy?
Still staying near the surface, though she keeps changing spots. No poops yet. Which I think will be critical. Not pineconing anymore yet, but that can change overnight. I have the tank light off so she can rest, and Seiya's more interested in his reflection than her.

BB123, if you wouldn't mind, that would be great. We could add it to the bill I guess? For the shipping and for Mana?
Banned
Join Date: Aug 2012
Location: Hogwarts
Posts: 2,082
Yep, I can't remember what kind of NLS did you want?
The adult kind is fine =) I'll crush the pellets for Simi. Thanks so much for all the help! Have you decided which betta you want drawn yet?
Shae do you want me to pick up the nls and kanalplex from big als and get it to you?
Amaterasu Update::
---
Alright, so she's still alive and kicking, yay~! And she's still not clamped or gray bellied, but still hasn't pooped either. u.u
I switched her .5g for a 1g qt so that I could add more meds without over-concentrating them. So now she's on 2 tsp epsom, half a packet of Maracyn 2 and General Cure. Back to floating in Seiya's 84F tank.
Here are today's photos; not as good as yesterdays as I didnt want to harrass her for them.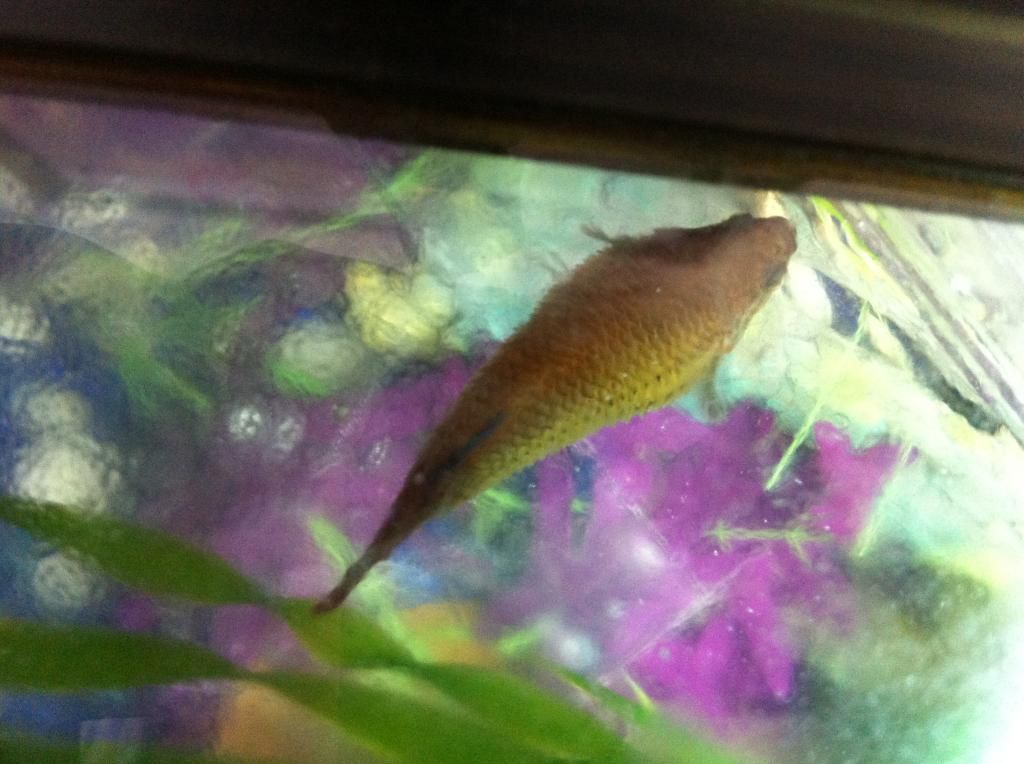 And Seiya checking her out again xP At least she wont' be lonely.
Banned
Join Date: Aug 2012
Location: Hogwarts
Posts: 2,082
Good she is doing okay! She looks like a sweety!