Okay, have their new qt tanks setup, just emptying the 10g and refilling with clean water so i can keep them heated.
Thank you very much for the help, Sakura. In your experience, is this definitely dropsy? It can't be anything else?
Member
Join Date: May 2011
Location: Elk Grove, California
Posts: 10,782
It's definitely dropsy if both a male and a female have it. If it had just been Amaterasu, there might have been a possibility that she was just eggy or something but not now. But it's not a death sentence. They CAN recover, especially if their symptoms are caused by something like internal parasites.
I really hope so...but what about the fleshy little thing on AmAterasu's gill? It was the last pic I posted...maybe two pages ago? Bah, I'll repost --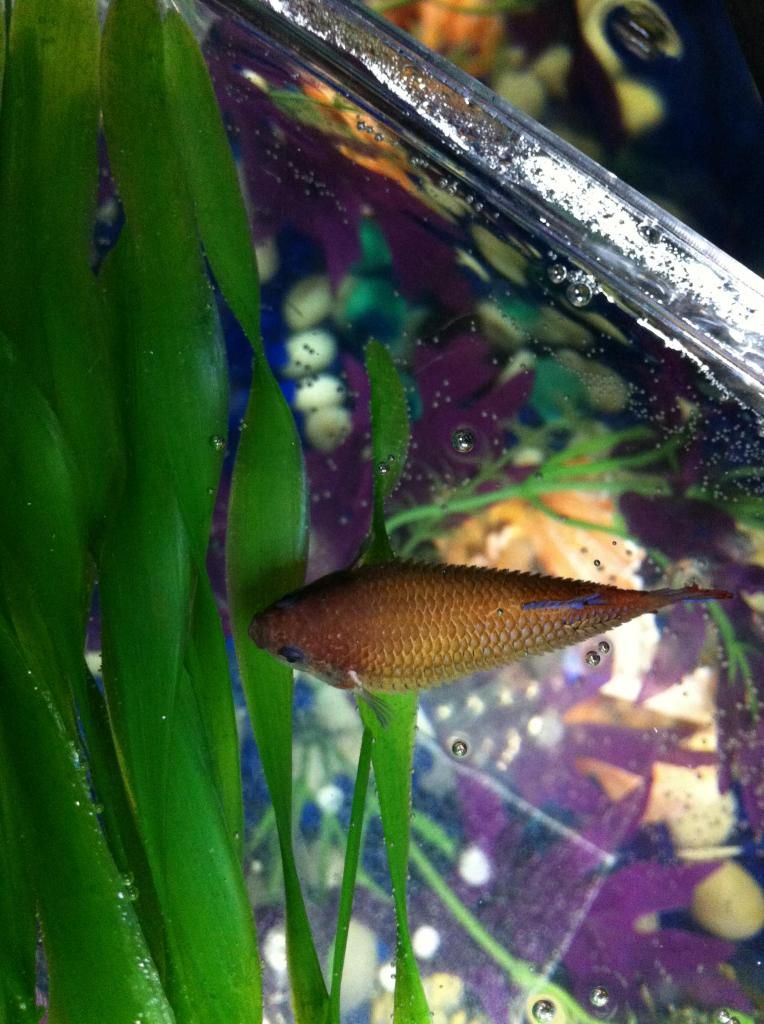 it's that very light part on the top corner of her gill, and when I watch her breath it definitely moves in the water, like it's deteriorating flesh/gill, or a parasite.
Member
Join Date: May 2011
Location: Elk Grove, California
Posts: 10,782
Before she became pineconed, did she show any symptoms like heavy breathing?

A very strong infestation of external parasites such as gill and skin flukes COULD cause pineconing because the parasits crawl under the skin and lift the scales. I'm not sure it would cause bloating unless the fish got a secondary bacterial infection from the open wounds left by the parasites.

Flukes are invisible to the naked eye for the most part but on rare occasions, a gill fluke may become large enough to be seen. It's possible that's a fluke but it's almost possible that the swelling is just causing her gill to pop out at a strange angle. It's hard to say. If you do have them in General Cure, in theory that should help take care of any parasites.
Okay. It appeared today, which is what made me think it might be a parasite, as she looks more like a pineapple today than yesterday. But I'm also more worried today, so...bweh. Just bweh.

She didn't seem to be having any heavy breathing, even today she's doing fine, its not heavy at all really. It is when I move her around like I just did, but that's normal for any betta I think. Otherwise when I check on her she's calm, and just her curious sweet self, wondering why I've come to visit her.

My next concern is...food. I'm watching how much I feed everyone again. But how long can Seiya and AmAterasu go without food before they don't have any nutrients to burn to get better? They havent been fed since Sunday.
Member
Join Date: May 2011
Location: Elk Grove, California
Posts: 10,782
Since their bloating doesn't appear to be related to constipation, I would go ahead and feed them. If they'll eat, all the better because as you noted, they need the nutrients to fight off what's ailing them.
Alright, then I will feed them tonight before bed with the rest. They're both still very animated, which makes me smile.

Thank you again so much, Sakura, and to everyone else for their good thoughts and advice.

I think I owe you all art someday.
Member
Join Date: May 2011
Location: Elk Grove, California
Posts: 10,782
You're welcome, don't mention it. If I can help in any way, I'm happy to. :) Seiya and Amaterasu will be in my fishy prayers and thoughts.
Thank you...so very much.
This is a parasite. SFBB bloodworms are notorious for having parasites. Is it a coincidence you fed them only days before I doubt it. Also this fishs Mom died on me exactly the same way after feeding SFBB bloodworms I thought dropsy? at the time. Tried hard to save her and blamed myself. My fish store friend alerted me to the problems with this brand and said not to feed them to any fish ever even tho his store sold them because they are so cheap for them to buy. Hikari goes though several process to rid parasites and also adds vitamins. It is a really good food for betta. SFBB only flash freezes its worms. Kills the worms but not ALL parasites and these worms pick them up in the midge stage. Hikari costs like 1.5x as much to use and not all stores carry it but its unlikely you will ever have a problem. All i can say is it is too risky to use this San Francisco Bay brand for betta imo. It is likely that not all the fish who ate them will have a problem but a fish that compromised in any way like constipated, stressed whatever can be effected more than others. SFB brand is made in China with low standards imo.
---
Proud IBC member