I am sorry for both of your losses :( I wish we could at least figure out a possible cause.

I know that Sakura told me common causes for dropsy are kidney failure and those parasites I forget the name of. If it was parasites, the general cure should have helped and I assume that frozen/freeze dried foods would be most likely the cause. I also know that there are several things that could cause kidney failure, and I do think that genetics play a part in there susceptibility to dropsy.

I was reading an article somewhere on those parasites that said something about metro actually causing harm to the kidneys, especially if used long-term. I wonder if Sakura8 would be willing to look more into that because I'm not exactly a science expert. The article said that Epsom salt is a better option but I guess the problem with that is it doesn't cure dropsy alone.

The bacterial infection that causes dropsy is always present, and some fall prey to it easier than others. There's usually something that would have to compromise the immune system for that to happen. Amaterasu may have been stressed due to the sorority environment but it still doesn't explain Seiya. :/

I know you take great care of them so I don't think it had anything to do with water quality issues. I guess when Okami developed dropsy, I was unaware for a few hours about that power outage we had. I could tell her behavior was off immediately, though. The lethargy started before the pineconing. I guess that just makes me lucky to know the cause of her dropsy, and I was lucky that no one else fell I'll because of the temp fluctuation.

If only they could talk :(
---
Veyron Sprite Ayala
S.I.P. Okami, Bahari, Lotus, Mercy, Daihatsu, Ascari, Kuraokami, DaBaDee, Zenvo, & Stella <3

That really would help if they could. Or you know, do bubble signs. Something.

Amaterasu...honestly, she was big. Not that that's abnormal for LG's spawn,a s it has giant genes in it. But she was very eggy too. And yes, sorority life can be a bit more stressful than tank life. But again, no other girls are having issues.

Seiya...-sigh- He was the proudest damn betta I've ever seen. He had a routine of staring at curtis, till Curtis turned to look at him, flare and swim away and patrol his tank. A wonderful war dance, he was very confident in himself. It showed in everything he did. And his colors! I dont approve of dark teal with bright, vibrant red, but that's my personal choice and I didn't love him less for it. Kind of like mom's dont hate their sons for getting a mohawk and piercing (though I'm cool with mohawks and piercings, just picky about colors). Seiya's the mystery, but has has had slight fin melt in the past, as well as ick right before a serious pH problem about a month or two ago. So maybe something happened and lingered, despite proper and clean water params since I fixed all that.
:( hmph. I don't suppose you used any meds that couldn't been harmful to his kidneys? It just doesn't make any sense... I'm glad that everyone else is doing okay.

By the way, I saw your thread on those tribal drawings you did and thought they were neat! I've been kind of wanting to get a tattoo sort of like that of the pisces symbol but with betta fish... Well, anyways, I have no idea where I'd put it yet :p
---
Veyron Sprite Ayala
S.I.P. Okami, Bahari, Lotus, Mercy, Daihatsu, Ascari, Kuraokami, DaBaDee, Zenvo, & Stella <3

I'd be happy to design something for free, just for basis, though I've seen other people's tribal betta art's on DeviantArt that are waaay better than mine xD

You could put it anywhere, but since you live in the States I'd suggest a spot that's easily coverable by shirt and shorts at least. Apparently there's some folks who dont hire down there if you've got ink or metal in you xP Cuz they're lame and judgemental., or just old fashioned.

And no, when they had Ick I only used 86F water and aq salt, and anytime his fins got torn I'd do a water change and added stress coat. So until the few hours of maracyn 2, he never had any strong or bad meds. Mostly conservative stuff.
What a mystery :/

Yeah, there's a lot of places that make a big deal about piercings and tattoos. Most of the fast food places I've seen say no tattoos but they don't really care, but they do make you remove piercings or put in a clear one. I'd imagine that any job where you don't really work with clients or customers (like my dad, he works in a giant freezer loading and unloading frozen stuff out of trucks) wouldn't care but pretty much everyone else does.

I'm getting a degree in photography and for that particular job, I don't think it would be a big deal since I likely won't have a boss and I won't be photographing myself :p
---
Veyron Sprite Ayala
S.I.P. Okami, Bahari, Lotus, Mercy, Daihatsu, Ascari, Kuraokami, DaBaDee, Zenvo, & Stella <3

That should be fine then xD

I think it's kind of dumb of people to make you hide tattoos and piercings. I totally understand if the design is offensive, but if it's something beautiful or personal? Something that 's special?

Honestly, a piece of work you get inked onto your body should be important enough to you to be there, and therefor shouldnt be covered up to make other people happy, imho. Having tattoos or multiple piercings doesnt make you a criminal or gangster, doesnt mean you're a delinquent or bad for business - some of the most awsm people and workers I know have multiple tats and piercings.

I work at Walmart, so~ they'd prefer offensive tattoos covered, by I have a realistic skull on my shoulder and I've recieved a lot of compliments from customers who catch me on the floor. And I've never once been asked to cover my stuff.
Despite Seiya and AmAterasu...fishy life goes on. I'm happy to see Eranikus re-building his bubblenest after his water change today. I even managed to cxatch him on film;
Something I've noticed with all my males...you can't get up close and personal when they're building. Mine will not build if they know I'm watching. Like it's some secret -rolls eyes-. Thus the video quality isn't spectacular because I had to veeerry slowly pick up my camera and film from faaar away after zooming in a bunch. >>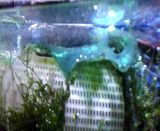 Also, Acheron and Styxx get upgrades.
Though Acheron doesnt move tanks well at all, I noticed this the first time I got him home, long acclimation or not. So I'll keep an eye on him throughout the day and make sure he gets comfy. I have the nightlite on instead of the daylight so he's not as stressed.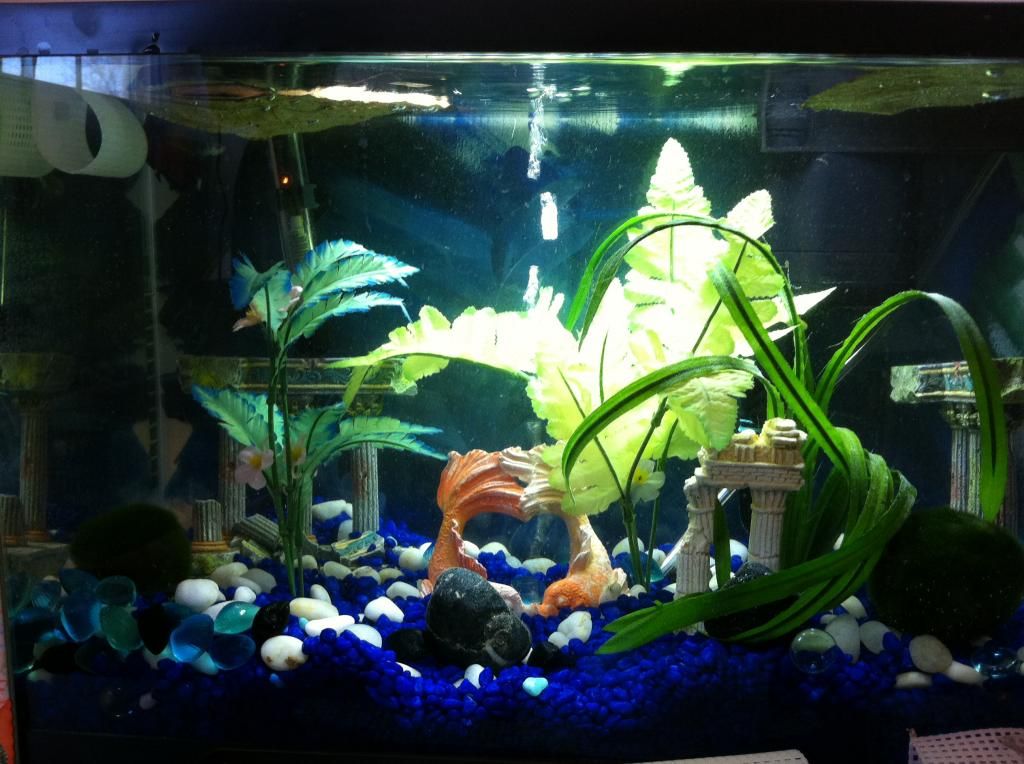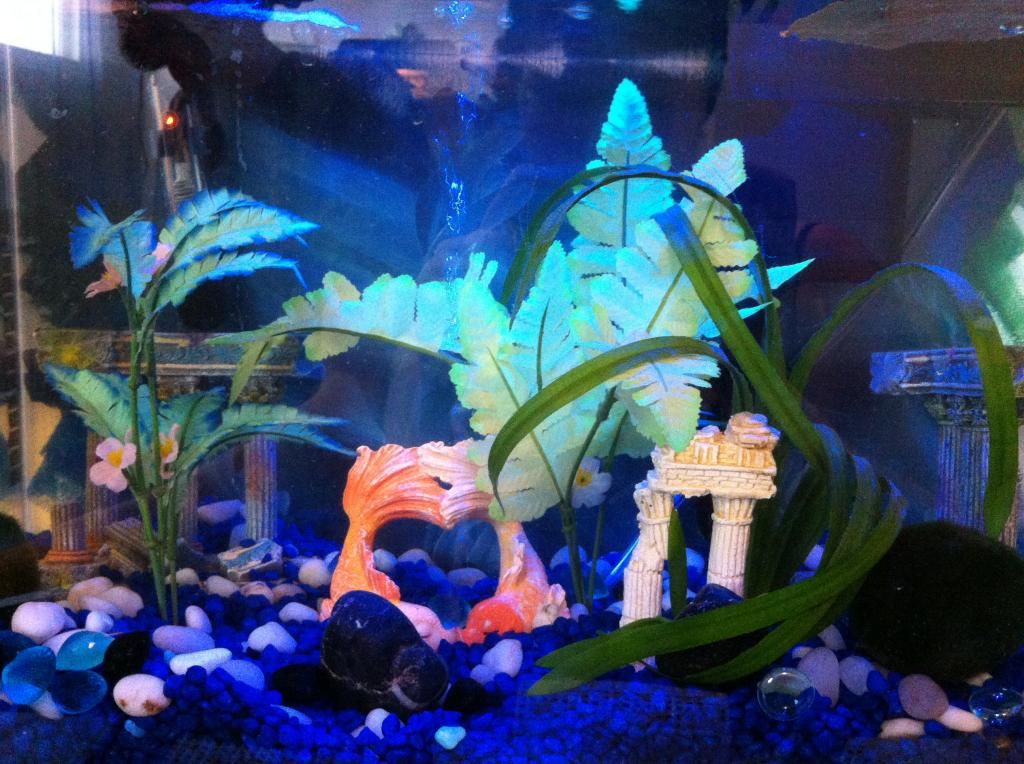 I'm running out of decorations, so Styxx will have something else added to his tank after my trip to the city in a week.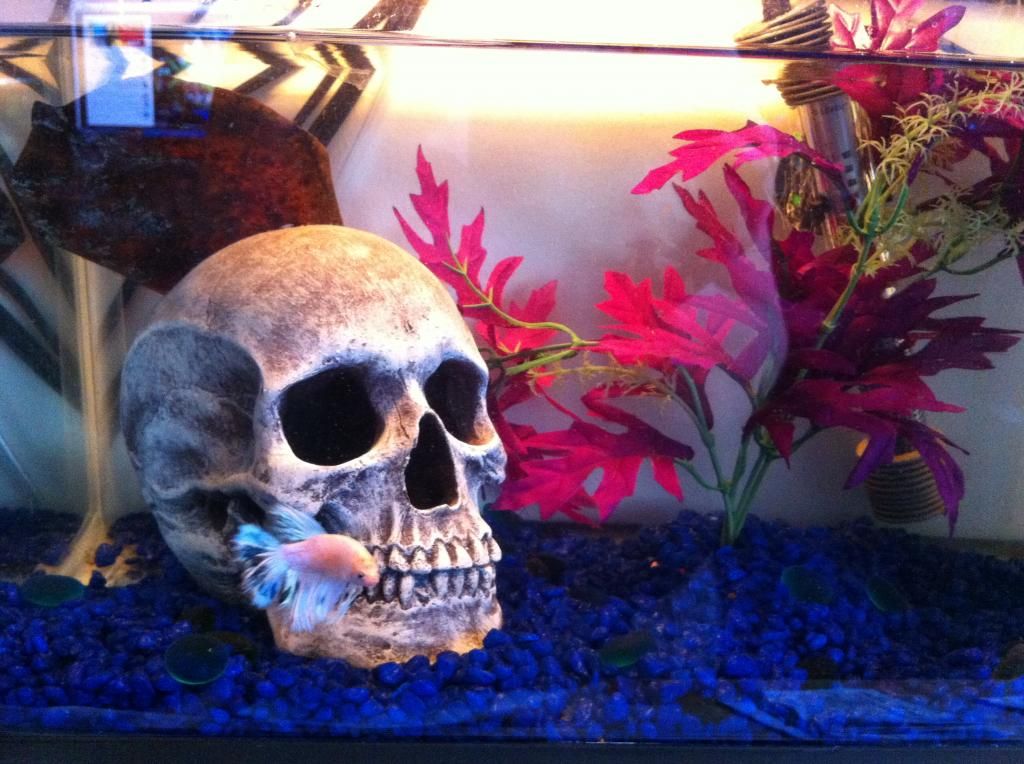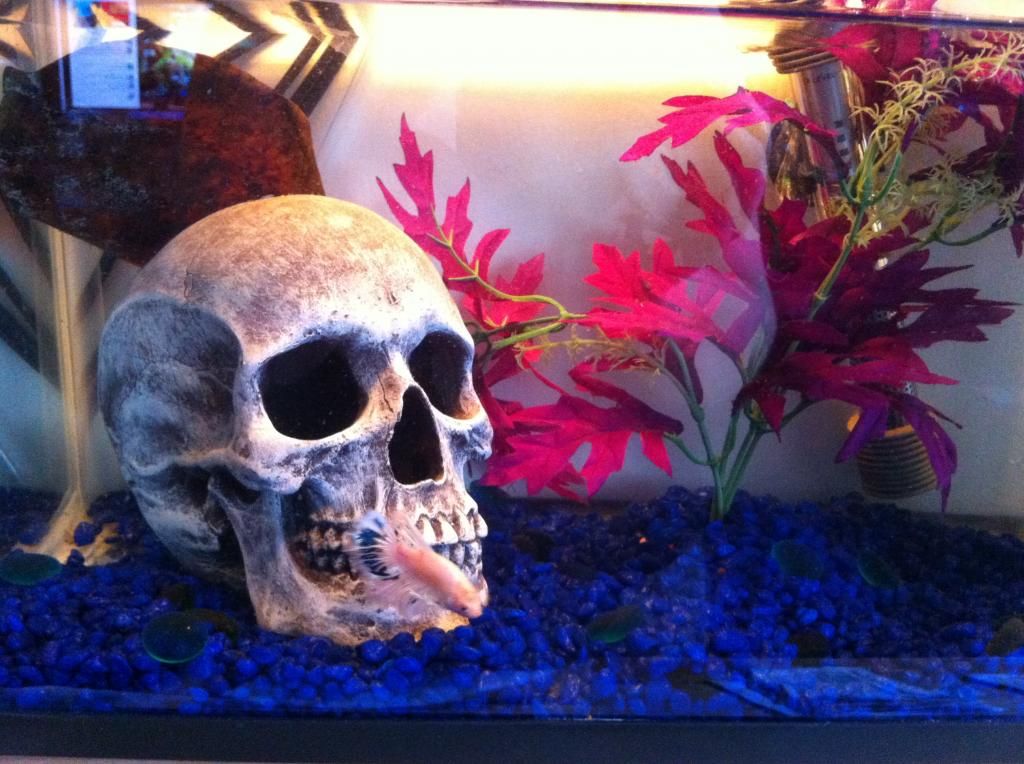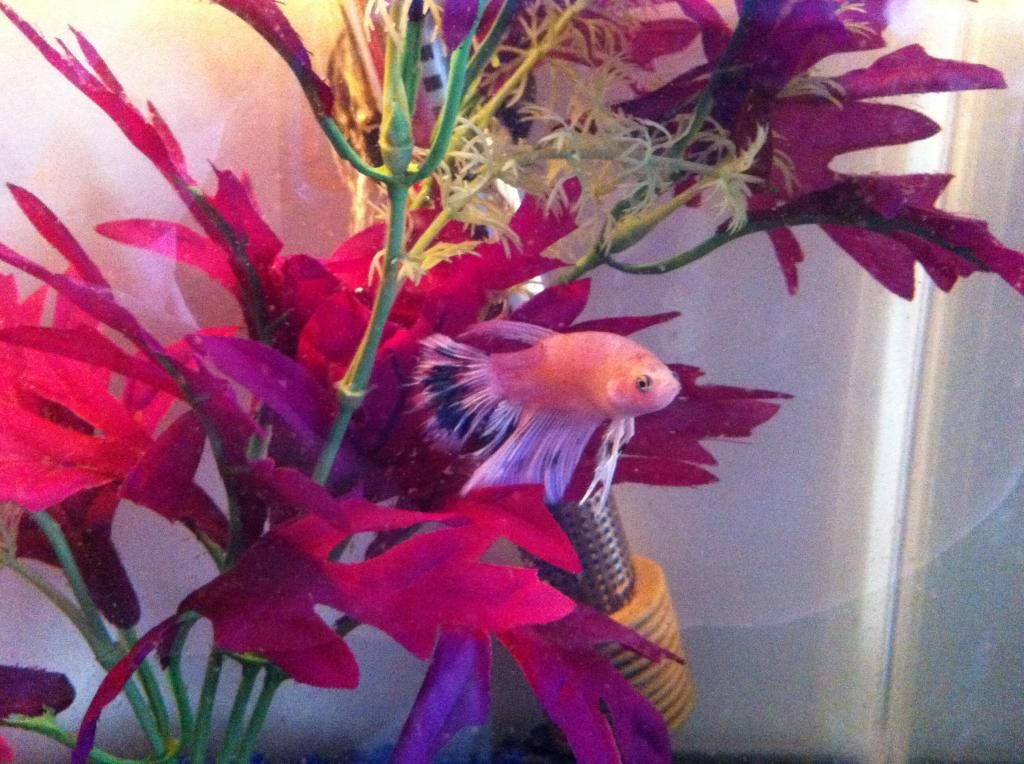 And as LG will notice, Styxx has gone from all white back to developing his blue rays and spots as well as a blur of red on his head. The change back to color is taking longer than when he lost it though.
Bweh...
---
Everyone's healthy for the moment (and for 20 fish that's really, really good), so I'm watching the new River Monsters episode and wondering if I'll get contacted back from my transhipper or the seller...
I dont want to pester them about things, especially since I'm new to the AB deal, but srsly, I'd really like confirmation this is happening. Too late to say not to get my hopes up >.< First mistake, oi!
Banned
Join Date: Aug 2012
Location: Hogwarts
Posts: 2,082
Oh let us know as soon as you find out when he is being sent to you! I like watching river monsters lol.