This is Why
---
I can. I see it all the time. I don't understand it, but I see it. It's everywhere in a consumer driven society. The mail man isn't a man on a duty to make sure people can communicate any more, it's just a job. Just a pay check. And one without supervision, and one where it's routine. So I know how it works and why.
This is why people should take more care when they have a job, take some pride in doing your best, at least for yourself, if not for the others working around you or even customers/people relying on you. I don't always love my job, there are days I'm ready to snap and go ape-crazy on someone, but I still do my best. Because if I didn't, I'd be bothered by that, let alone others would have to work harder to compensate for my laziness. And I"m not cool with that. And neither should other people be.
On the other hand, I've srsly begun contemplating a log cabin away from any town because I am so, very, very tired of watching people be douchebags and schmucks and be only about themselves. The people of modern-day countries need a wake up call to the reality of what they've become. We've lost something that could have been great. We've lost so much when we claim to have come so far in only the last two decades.
"I see a slow, simple youngster by a busy street,
with a begging bowl in his shaking hand.
Trying to smile but hurting infinitely. Nobody notices.
I do, but walk by.

I see a beaten dog in a pungent alley. He tries to bite me.
All pride has left his wild eyes.
I wish I had my leg to spare.

A mother visits her son, smiles to him through the bars.
She's never loved him more.

An obese girl enters an elevator with me.
All dressed up fancy, a green butterfly on her neck.
Terribly sweeet perfume deafens me.
She's going to dinner alone.
That makes her even more beautiful.

I see a model's face on a brick wall.
A statue of porcelain perfection beside a violent city kill.
A city that worships flesh.

The 1st thing I ever heard was a wandering
man telling his story
It was you, the grass under my bare feet
The campfire in the dead of night
The heavenly black of sky and sea

It was us
Roaming the rainy roads, combing the guilded beaches
Waking up to a new gallery of wonders every morn
Bathing in places no-one's seen before
Shipwrecked on some matt-painted island
Clad in nothing but the surf - beauty's finest robe

Beyond all mortality we are, swinging in the breath of nature
In early air of the dawn of life
A sight to silence the heavens

I want to travel where life travels,
following its permanent lead
Where the air tastes like snow music
Where grass smells like fresh-born Eden
I would pass no man, no stranger, no tragedy or rapture
I would bathe in a world of sensation
Love, goodness and simplicity
(While violated and imprisoned by technology)

The thought of my family's graves was the only moment
I used to experience true love
That love remains infintie,
as I'll never be the man my father is

How can you "just be yourself"
when you don't know who you are?
Stop saying "I know how you feel"
How could anyone know how another feels?

Who am I to judge a priest, beggar,
*****, politician, wrongdoer?
I am, you are, all of them already

Dear child, stop working, go play
Forget every rule
There's no fear in a dream

"Is there a village inside this snowflake?"
- a child asked me
"What's the colour of our lullaby?"

I've never been so close to truth as then
I touched its silver lining

Death is the winner in any war
Nothing noble in dying for your religion
For your country
For ideology, for faith
For another man, yes

Paper is dead without words
Ink idle without a poem
All the world dead without stories
Without love and disarming beauty

Careless realism costs souls

Ever seen the Lord smile?
Allt he care for the world made Beautiful a sad man?
Why do we still carry a device of torture around our necks?
Oh, how rotten your pre-apocalypse is
All you bible-black fools living over nightmare ground

I see all those empty cradles and wonder
If man will never change

I, too, wish to be a decent manboy but all I am
Is smoke and mirrors
Still given everything, may I be deserving

And there forever remains the change from G to Em"

_'Song of Myself', by Nightwish.
I see it every where, and there are some days why I bother trying to hold up the banner for nature when I don't have faith in our own race. Why try to save what corporations and greed will continue to use and abuse and enslave? Because some day...I might have a niece...or even my own daughter....or even some strange child who has no fear of talking to an old woman ask me 'Why isn't the world alive any more? I see it in pictures in old books..." And I won't have an answer. But I'll know I'll have done something to try and stop it, to raise awareness, to spread the word, to donate money, and maybe one day, even volunteer myself for a dangerous campaign worth the lives of one-thousand whales.
The magic, the awe, the respect, the fear...is gone. And with that we lost teachings, we lost stories, we lost any essence of ourselves and transformed it into this..global human manifest of robbing our own home.
I feel robbed by it. I grew up with a man posing as a father for most of my life, and he always thought of himself. I grew up around people who didn't stand up for those in need, despite one small girl (me) taking the blows for someone even smaller. I grew up in a world that already had problems, and in all my life I havent seen anyone take a giant step towards trying to fix anything. You grow up, excited to be an adult, because you think it's so reat. It's going to be awesome, you're your own person, your rules, your own place, your own money. And some even see it as a chance to accomplish dreams, really do something with life, make a change.
And then you get here and realize how bogged down with human society you are, and how powerless you sometimes can be.
And you realise, that when you were a child...that was as close to Utopia as you were going to get.
................................
I'm sorry, didn't mean to go and rant, I simply wish to convey a message I'm always trying to share...we lost important things that used to make humans great instead of simple consumers and sellers. White people hardly have any traditions at all that are actually unique to their origins, and as the world modernizes, traditions of older peoples are also being lost in favor of money needed to feed mouths.
But what was lost, can be found. If we only stand up and diligently remain a force against those who would continually rob us of ourselves. We have the power. We only need to stand together to use it.
Shop Update!
---
Added the Pandas: Pic Spam
---
Spent about two ours being soaking wet. Up to my shoulders, cuz my tank is tall on a table and I'm short. Changed up the decor, I hope there's enough coverage for the girls, though if not I'll find some silk plants. My main goal was to find a compromise between the hiding spots for the girls, and keeping the gravel sparse enough for the cories.
Also, some abd news. The black gravel I bought for Falcor's tank (now Toothless' tank) is supposed to be 100% non-toxic. BUt it smells like spray paint, and Toothless' fins are falling apart. So~ never buying black gravel from Marina ever again. The green and blue gravels I usually get are perfectly fine. Unfortunately, a third of the bag of black went into the sorority before I realized it was srsly bad. And there's no way I'm taking everything and everyone back out fo the tank, so I am hoping that with keeping an eye on things and doing extra water changes, I don't kill my sorority!
-sigh- Havent had breakfast, I'm soaking wet from the last two and a half hours and I'm very angry with Marina about their black gravel.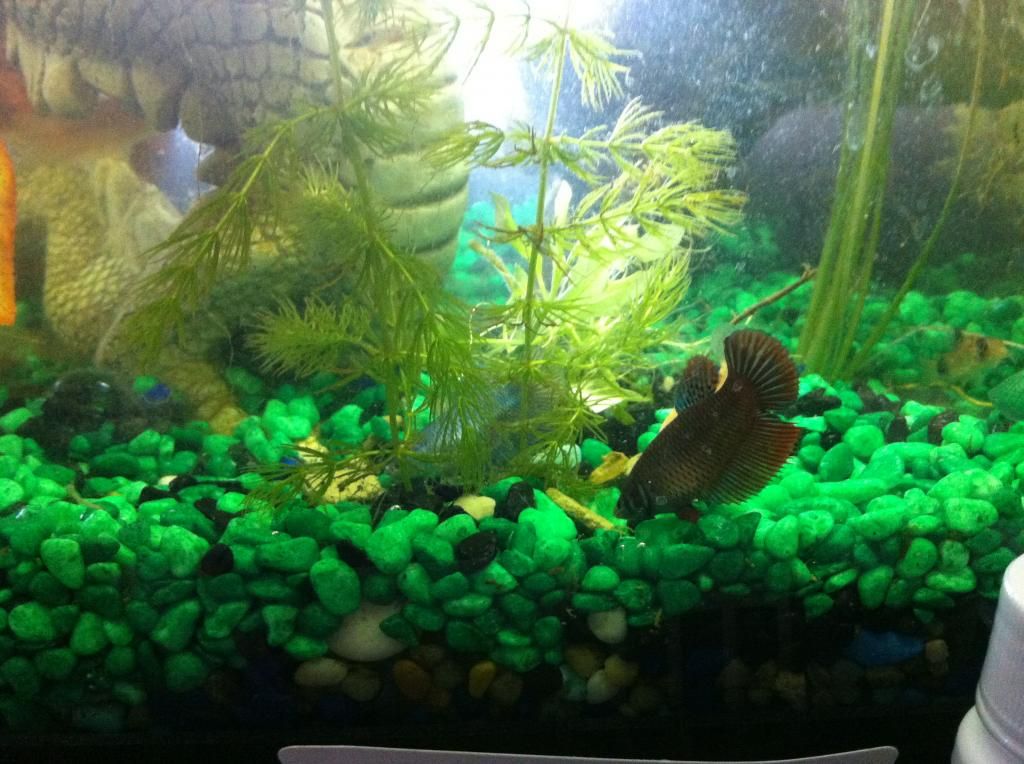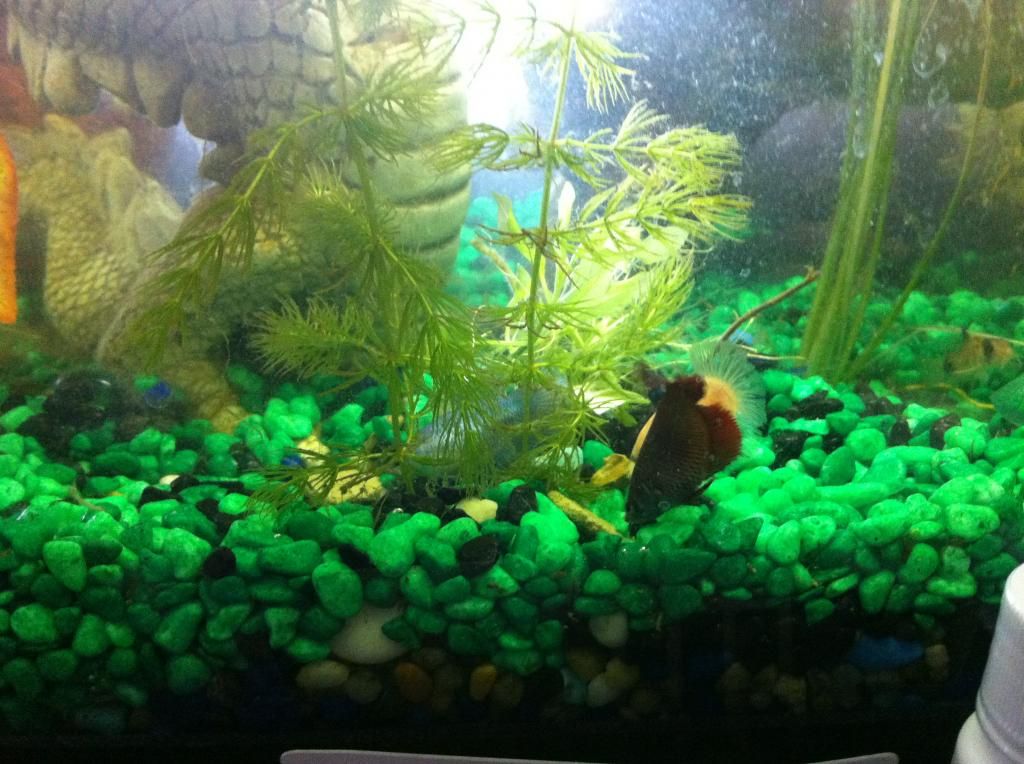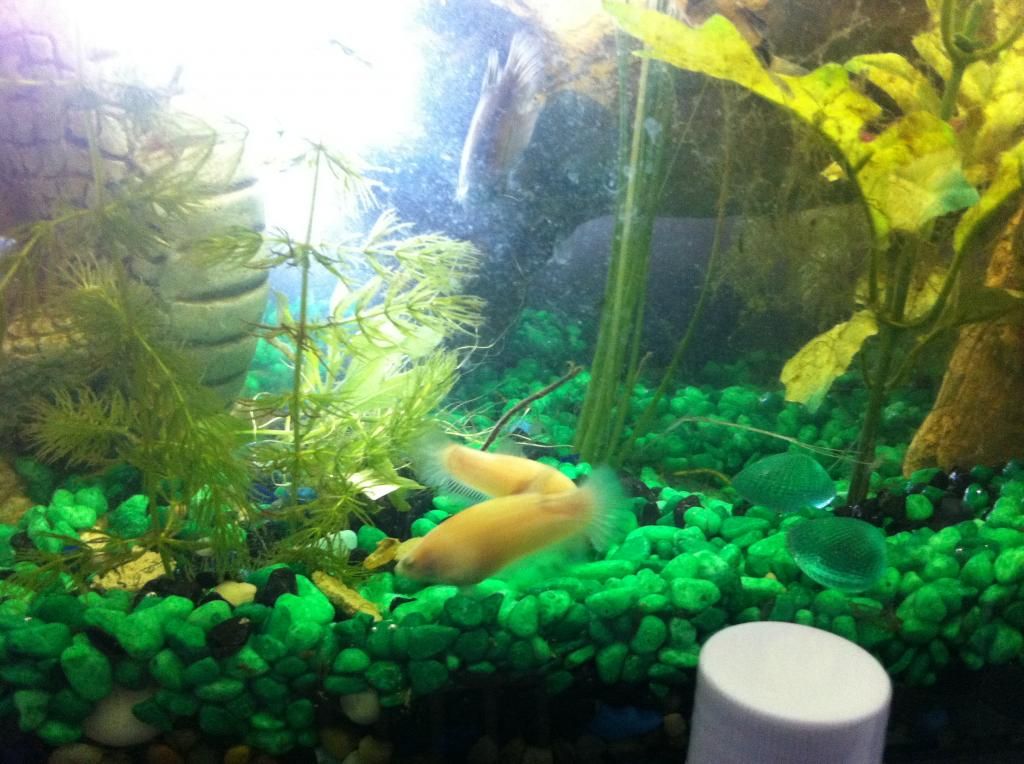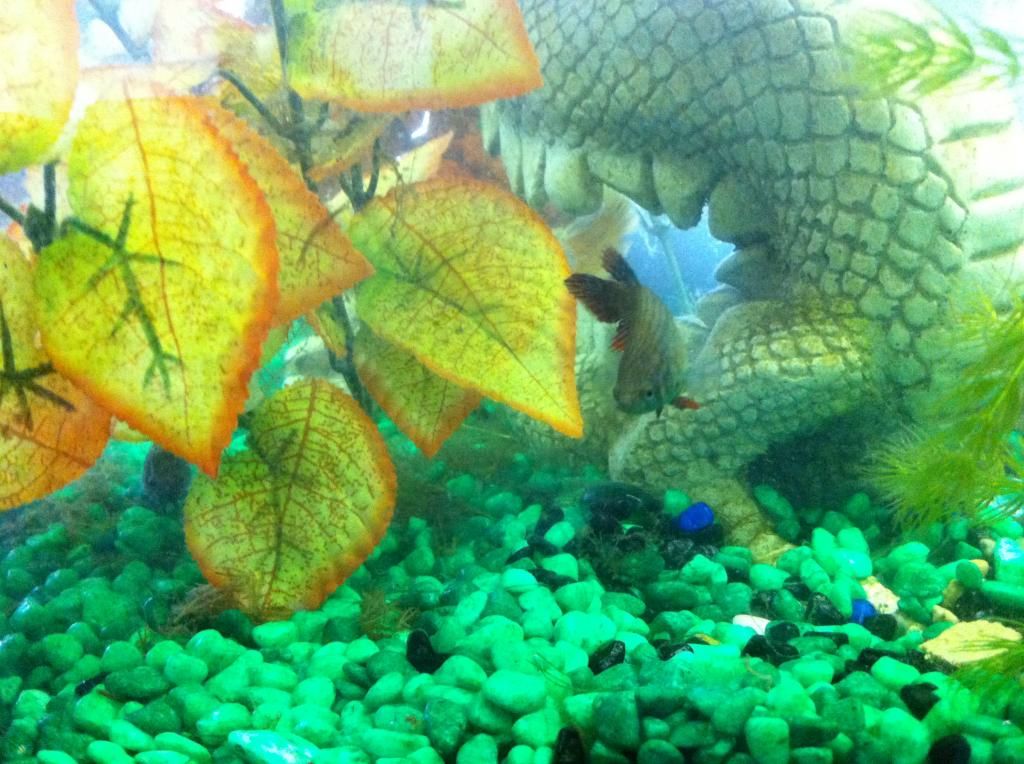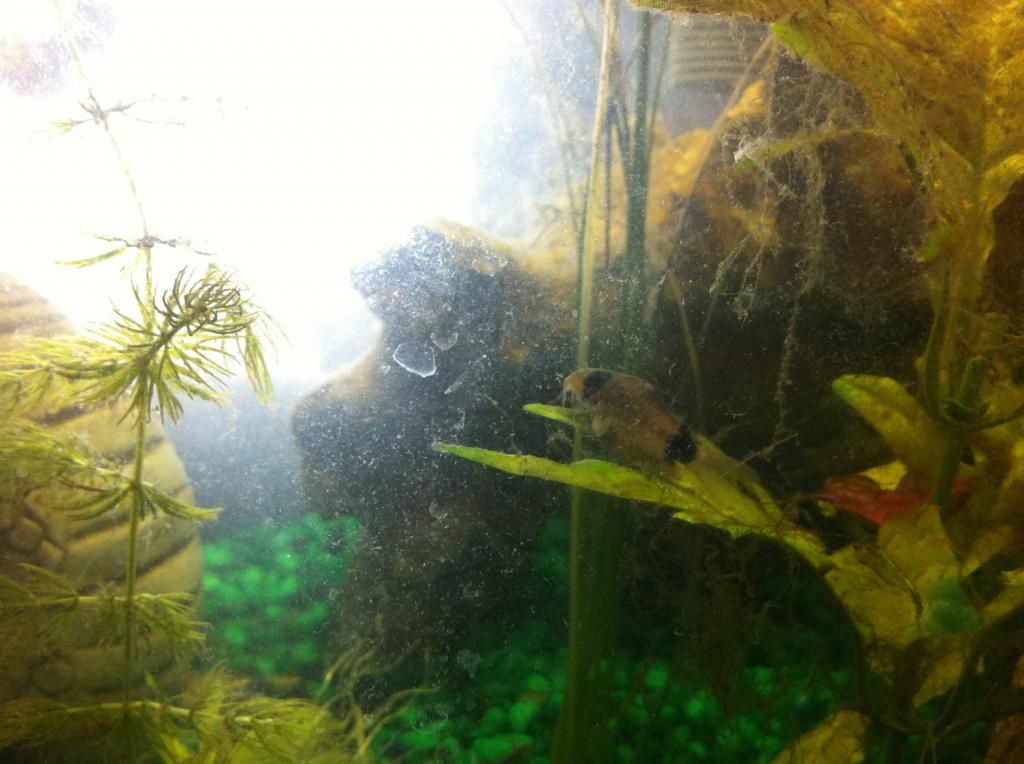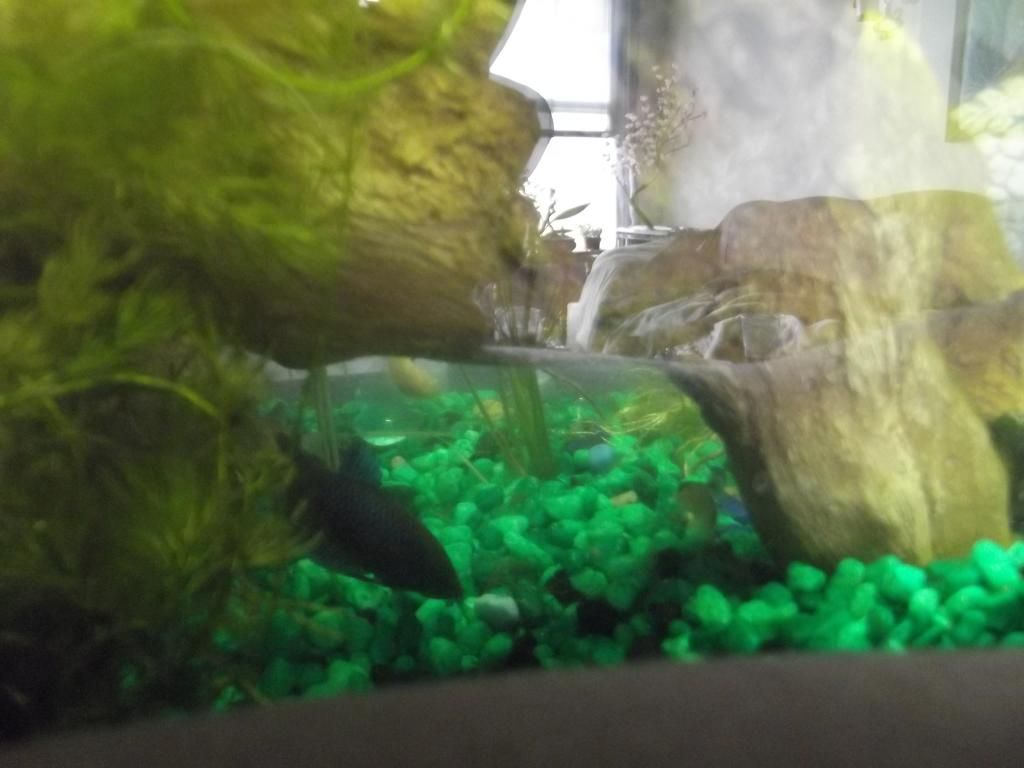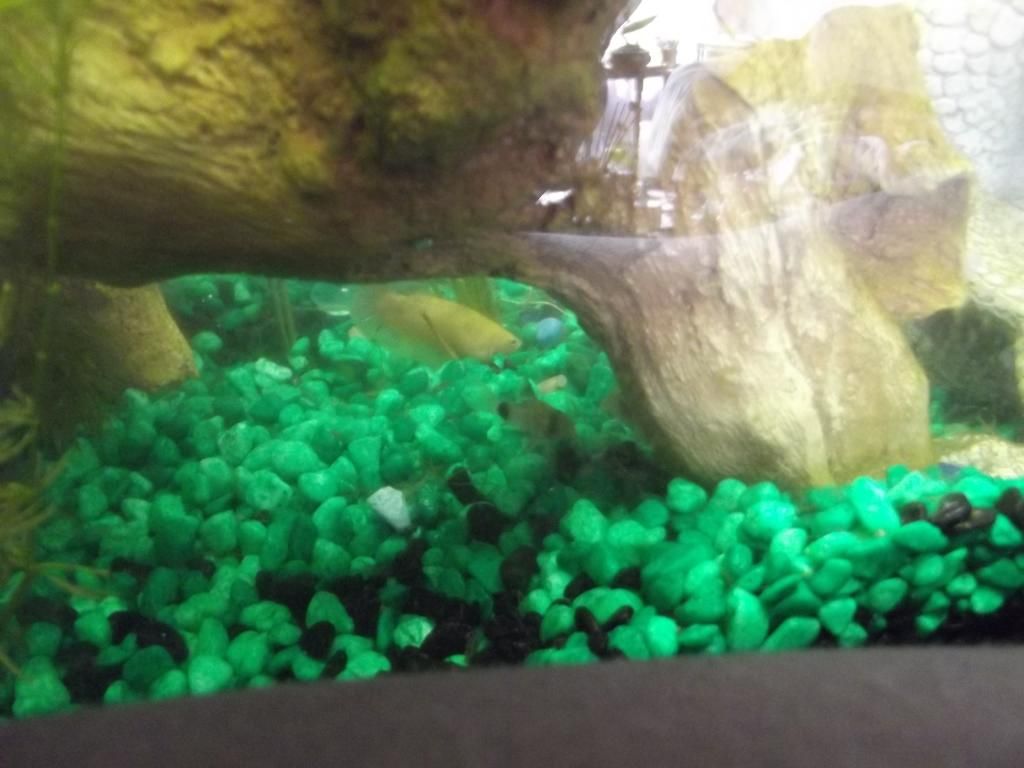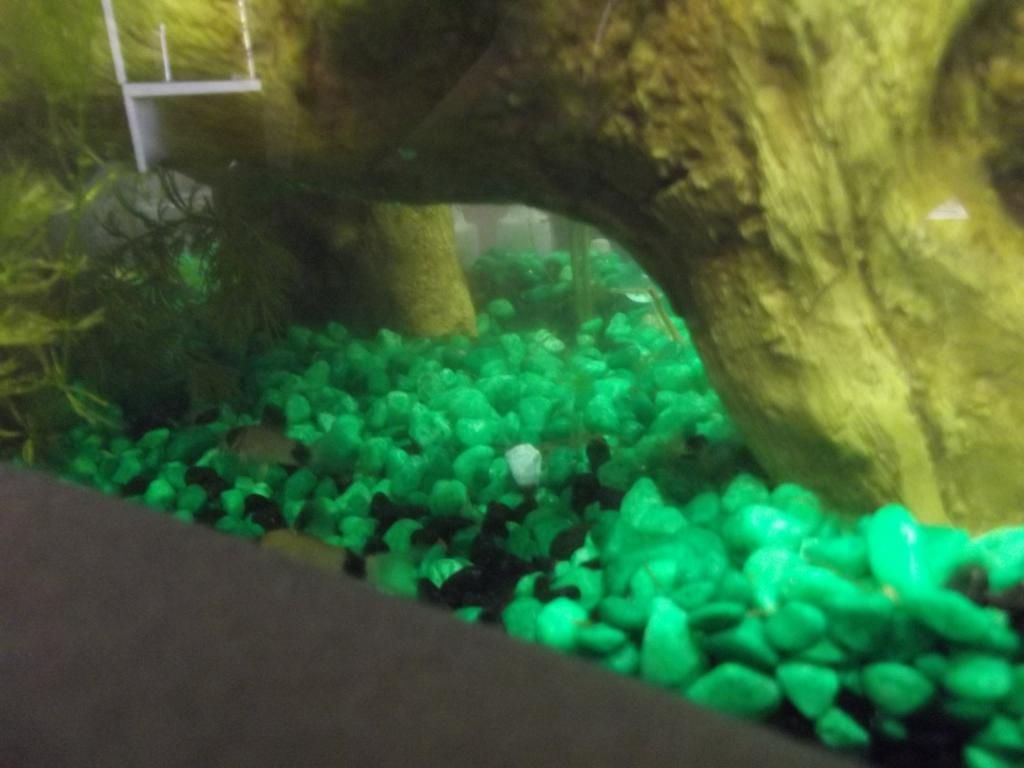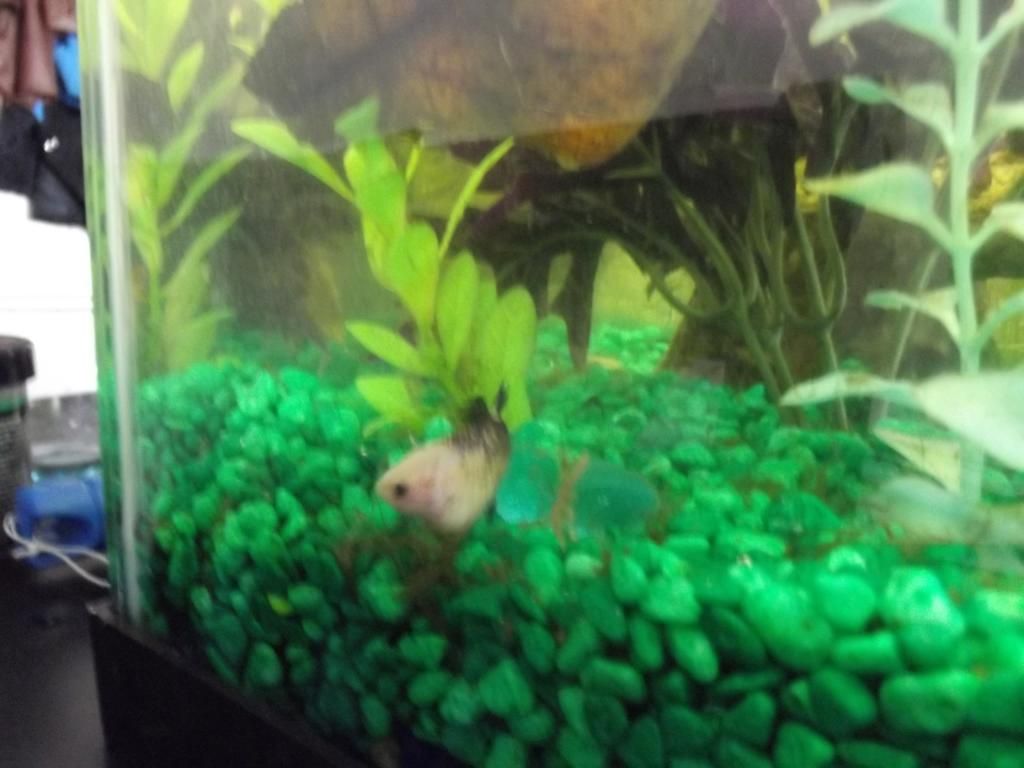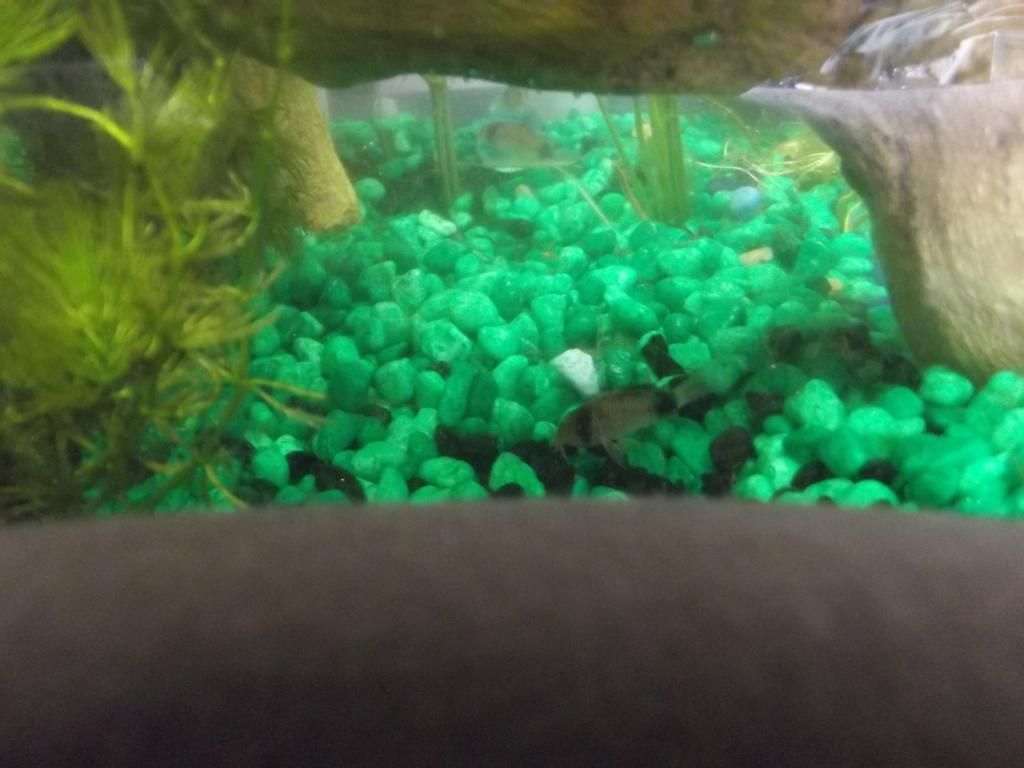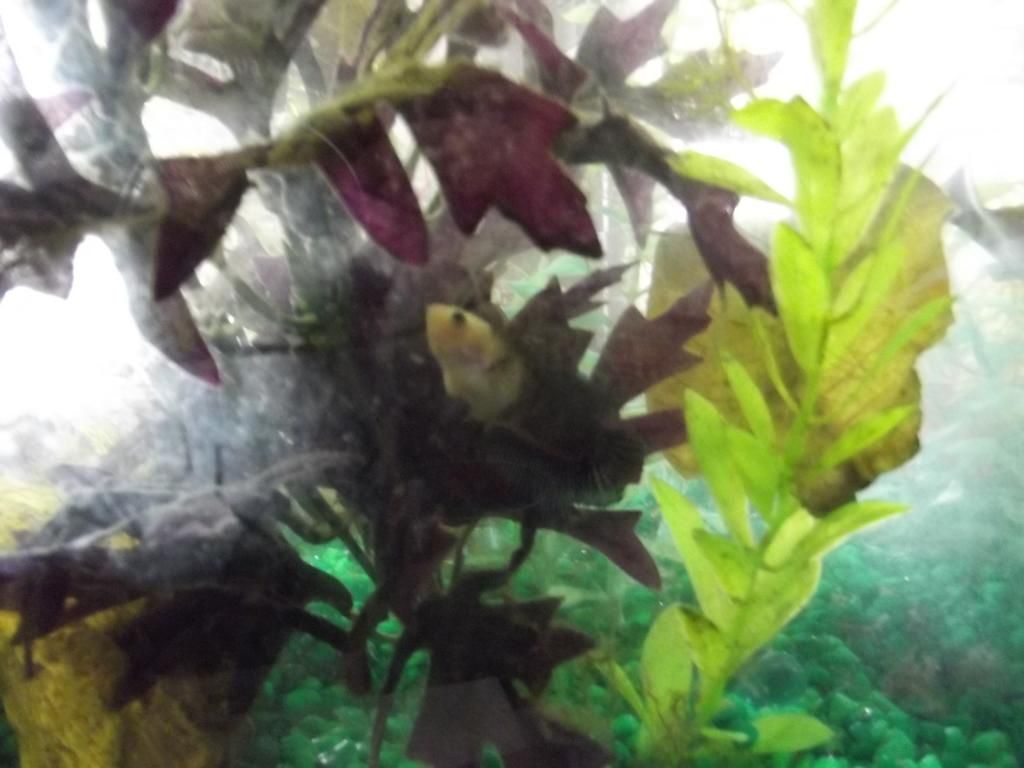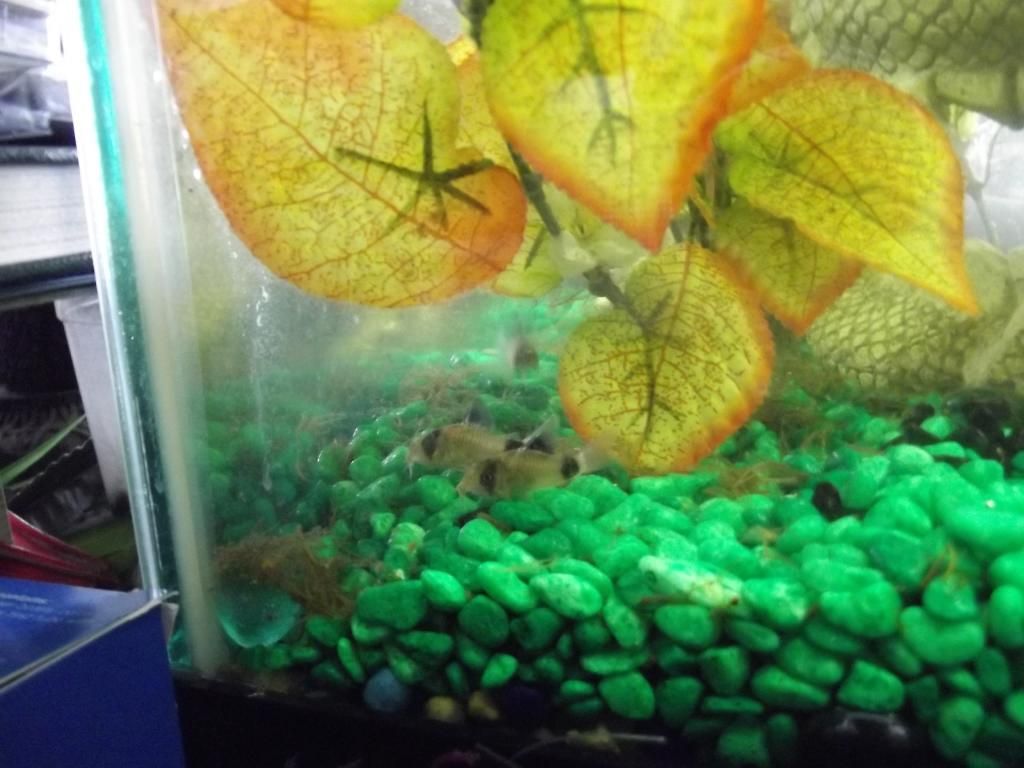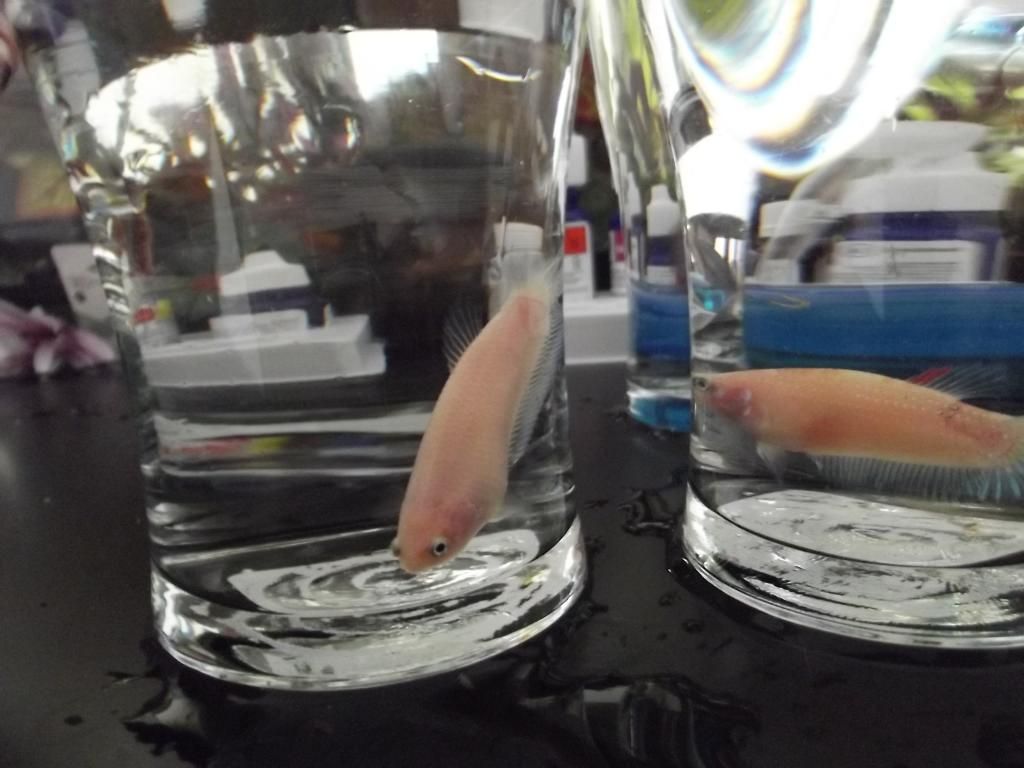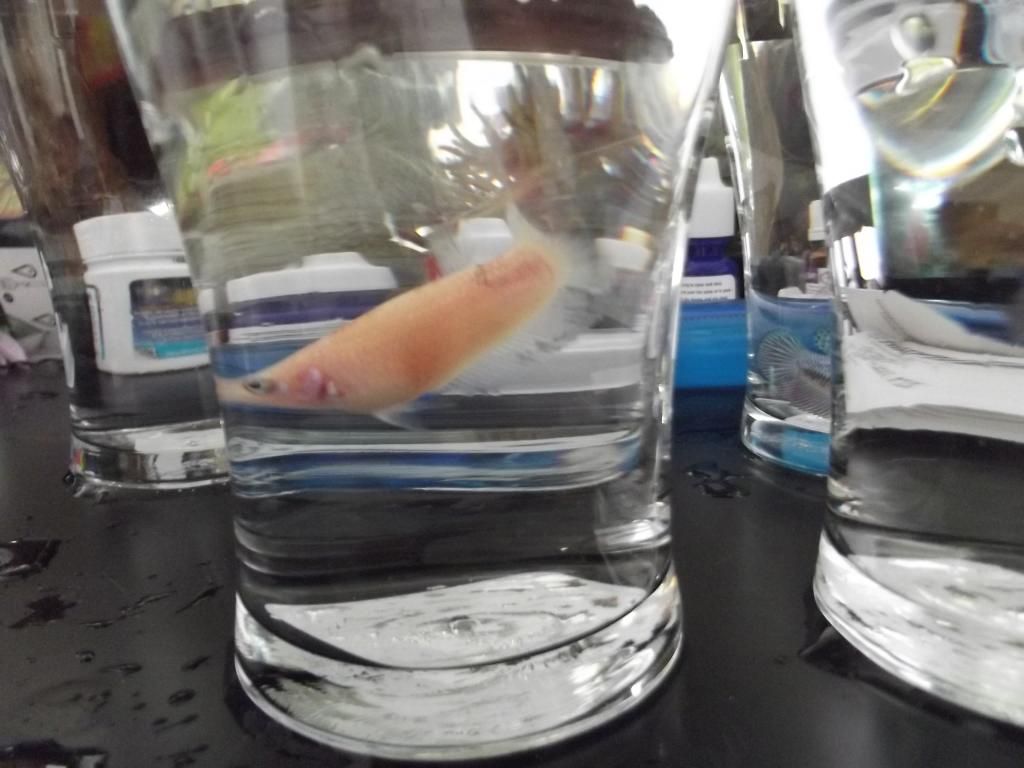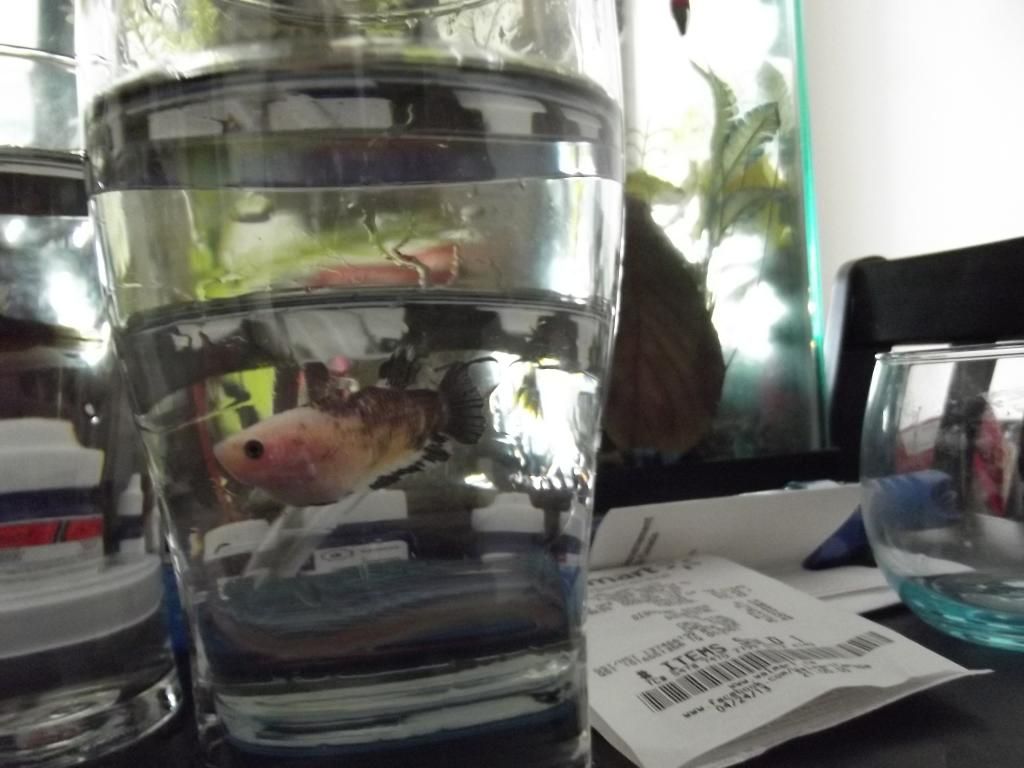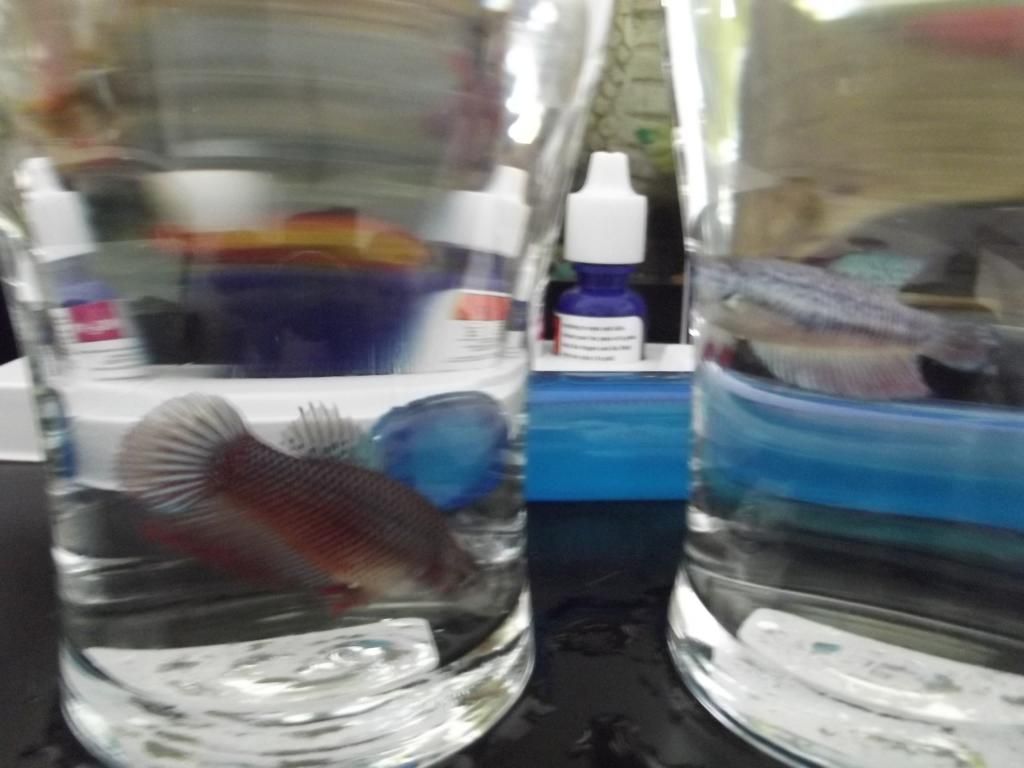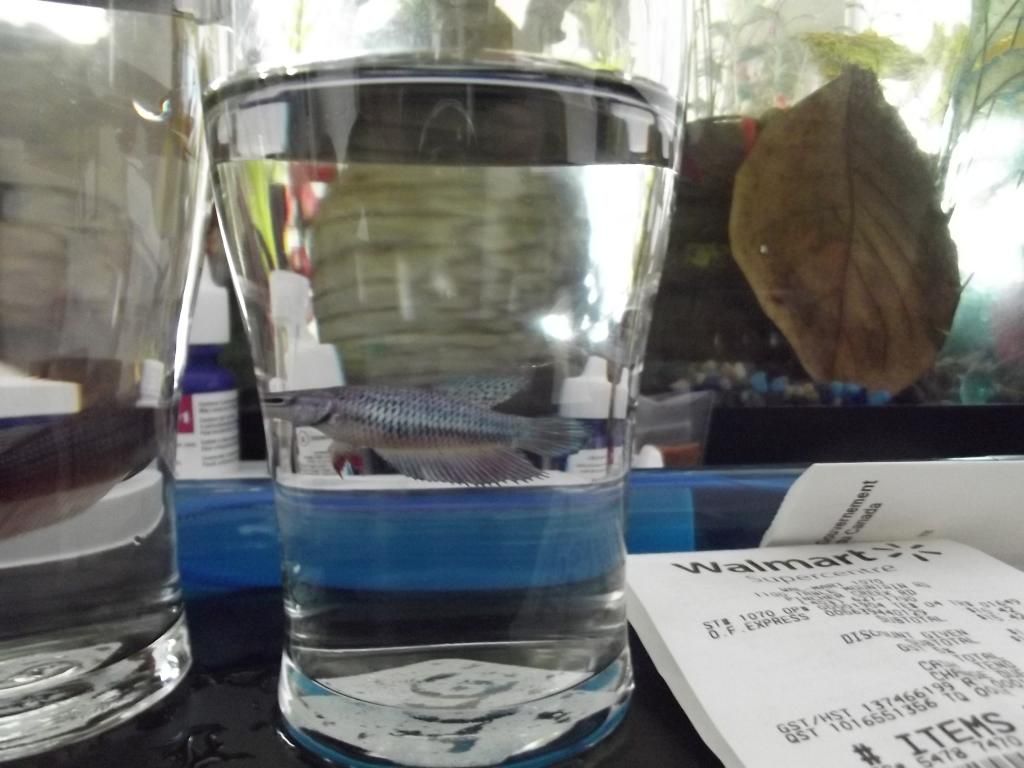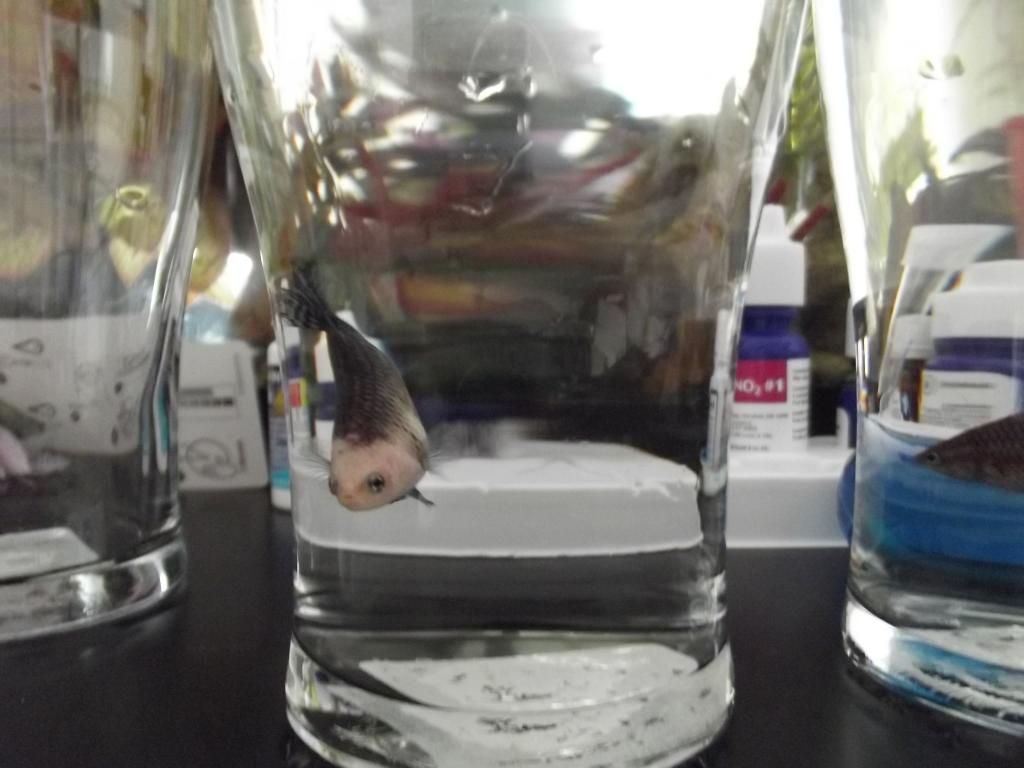 Non-toxified.
---
Took out the black and the blue marble pack I had smelled funky too, so I boiled it. Fixed the problem. So I guess some of the palstic gravel just have some serious residue.
Tank changes + Ghibli <3 Then origami orders! Then...maybe...food? ;-;
Food is always good. Lol.
Bweh, Curtis isn't home till after 9 and I need the stuff he's bringing home to make dinner. So I guess after tanks I'll figure some sort of snack out to hold me over ;-; So hungry~

So I just finished Ryuu's 5gal Chi, and I still love it to death. But scuzz can definitely uild up on the filter box. Just scrubbed that off xP
Ooh I have a chi. My marble dt boy lives in it. Is your sorority full?