Definitely. I'm sorry to say, but sometimes when they're all crammed onto a shelf and all you see is BLUE or BLUE/RED it's hard to choose an individual fish. I sometimes spend a good half hour taking off every cup to give each a look over.

Althought that's not what happened with Phy, the vt that got me back into this. I walked i the store, and I saw the betta shelf and a shaft of sunlight was reflecting off a car in the parking lot all the way to the back of the store and was illuminating his cobalt blue body. And~ yup. PIcked him. And he was nothing but a headache sometimes, but I miss that fish. <3 He was a chronic tail-biter, danced to 'Telephone' by Lady Gaga, had a very fierce flare, and I was heartbroken when he left me suddenly back in December.
Been watching Acheron lately, and he has subtle vertical barring. Could be cuz of the koi marble gene. Could be he's submissive to his reflection. =/ Poor guy.
Banned
Join Date: Aug 2012
Location: Hogwarts
Posts: 2,082
Aww does he have a female side? Lol
I guess he's just not as butch as the rest, lol. I love him just the same, just wonder what goes on in his head.
Overdue Fishie Spam!
---
Styxx, Tatsu, Eranikus, Ryuu, Slyph and ACheron.
Voljin and Toothless are on the mend, and kalec was not cooperating.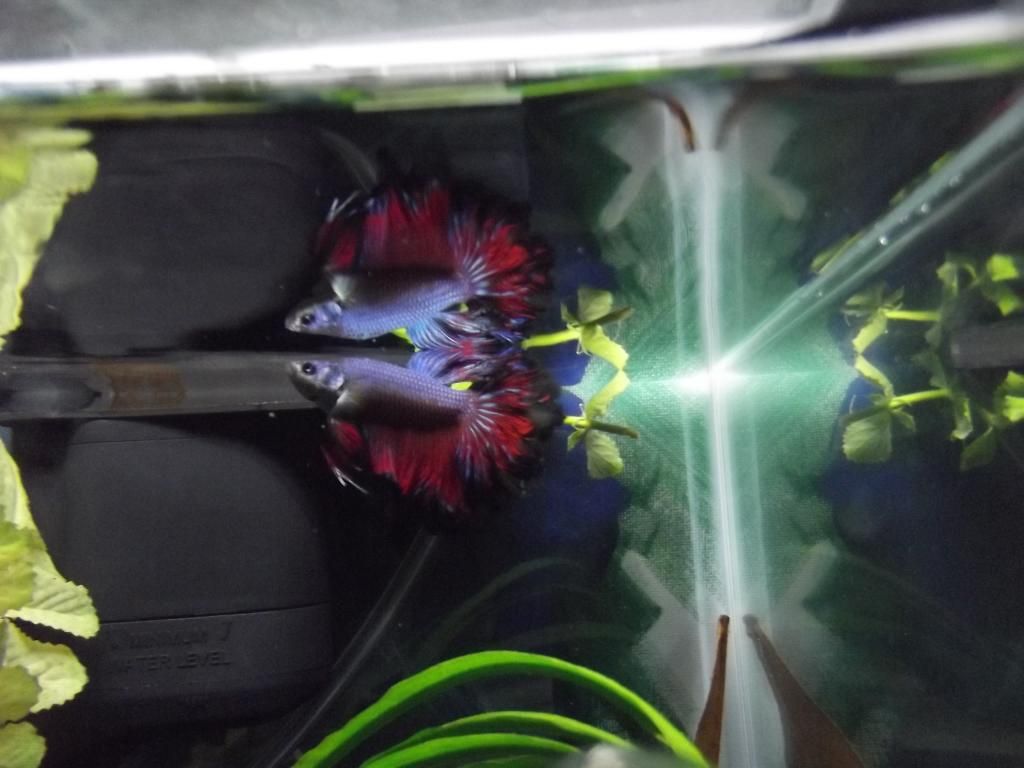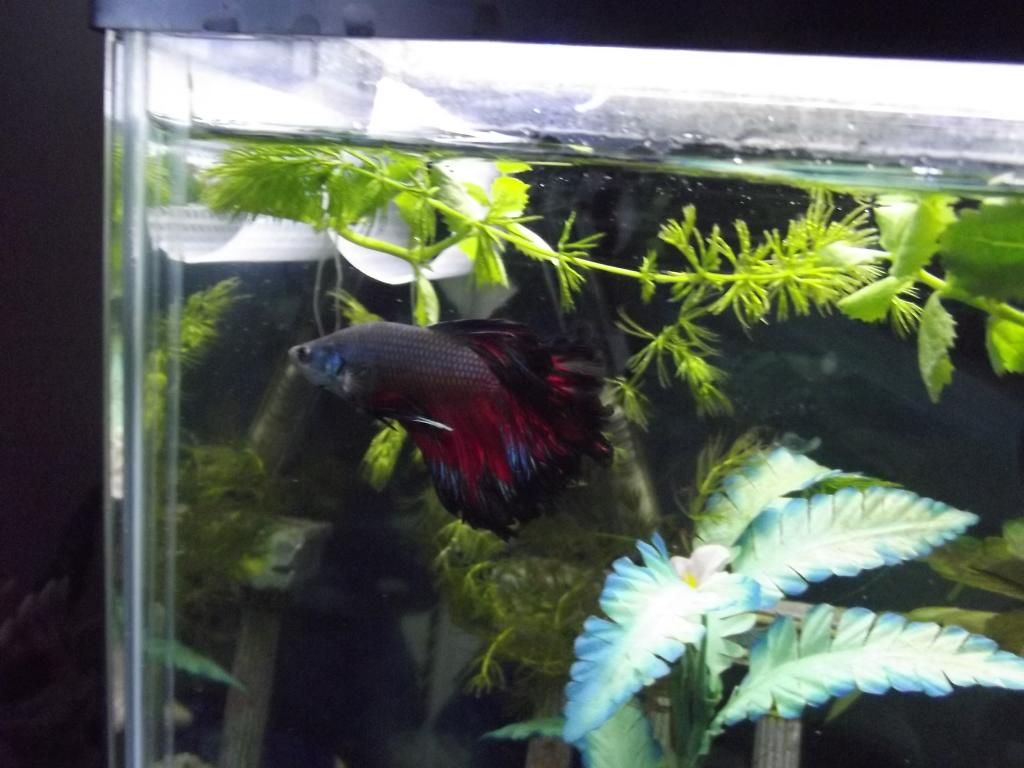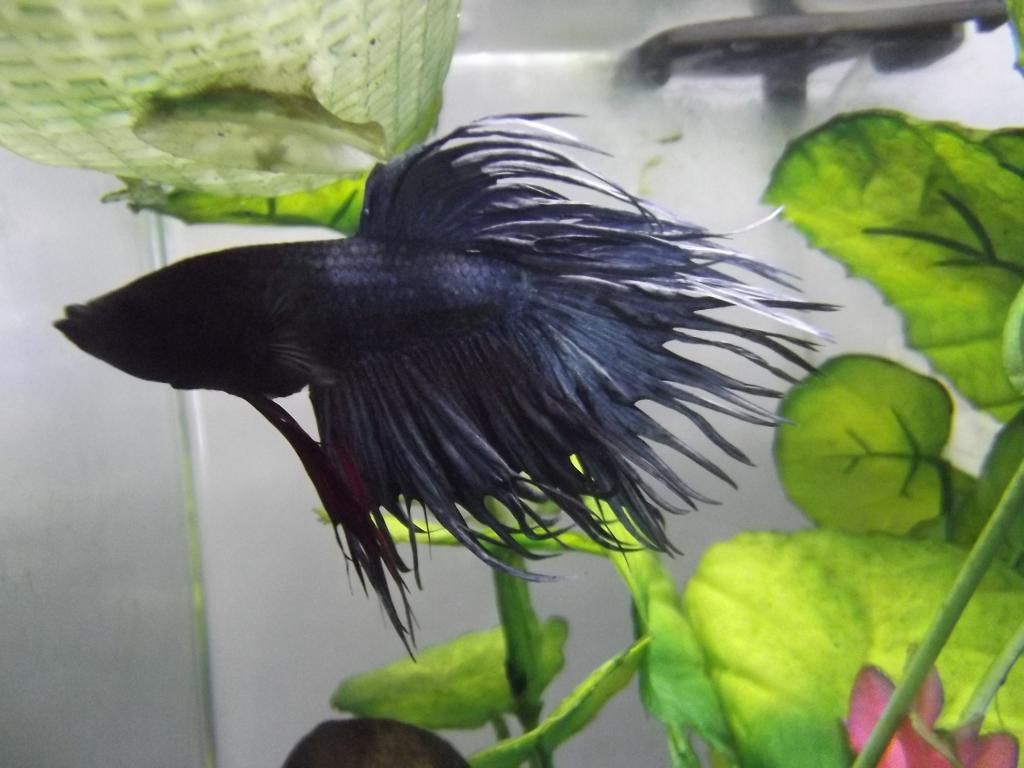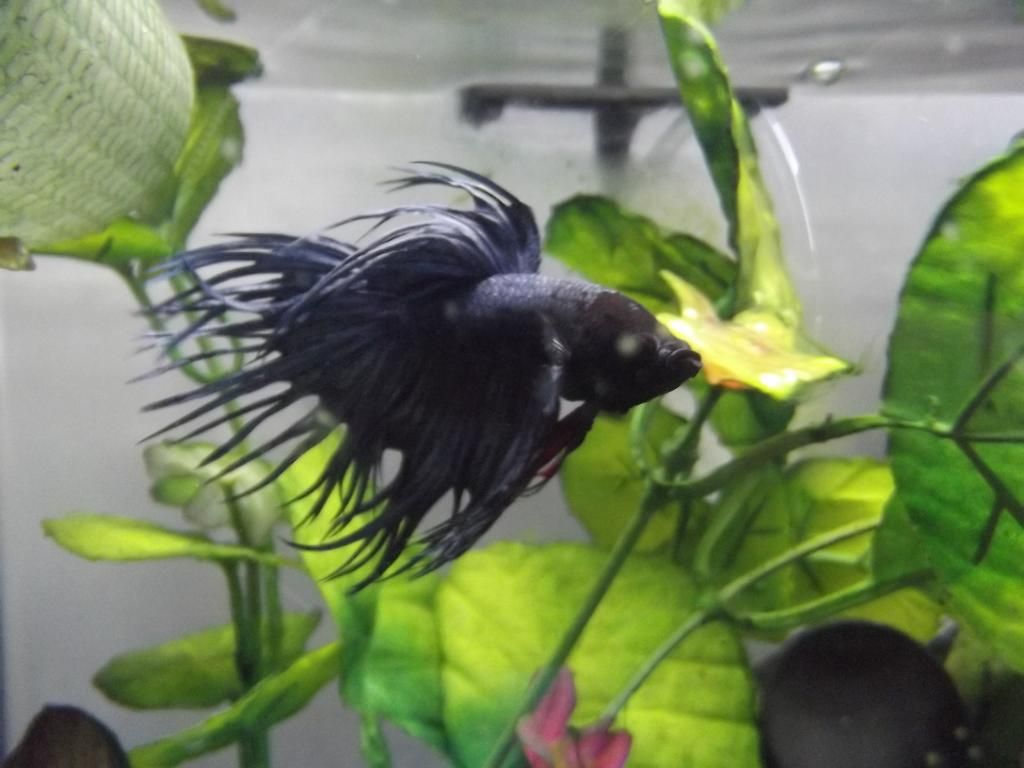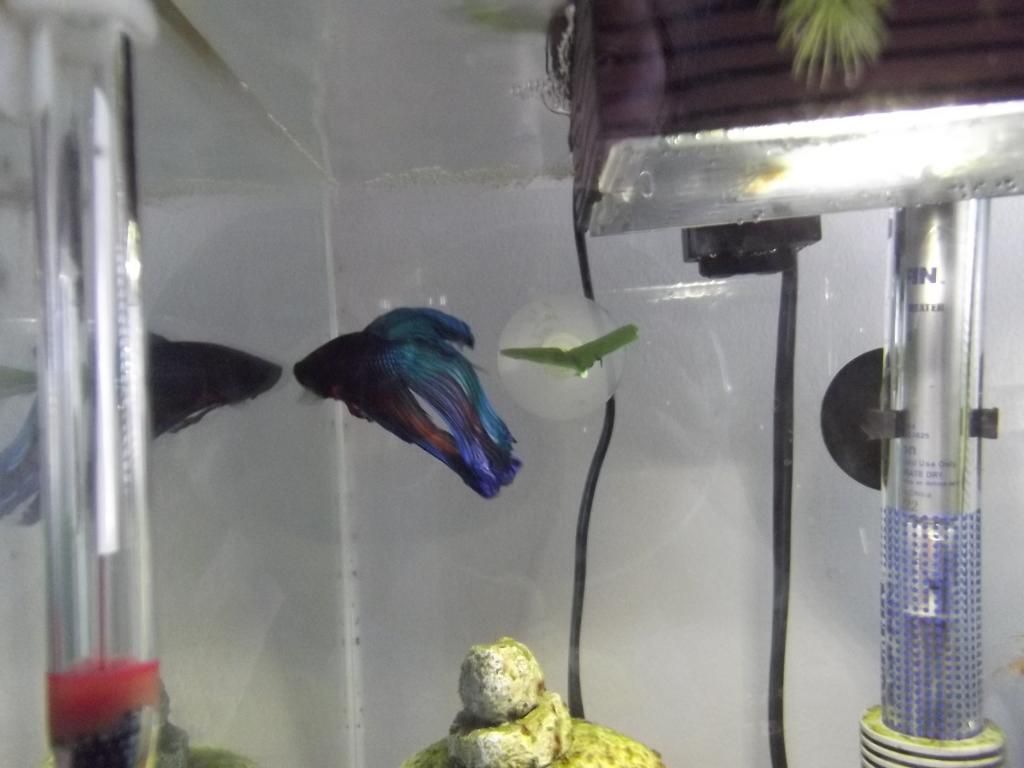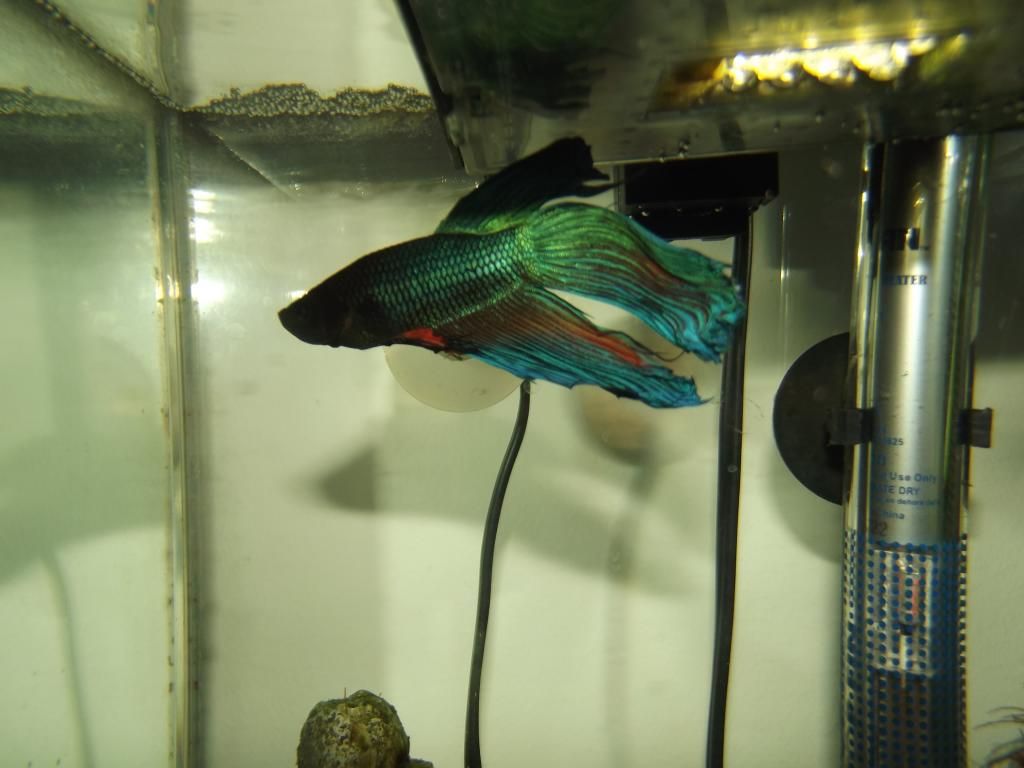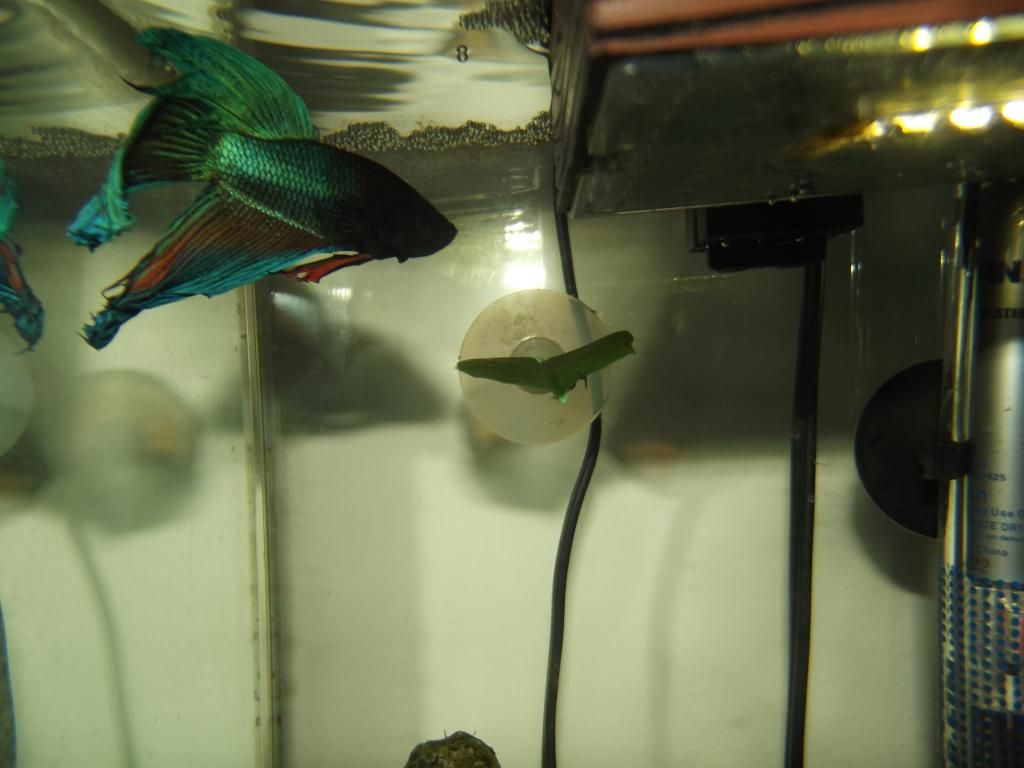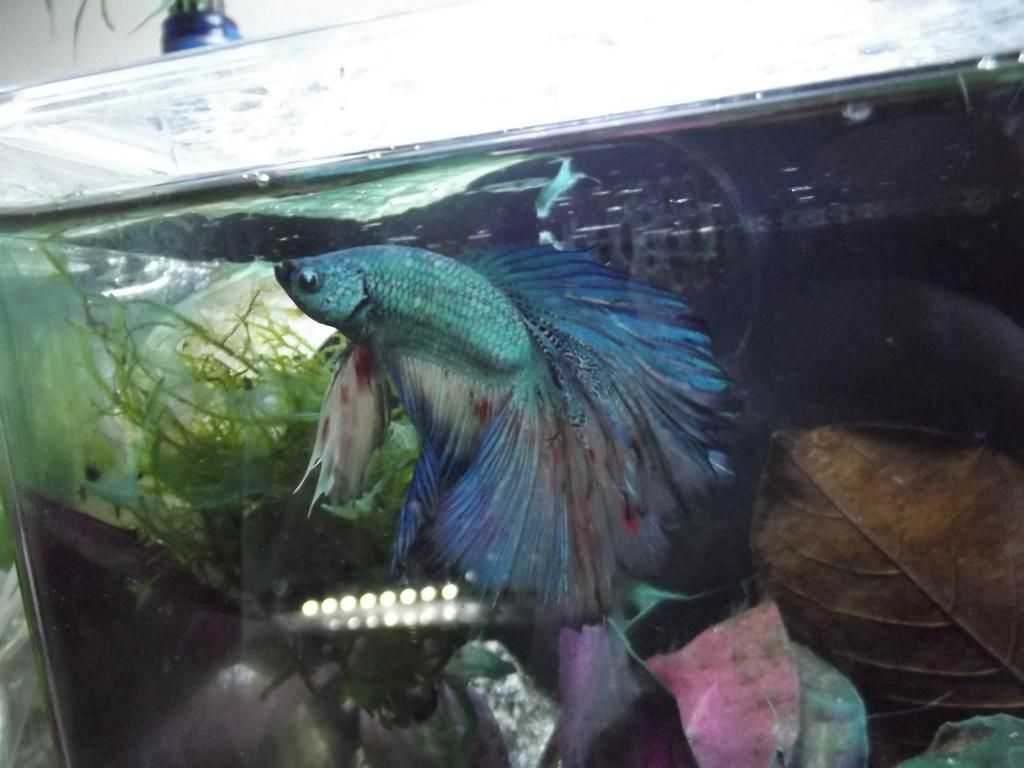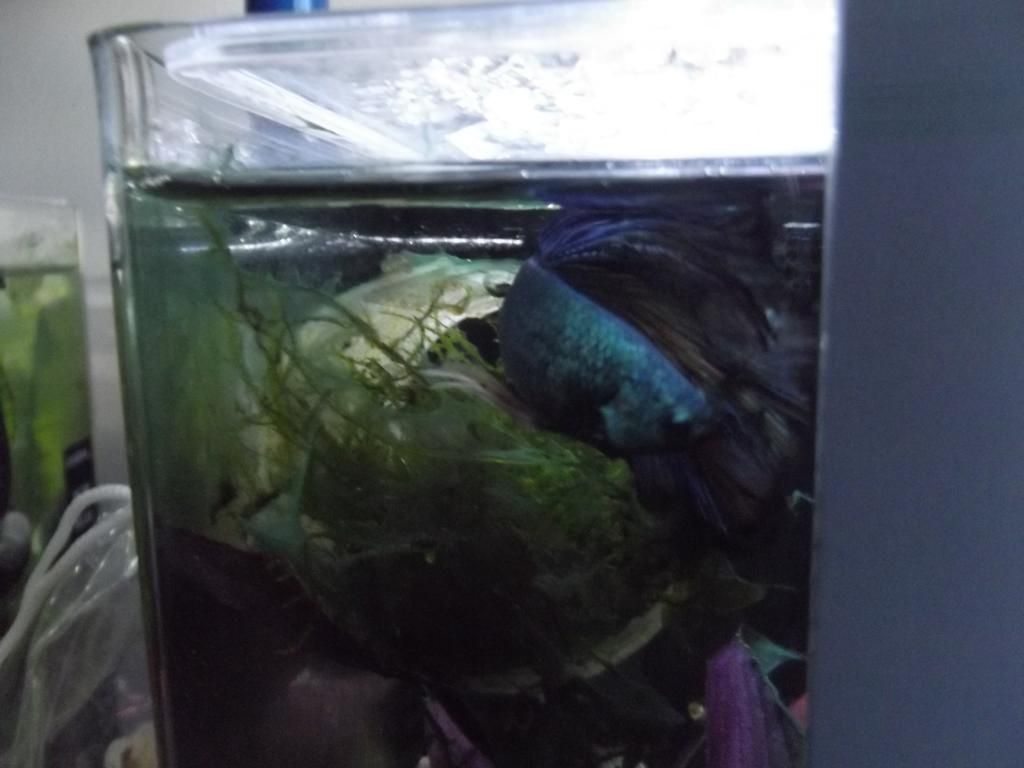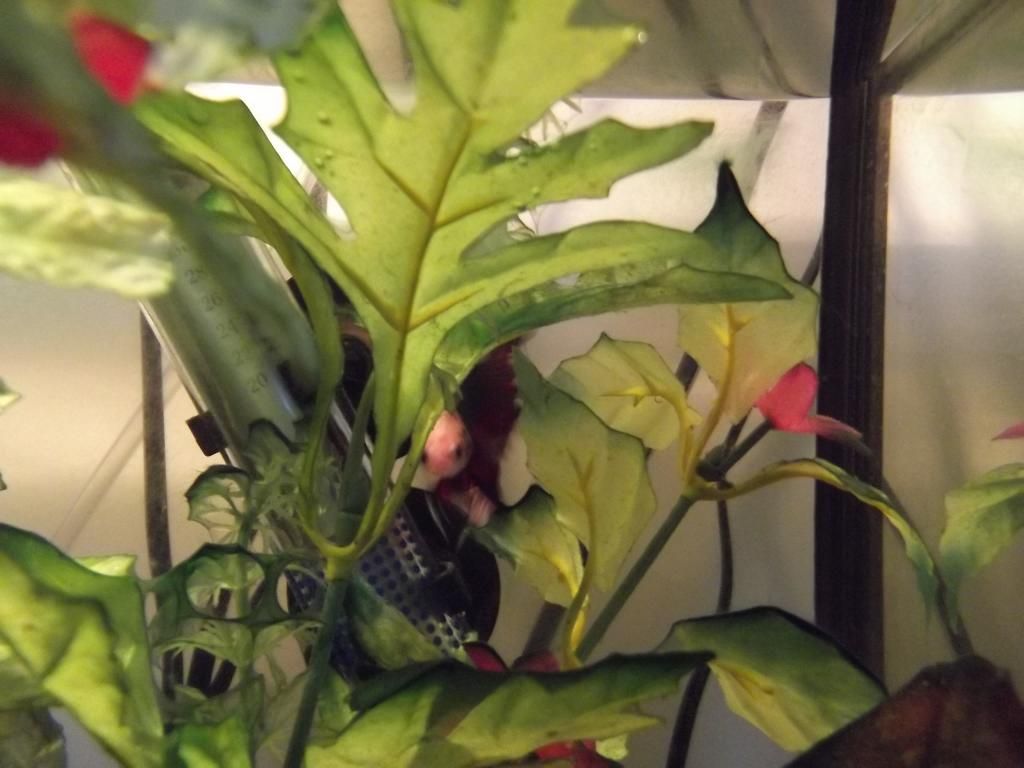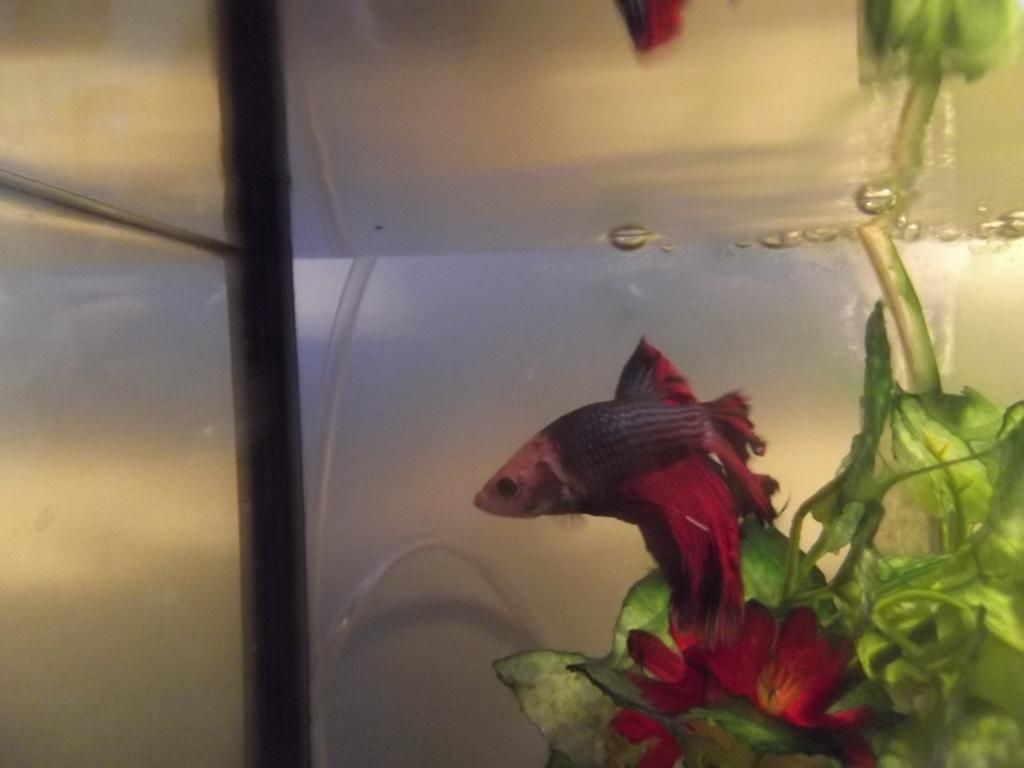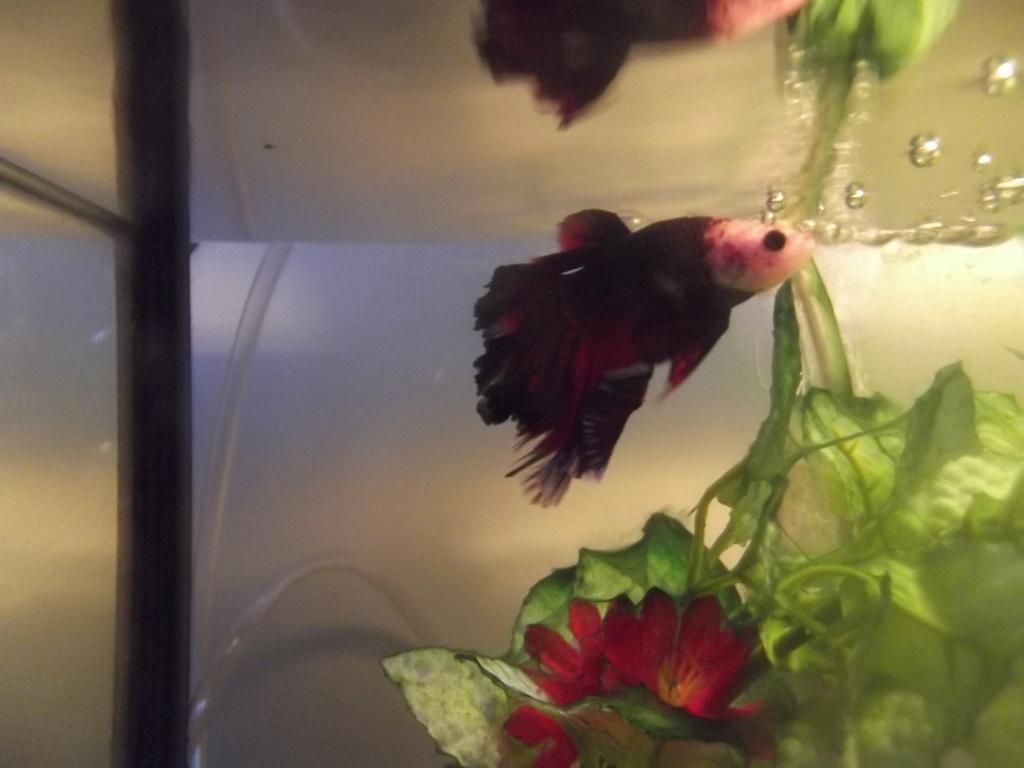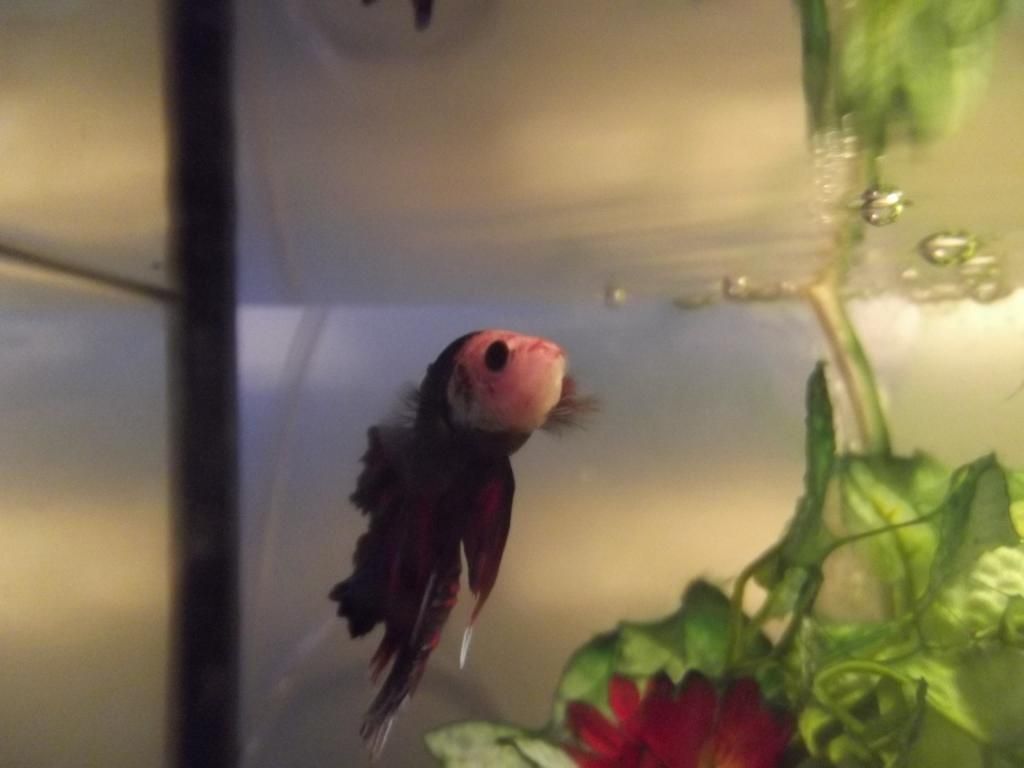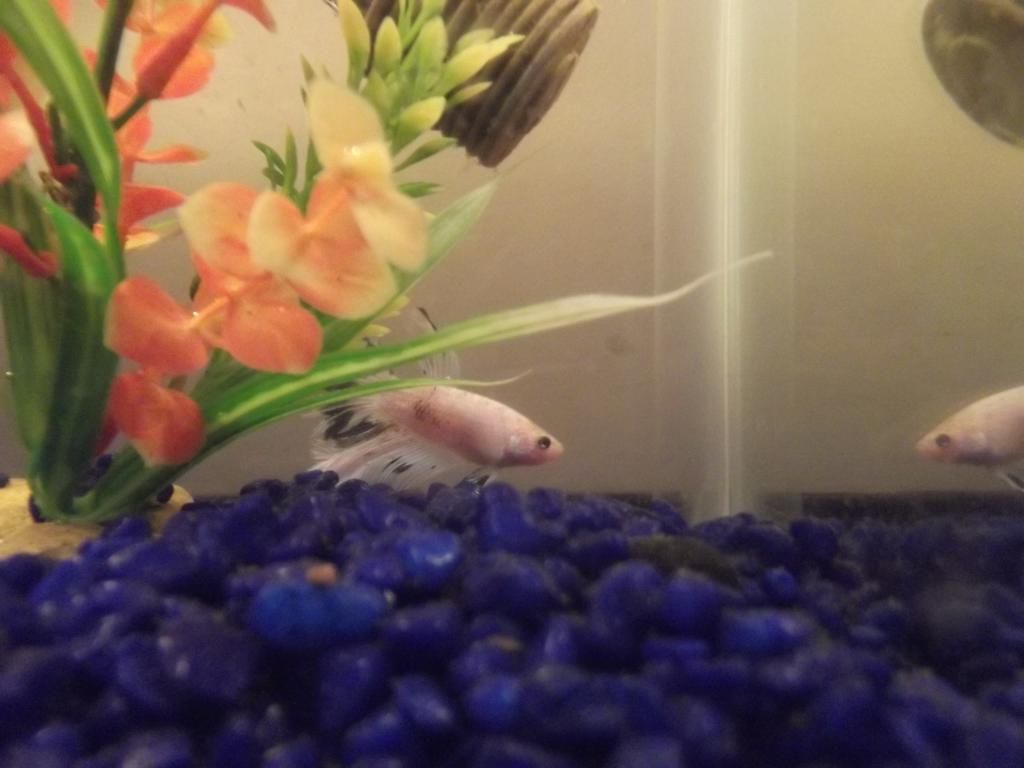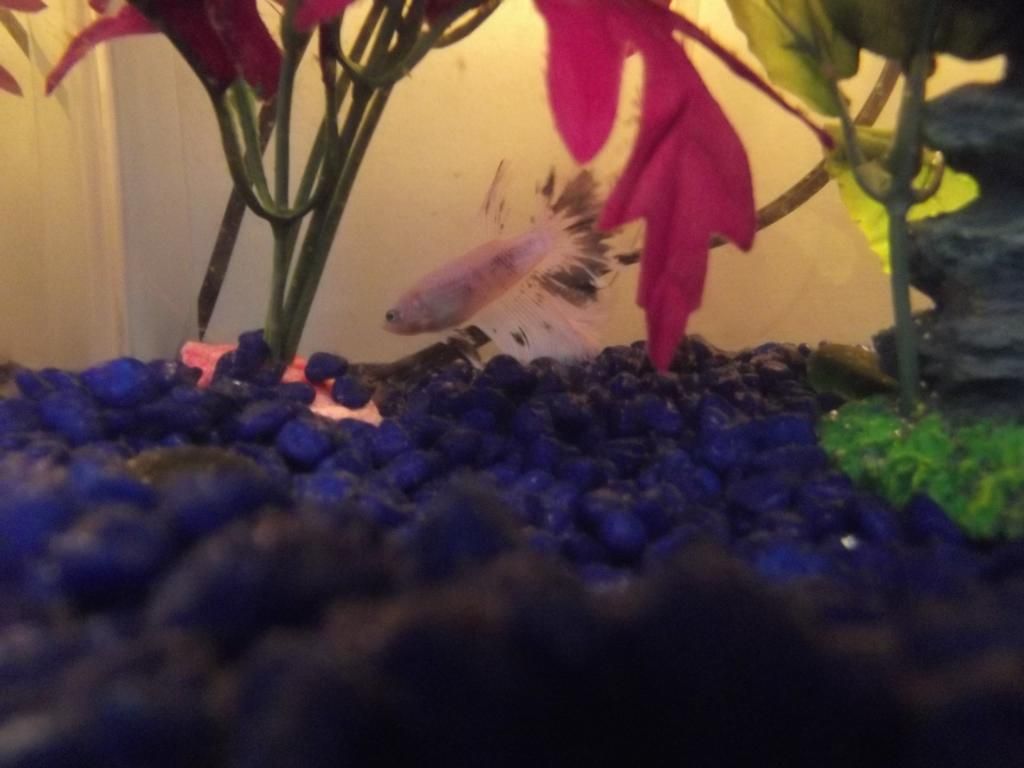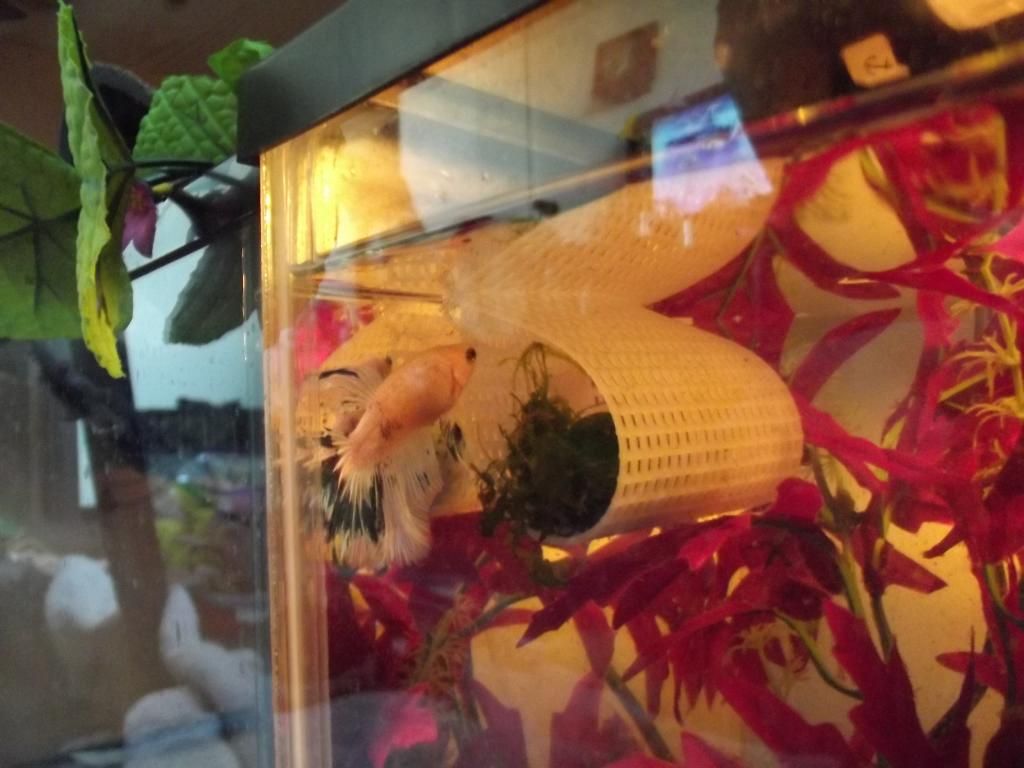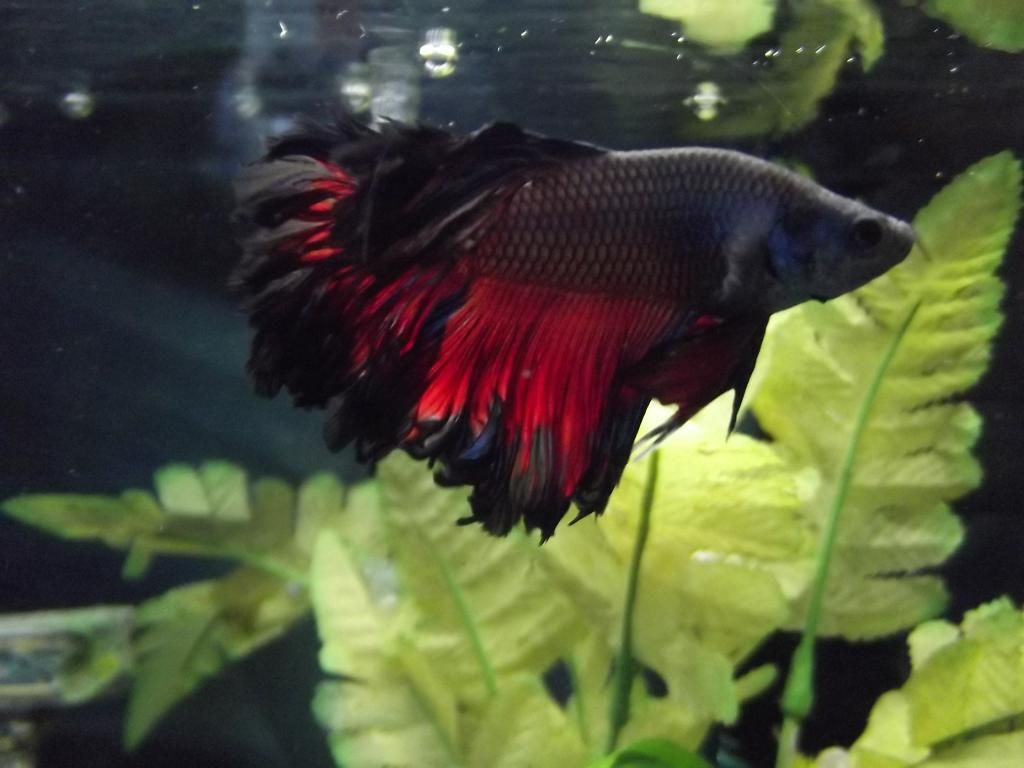 So today I change the sorority and small tanks (while also making ribs for dinner, thank the gods for wonderous creations as lnog island iced teas!) and then will be working on my first betta art in a while. Hoping it'll be a productive night :3

Unfortunately the 10g I had prepped for Falcor (SIP) still has a funky smell from residue and such, so considering stripping it down, doing a boiling water/aq salt rinse, and actually let it dry before doing a few more rinses. I'll prlly boil the gravel again. I'm going to soak the plants in a bucket of water to elt them eek out whatever they've absorbed then add them to the sorority. Then in time I'll re-make the 10g (hopefully the smell will be gone) and I'll fill it with silk plants.

My Uncle's goldfish died, so Nana's prlly going to wash that tank and send it on over to me - she was unsure on exactly how big it was, but compared it to my 5gallons, so this works out well, i think.

More on the bad news side, Vol'jin's dorsal looks stripped and is red at the base, I'm not really sure why he's having problem with fins. His parameters are good, he's not flaring as much since Nyx got rehomed...I have him on aq salt and stress coat, so hoping to see some good regrowth soon. Poor little guy =( Otherwise everyone's doing just fine.
Great pics! Your plan looks good but if you want to get the smell out of the gravel (it is epoxy coated, right?) then I wouldn't boil it... That will just release more.
Well it was already boiled, so....lol. I guess it's epoxy coated? Typical aquairum gravel? So....hm. Not sure what to do with it. And I hate that it's the dark pretty gravel givign me trouble.
Banned
Join Date: Aug 2012
Location: Hogwarts
Posts: 2,082
All your fish are great! Chibisaur now has his own half on of a ten gal to himself! Two snails and lots of plants keep him company. Simi is staying in the 5 gal with my girl and Mana is building bubble nests galore lol.
Excellent! PayDay is tomorrow, so how would you like me to send you the money? Paypal or money order? I just don't want to risk money in the mail.